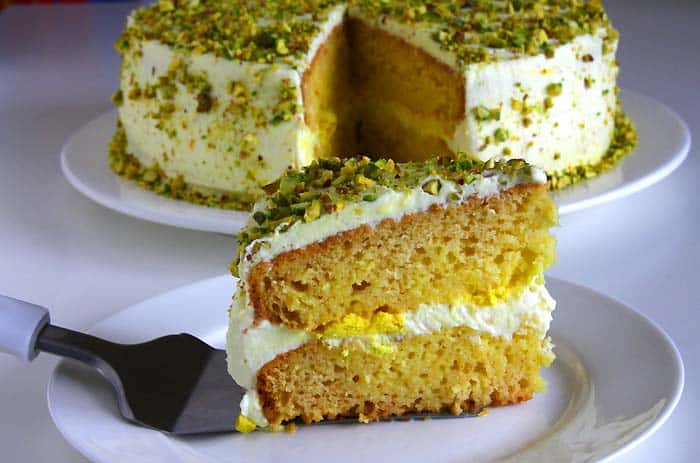 Eggless Tres Leches Cake: Tres Leches means "three milks" in Spanish. Tres Leches cake is a type of cake, where you bake the cake and soak it in a mixture of sweetened condensed milk, evaporated milk and heavy cream and then top it with whipped cream frosting.
This eggless tres leches cake has been in my "to-do" list for God knows how many years! Even though my initial idea was to use the sponge cake from my eggless strawberry cream cake recipe, I just wanted to take a look at other eggless tres leches cake recipes and found this and this. So took inspiration from these two recipes and came up with my own version of a tres leches cake without eggs.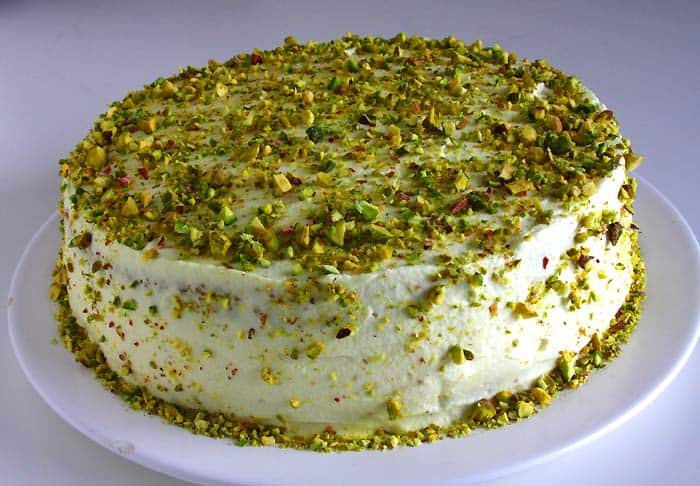 Not only that, the creative bulb in me turned on brightly and I wanted to create an "east meets west tres leches cake" by using rasmalai and the flavored milk from the rasmalai to make this eggless Indian version of tres leches cake.
As passionate as I am about baking, I'm lazy too, so didn't make the rasmalai at home. Here in Canada, we get Brar's Kesar (saffron) rasmalai which is absolutely creamy and delicious. So used that to make this eggless rasmalai cake.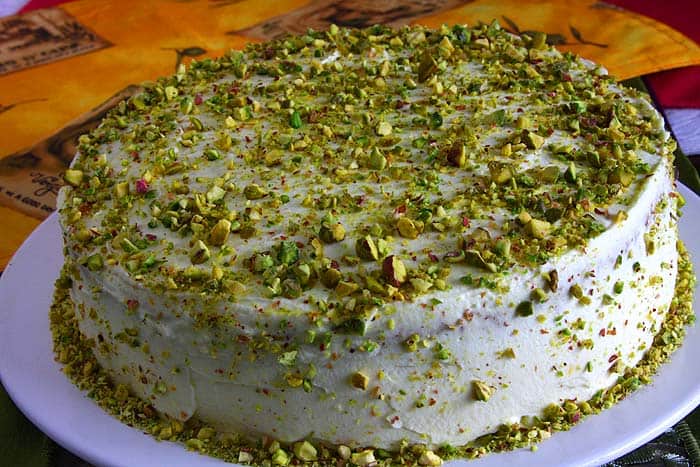 I also got the idea of making the whipped cream frosting Kesar flavored too by using MTR Badam Mix (that's an almond/sugar flavor mix added to milk for a refreshing almond drink, hot or cold). Whipped together the heavy cream and MTR to make this exotic frosting.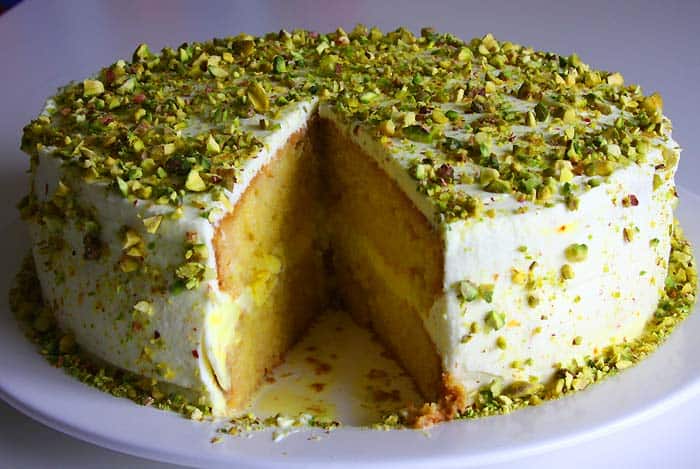 I also used pieces of rasmalai in between the two layers. I'm not good at decorating cakes with fancy designs and piping. I usually frost it with some icing and cover it with colored sugar/sprinkles, etc.
The flavor of this cake and sprinkles won't match and when I was wondering what to do about the decoration, the light bulb went on again. I remembered how I had smothered this eggless chocolate zucchini cake with chopped pistachios and thought that would be a brilliant idea for this rasmalai cake too and covered the cake with finely chopped pistachios and that took the cake to a whole new level!
The frosting and topping were done and couldn't wait for my husband to cut the cake because it was is his birthday and rasmalai is one of his favorite sweets.
The cake was cut and it sliced out beautifully without any cracks and crumbs. Trust me when I say that the taste was OUT OF THIS WORLD!!!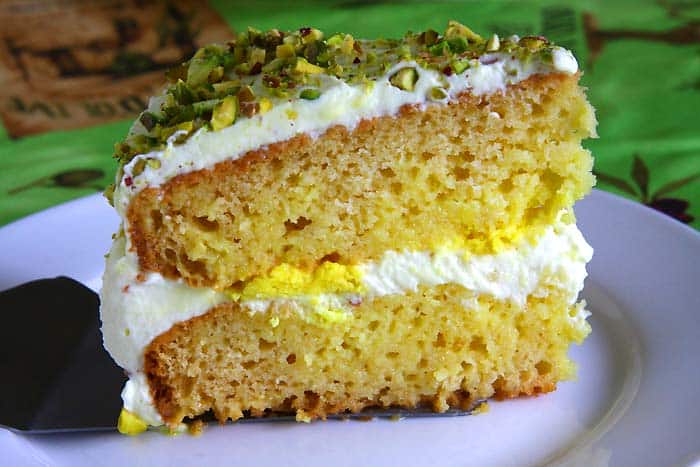 Make sure that you read the recipe carefully a couple of times along with the My Notes and then set out to bake the cake.
How To Make Eggless Tres Leches Cake?
Here is the infographic that shows the step-by-step method to make the delicious eggless tres leches cake from scratch.

| | | |
| --- | --- | --- |
| Eggless Tres Leches Cake with Rasmalai Recipe | | |
| Prep Time | Cook Time | Makes |
| --- | --- | --- |
| 24 Hr (Includes soak time) | 35 Mins | 15 Servings |
| Author | Category | Method |
| Madhuram | Cakes | Baking |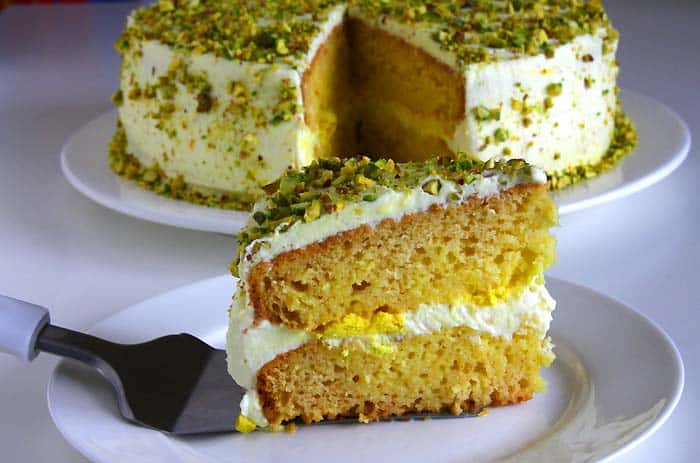 No special occasion is complete without this exotic eggless tres leches cake. Get ready to be showered with compliments from your family and friends. If it's possible to go the whole nine yards just go ahead and make the rasmalai version otherwise stick to the simple version and be sure to use all whole milk products for that rich taste and texture.

Ingredients:
2 cups minus 4 tablespoons

all-purpose flour

4 tablespoons

cornstarch

1 and 1/2 teaspoon

baking powder

1 and 1/2 teaspoon

baking soda

1/4 teaspoon

salt

1/2 cup

unsalted butter

1 and 1/4 cups

white sugar (See My Notes)

1 and 1/4 cups

plain yogurt (go for "whole")

3/4 cup

milk (I used rasmalai milk)

A few

saffron strands
For Soaking:
1 can (300 ml)

sweetened condensed milk

1 cup

evaporated milk (I used rasmalai milk)

1/2 cup

heavy cream (I used Natrel whipping cream 35%)
For Frosting:
2 cups

heavy cream

2-3 tablespoons

rasmalai milk

5 tablespoons

MTR Badam Mix

A few

saffron strands
For Filling:
5-6

whole rasmalai, broken into small pieces
For Garnish:
3/4 cup

raw pistachios, finely chopped
Procedure: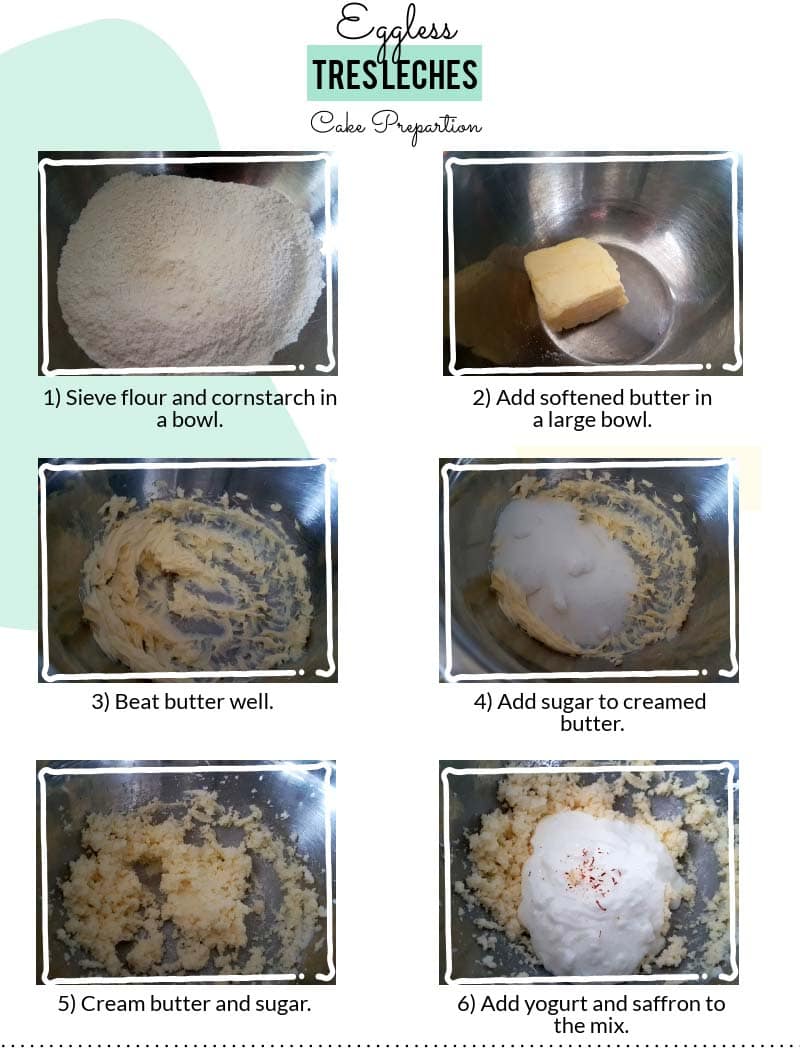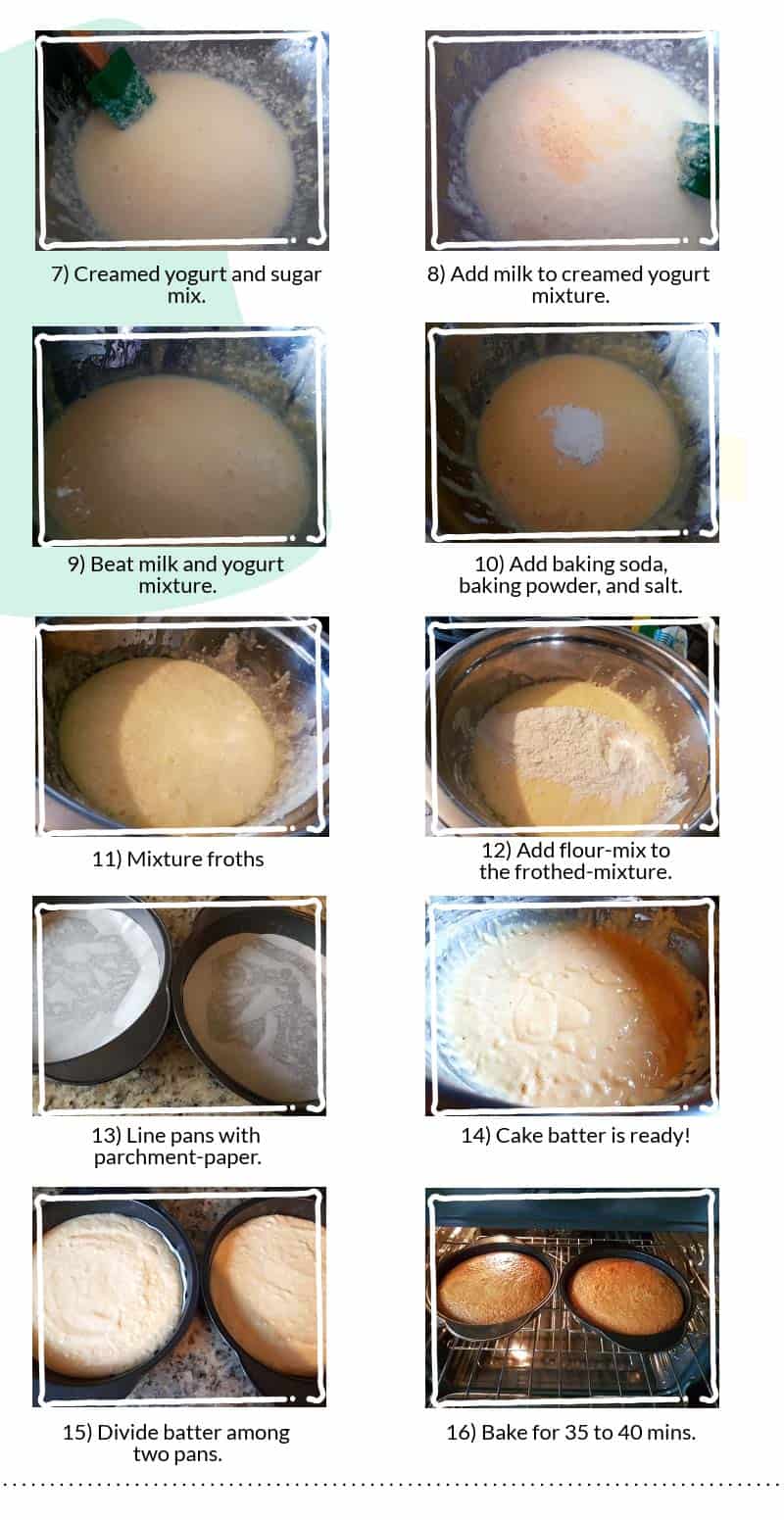 Preheat oven to 350F/180C. Line two 9-inch round cake pans with parchment paper and lightly grease it with non-stick cooking spray and set aside.
Sieve together the all-purpose flour and cornstarch; set aside. (See My Notes)
In a large bowl beat together the butter and sugar, until light and creamy.
Add the yogurt and saffron strands to the creamed butter and beat well. It may look curdled; don't worry.
Now add the milk (whole or rasmalai, whichever you are using) and beat again.
To this creamed sugar mix add the baking powder, baking soda, and salt and wait for it to froth up, which should take about 5 minutes.
Beat/mix the mixture well. To this add the sieved flour mixture and mix well, without any lumps.
Divide the batter equally between the two cake pans. I use a 1-cup measure and scoop out 1 cup of batter onto each pan and then proceed further to apportion the batter.
Bake for about 35-40 minutes or until a toothpick inserted in the middle of the cake comes out clean.
Remove the cake from the oven and let it cool on a wire rack for at least 15 minutes before unmoulding the cake from the pans.
Soaking: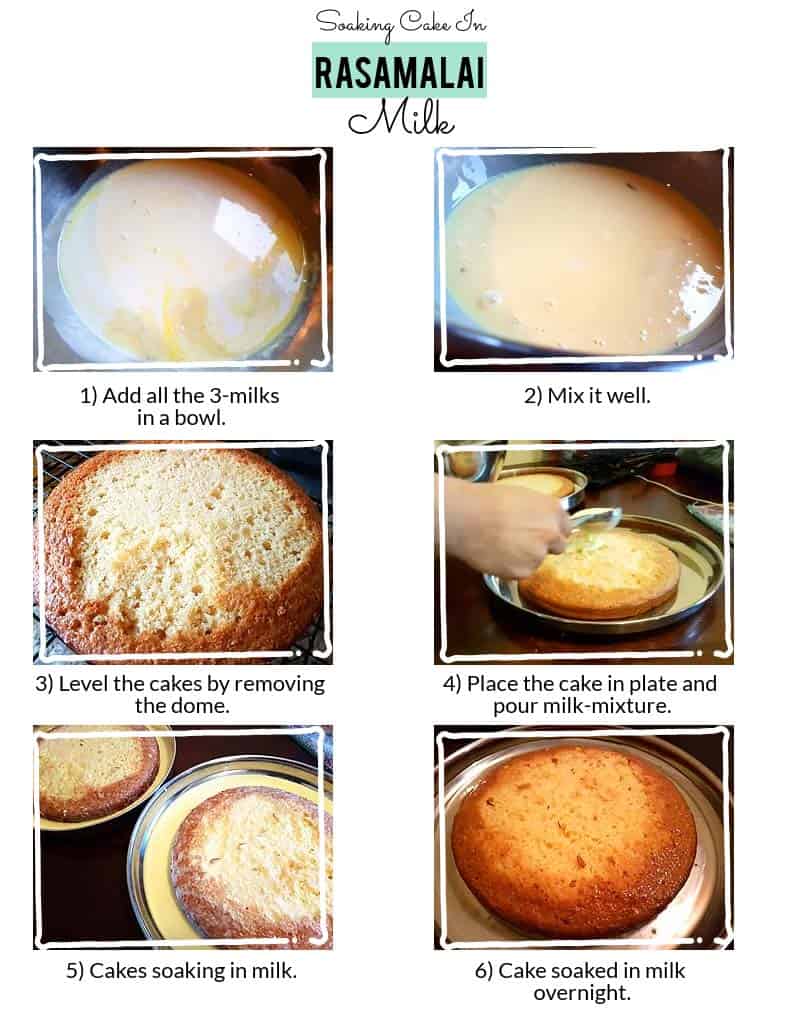 While the cake is cooling, prepare the soaking mixture for the cakes. Mix the condensed milk, rasmalai milk, and heavy cream well and set aside.
Level the cakes by removing the tops if your cake has a dome.
Transfer the cakes to two separate plates with high ridges. Poke the cakes with a fork. This will enable to absorb the milk mixture more efficiently.
Use a measuring cup and pour an equal amount of milk mixture on both the cakes until you have exhausted all of it.
The cakes should have absorbed almost all of the milk in about 4-5 hours, but I left mine in the refrigerator overnight. Make sure you refrigerate it if you are leaving it to soak overnight.
When you see that almost all of the milk is absorbed and see a little bit on the sides, use a spoon and pour it back on the cakes.
Morning you will see that the cakes would have absorbed all the milk without nothing left around.
Frosting: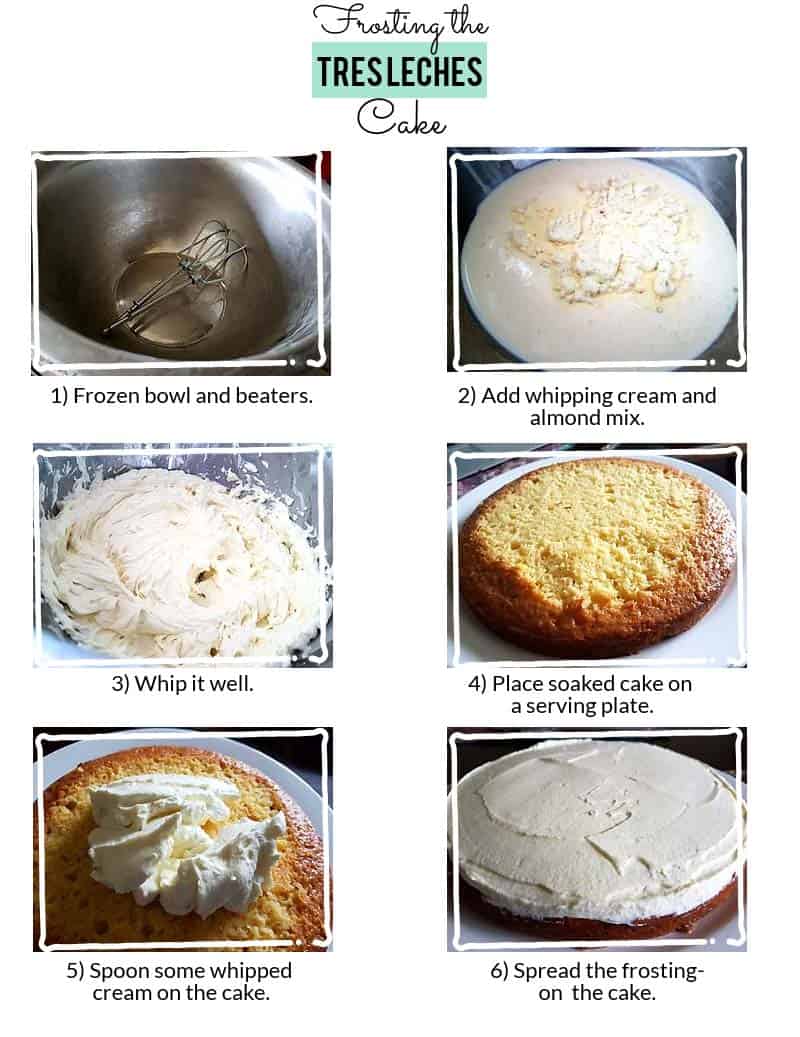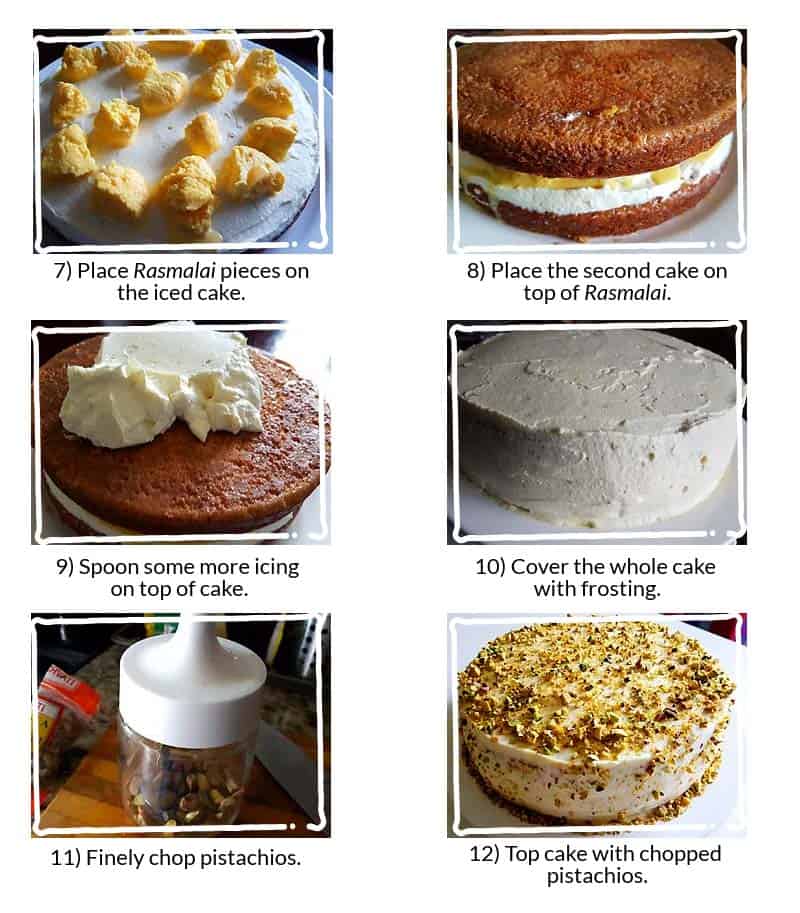 Whipped cream frosting turns out great when you chill a large bowl and beaters in the freezer for at least 30 minutes. I freeze it overnight, but that's not necessary.
When you are ready to make the frosting, take the bowl out, add the whipping cream, few tablespoons of the rasmalai milk (if using), MTR Badam mix and beat well until you get the desired consistency. It may take anywhere up to 10-15 minutes.
Decoration:
Move one of the soaked cake onto a cake board/platter. Cover it with some of the whipped cream. Smooth it out. Add the small pieces of rasmalai on top of the frosting covered cake.
Place the second cake on top of the rasmalai filling and frost that cake and the whole cake with the remaining whipped cream and smooth it out.
Top it with the finely chopped pistachios and use some of it to decorate on the sides and bottom of the cake too.
Store the cake in a covered cake container in the refrigerator. Leave it out at room temperature 15-20 minutes before serving.
Taste:
I know I'm tooting my own horn when I say this but I'm not sorry at all because this cake definitely deserves a standing ovation! One of the proudest moments ever since I started baking! The taste, the texture couldn't be any more perfect than this. The cakes had absorbed all of the milk and it was moist and the exotic flavors of saffron and cardamom in the creamy rasmalai milk and pistachios gave it the perfect taste, while the rasmalai filling made it spongy and the texture was on dot.
My Notes:
Please go through each and every step carefully before venturing out to make the cake, because this recipe has different parts and each has a couple of key instructions to follow to get the cake right.
If you are planning to make a traditional tres leches cake but without eggs, omit the saffron strands and use whole milk instead of the rasmalai milk in the cake recipe and evaporated milk instead of the rasmalai milk for the soaking mixture.
If you are using rasmalai milk in the cake recipe you may have to reduce the quantity of sugar in the cake recipe to 1 cup from 1 and 1/4 cups because the rasmalai milk is sweet. But we didn't feel the need to cut back the sugar. It was good as it is.
I have used two 9 inch pans. If you would like a taller cake use two 8 inch pans instead. This recipe measurement can also be baked in a 13×9 inch pan.
I have used a combination of all-purpose flour and cornstarch as a substitute for cake flour. If you are using cake flour you will be measuring out 2 cups. No reducing and adding cornstarch.
The creaming of butter and sugar has a twist in the recipe. Make sure that you don't skip it. You will not be adding baking powder, baking soda and salt with the dry ingredients, but will be creaming it with the butter and sugar.
While making the whipped cream frosting, if you are making a regular tres leches cake, you will be whipping just the heavy cream and icing sugar instead of MTR Badam mix. Increase the quantity of sugar/mix according to your taste.
Nutrition Facts
Eggless Tres Leches Cake (w/o rasmalai milk and filling)
Amount Per Serving
% Daily Value*
Potassium 297mg6%
Total Carbohydrates
50.6g
18%
* Percent Daily Values are based on a 2000 calorie diet.


Try this recipe, click a pic and hashtag it #egglesscooking - Proudly showcase your creations on Instagram, Facebook & Twitter!