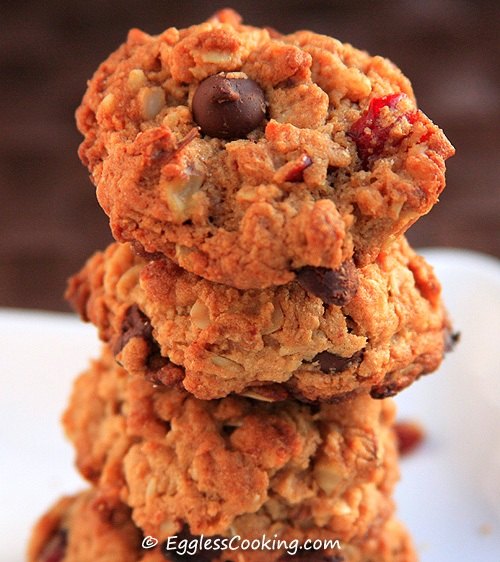 Barley flour is quite a new addition in my kitchen pantry. This barley flour cookies recipe is my first experiment with barley flour and I'm happy to tell that it's a huge success. Unlike whole wheat, barley flour did not impart a raw smell and taste in the cookies. It's finely ground so there is no grittiness too. I found Bob's Red Mill Whole Barley flour in the organic aisle of the grocery store.
Like any other whole grain flour, barley flour too should be stored in the freezer. Be sure to bring it to room temperature before baking. Barley flour is less glutenous, so if you want to experiment with it start with cookie recipes first. Since cookies need very less or no rising at all, substituting up to half the quantity of all purpose flour in a cookie recipe should be fine.
The following cookie recipe uses only barley flour and we couldn't tell it at all. Be sure to use whole grain barley flour. Some grocery stores carry a pure white color flour under the name barley flour but it's not whole grain. It's made from pearled barley.

| | | |
| --- | --- | --- |
| Vegan Barley Flour Cookies Recipe | | |
| Prep Time | Cook Time | Makes |
| --- | --- | --- |
| 15 Mins | 17 Mins | 20 Cookies |
| Author | Category | Method |
| Madhuram | Cookies | Baking |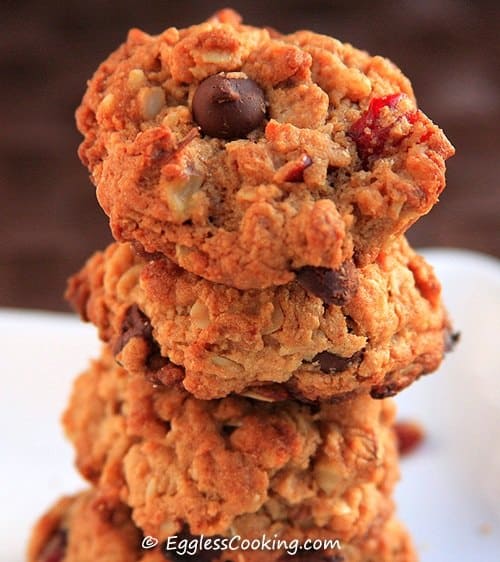 Very delicious vegan barley flour cookies using Ener-G egg replacer powder instead of eggs.

Ingredients:
1/4 cup

Peanut Butter

1/4 cup

Margarine

1/3 cup

Brown Sugar

1/3 cup

Granulated Sugar

1/2 teaspoon

Vanilla Extract

1 and 1/2 teaspoons

EnerG Egg Replacer

3 tablespoons

Lukewarm Water

3/4 cup

Whole Barley Flour

1/2 teaspoon

Baking Soda

1/4 teaspoon

Salt

1/2 cup

Rolled Oats

1/2 cup

Rice Krispies

1/2 cup

Walnuts

1/4 cup

Carob Chips

1/4 cup

Dried Cranberries

1 teaspoon

Water
Procedure:
Preheat the oven at 375F (190C) for 15 minutes. Grease with non stick spray or line baking sheets with parchment paper.
In a large mixing bowl add peanut butter, margarine and sugars. Beat together well until smooth and creamy.
In a blender (I used the small jar of my Magic Bullet), blend together the egg replacer and warm water until it's frothy.
To the creamed sugar mixture add the egg replacer liquid and vanilla. Beat once again until it's combined well.
To this add the barley flour, baking soda and salt and stir well.
Add remaining ingredients and mix well.
Spoon the batter onto a cookie sheet and bake for 10 to 12 minutes. I took mine out after 11 minutes.
Leave the cookies on the sheet for 5 minutes. Then transfer it to a cooling rack for the cookies to cool completely. Transfer the cooled cookies to an airtight container.
Taste:
These barley flour cookies taste very much like chocolate chip cookies. It was quite crisp after an hour of baking but became chewy the next day. It still gets a light crunchiness from the Rice Krispies cereal. We didn't feel any difference in taste due to the use of barley flour. I was surprised that it tasted just like cookies made out of all purpose flour.
I'm not a peanut butter fan, but I used it to just finish it off. So I was very happy because the presence of peanut butter was not at all felt from the 2nd day onwards.
I bought the very little amount of carob chips and used it in this recipe instead of chocolate chips to make it completely vegan. When tasted it by itself, I found that there was a slight difference in taste when compared to chocolate chips. I didn't like it that much. But I literally couldn't feel any difference (maybe a little or it was just psychological) when I tasted the cookies and my son didn't find it. The original recipe had called for 1/2 cup of chocolate chips since I was using carob chips I used only 1/4 cup of it and I used 1/4 cup of dried cranberries. However, I'm not sure if I would substitute carob chips for chocolate chips in a chocolate chip cookie recipe. Maybe it would be too much. I think the better bet is to try another dairy free vegan chocolate chips instead.
My Notes:
For the margarine I used Fleischman's Non Hydrogenated no salt added margarine.
The original recipe mentions to use cornflakes. I used Rice Krispies because I had only that in hand.
Similarly you could use all nuts, or all chocolate chips or any dried fruits etc. Just be sure to keep the measurements same though.
At first I thought the quantity of sugar was more in the recipe with 1/3 cup each of brown sugar and granulated sugar, but it was perfect when we tasted the cookies. Maybe it would have been even sweeter, had I used 1/2 cup of chocolate chips and raisins instead of cranberries.
The cookies don't spread like the usual chocolate chip cookies. So I think if you flatten it with a fork you may get crispier cookies but you would have to adjust the baking time. Also, I overlooked the 1 teaspoon of water in the recipe. Maybe if I had added that the cookies would have spread a little bit.
I have mentioned this a couple of times, but writing it once again. If using a dark coated non-stick pan, stay alert and take the sheet out of the oven 2-3 minutes earlier because the bottoms burn quite quickly. The same thing happened in this recipe too. Even after being careful and lining the cookie sheet with parchment paper the bottom of the cookies went black. Maybe double lining the sheet would help. I'm going to try it the next time.

Try this recipe, click a pic and hashtag it #egglesscooking - Proudly showcase your creations on Instagram, Facebook & Twitter!