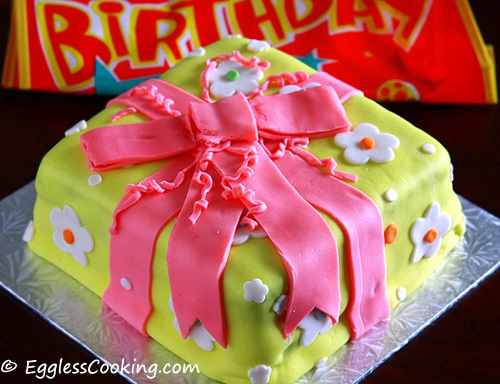 Course 3 of Wilton's Cake Decorating Series covers some more designing with buttercream icing, royal icing, and fondant. I was eagerly waiting for this course thinking that dealing with fondant would be easier than decorating with the other icings. I couldn't have been any wronger. Fondant is very high maintenance and at least it was very difficult for me to handle. It's going to take a lot of practice for me before I can decorate something decent. Taste wise too, I prefer buttercream icing to fondant.
The place where I attended the courses is not offering the 4th part of the course, Fondant and Gum Paste. So I think this is it for me right now. I think I will have to wait until next summer to take the 4th course.
The following were covered in Course 3:
Buttercream Icing
Royal Icing
Fondant
For everything about how to decorate with Fondant check here for exhaustive details.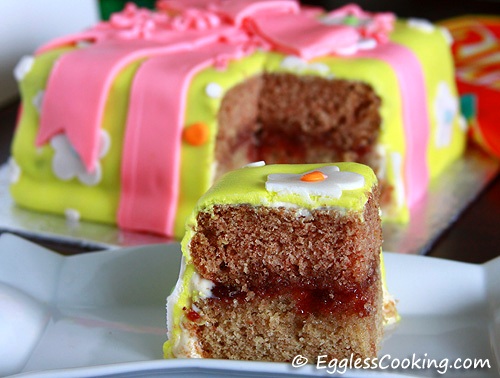 Coming to the cake recipe which I used for the class, I found it on the box of Ener-G Egg Replacer. It's a recipe for an egg free Victoria Sponge Cake. I made 2 changes to the original recipe. Used barley flour instead of all-purpose flour and canola oil instead of vegetable shortening.

| Prep Time | Cook Time | Makes |
| --- | --- | --- |
| 15 Mins | 30 Mins | One 8-inch cake |
| Author | Category | Method |
| Madhuram | Cakes | Baking |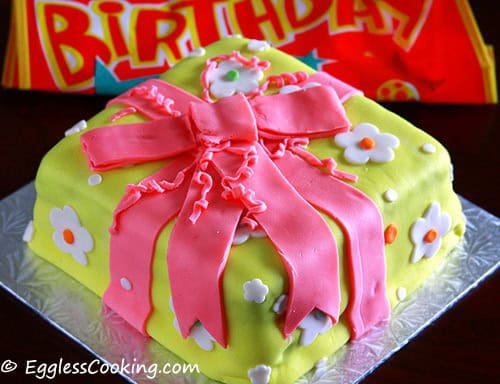 Vegan sponge cake using barley flour and Ener G egg replacer.

Ingredients:
2 cups

Whole Barley Flour

1 cup

Light Brown Sugar

3 teaspoons

Baking Powder

1 teaspoon

EnerG Egg Replacer

1/4 cup

Canola Oil

1 and 1/3 cups

Warm Water

1 teaspoon

Vanilla Extract
Procedure:
Preheat the oven to 375F for 15 minutes. Line the bottom and sides of an 8 inch square/round pan with parchment paper and grease it with non stick cooking spray.
In a large bowl sift the barley flour and mix together the remaining dry ingredients.
Add the oil and mix well. Add the water and flavor and mix for another 2 minutes.
Pour into the prepared baking pan and bake for 30 minutes or until a toothpick inserted in the center comes out clean.
Remove the pan from the oven and let it cool for 15 minutes on a wire rack. Then remove the parchment paper from the sides of the pan and slowly invert the pan to remove the cake. Transfer the cake to the wire rack and let it cool completely before frosting.
My Notes & Taste:
The original recipe had used 2 cups of all-purpose flour which I substituted with whole barley flour. So the cake was not spongy as the name implies. It was quite dense. Maybe I should I have added another teaspoon of baking powder. Vinegar would do the trick too but I'm not for it in this particular recipe. Since I needed a layer cake, for the second layer I tried another similar recipe but added 1 tablespoon of apple cider vinegar and felt that the flavor of vinegar was overpowering. You can see in the 2nd picture that the first layer is reddish in color than the bottom layer, it's because of the apple cider vinegar. It was airy but I prefer the dense cake minus the vinegar smell/taste. Maybe just 1/2 tablespoon of vinegar should be fine or adding some almond extract might reduce the aftertaste. This is again a guess only.
The sweetness was right. If you are going to frost the cake, the quantity of sugar in the recipe is okay otherwise I think adding another 2-3 tablespoons of sugar should be fine for those with sweet tooth.
Do I recommend baking this cake? Well, it depends on the individual taste. In our family, we are trying to include more whole grains and in general to eat more healthy. So we don't mind the denseness. Especially me baking quite often I cannot be using all-purpose flour so frequently. I'm not lying when I tell that everybody in my family liked this cake. I think our taste buds have accustomed to the texture and flavor of whole grains.
It's not all times that whole grain flours give perfect results while baking. So if you want to use whole barley flour and also want a cake to suit everyone's taste buds I would suggest you to bake the vegan barley chocolate cake instead of this sponge cake.
If you are looking for a vegan sponge cake recipe to bake for some occasion like a birthday, anniversary etc I would suggest you try the exact same recipe but with all-purpose flour as mentioned in the original recipe. I too am going to try it and will post my findings here when I'm done.

Try this recipe, click a pic and hashtag it #egglesscooking - Proudly showcase your creations on Instagram, Facebook & Twitter!