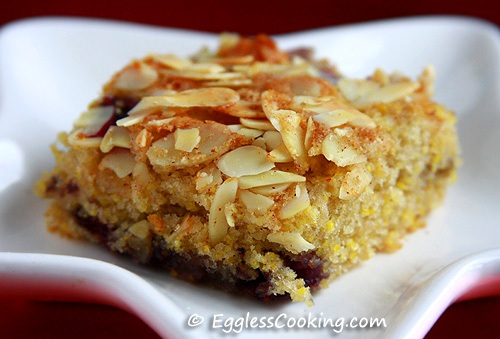 I would say that blogging has definitely made me more responsible than I ever was. Since so many people are visiting the website, I have to be very careful about the authenticity of the information I post and for that, I'm doing quite a bit of research too. When I announced the Corn event, one of my blogger friend had a doubt if the makai ki atta (maize flour) available in India is whole grain. I also had a similar doubt, if Masa di harina I see in the stores here is whole grain. So I set off to find some information on the following:
What is masa de harina and makai ki atta?
Are they one and the same?
Is it the whole grain form of corn?
From the information I have gathered so far I'm pretty sure that masa di harina and makai ki atta are one and the same. To get both, maize (corn) is dried and soaked in a lime solution. The process is called slaking. The hull loosens after soaking, which is removed and then the damp corn is ground into fine flour. Actually, this flour is nutritionally superior to cornmeal (I'm thinking that the cornmeal mentioned here is the de-germinated cornmeal and not whole cornmeal) because the lime water adds calcium to the corn and makes the niacin in the corn nutritionally available.
Now that we know that masa de harina and makai ki atta are one and the same and they are nutritionally superior too. Are they whole grain forms of corn? I'm guessing the answer is "no" because the hull is removed during the slaking process. That being said I think that it is less refined than all-purpose flour and also has the added benefit of calcium. This is my take on this topic. Please feel free to share your views here and correct me if I'm wrong.
Shall we move on to the recipe now? If somebody asks me to pick my most favorite recipe, it would be without a doubt this low fat blueberry coffee cake. I have sung it's praises in that post and am going to do it again here because it is that good. Before trying that cake, blueberries was not in the list of my favorite fruits, but after baking that coffee cake I stock blueberries so much that one day my husband (and others too) might start calling me "that crazy blueberry lady". So one-day last week, as I was raiding my fridge, what do I find? 3 packs of blueberries and a cup of blueberry soy yogurt. You know what I would have decided to do. Of course bake the blueberry coffee cake, but with few changes. Since I'm hosting the "Corn" event, I wanted to incorporate that too in the recipe and now here we have a very light, not so sweet, vegan blueberry cornmeal coffee cake.

| | | |
| --- | --- | --- |
| Vegan Blueberry Cornmeal Coffee Cake Recipe | | |
| Prep Time | Cook Time | Makes |
| --- | --- | --- |
| 15 Mins | 30 Mins | 9 servings |
| Author | Category | Method |
| Madhuram | Cakes | Baking |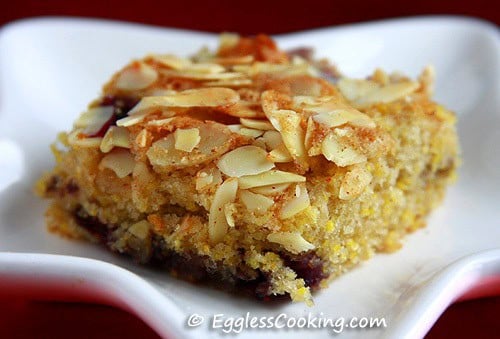 Very light, not so sweet, vegan blueberry cornmeal coffee cake.

Ingredients:
1/2 cup

All Purpose Flour

1/2 cup

Whole Corn Meal

1/2 cup

Sugar

3/4 teaspoon

Baking Powder

1/4 teaspoon

Baking Soda

1/4 (dry measuring) cup

Unsweetened Applesauce

1/2 cup

Soy Yogurt, blueberry flavor

2 tablespoons

Vegetable Oil Spread, melted

1/2 tablespoon

Apple Cider Vinegar

1 teaspoon

Vanilla Extract

1/4 teaspoon

Almond Extract

1 cup

Blueberries, fresh or frozen (I used fresh)

1/2 cup

Sliced Almonds

1 tablespoon

Brown Sugar

1/4 teaspoon

Ground Cinnamon
Procedure:
Preheat oven to 350F for 15 minutes. Grease a 8 inch square baking dish. Line it with parchment paper and spray with non stick cooking spray. In a small bowl combine the almonds, brown sugar and cinnamon; set aside. The oil spread can be melted on stove top or microwave oven or even in the oven while it's preheating.
Combine together the flour, whole cornmeal, sugar, baking powder, salt and baking soda in a large bowl. I found medium grind whole cornmeal. It is not as fine as the regular cornmeal you find in the grocery stores. So I had to powder it in the food processor a couple of times, to get a fine texture.
The original recipe uses 1/2 cup buttermilk. Since I wanted to make it vegan and also had some blueberry flavored soy yogurt I decided to use that. So I measured approximately 1/3rd cup of yogurt blended it with water to get 1/2 cup measurement. To that add the melted butter, extracts, vinegar and applesauce. Whisk until well blended.
Stir the wet ingredients into dry ingredients until just moistened. Fold in 2/3 cup blueberries. If using frozen blueberries, do not thaw before adding to batter, because the color will bleed.
Pour the batter into the prepared pan. Top with remaining blueberries. Sprinkle the almond mixture on top. Tap the pan lightly a couple times so that the topped blueberries and almonds sticks to the batter.
Bake for 25-30 minutes or until a toothpick inserted near the center comes out clean. Cool the pan on a wire rack.
Remove the cake from the pan after 10 minutes and transfer the cake directly to the wire rack. The cake is quite light, so you will have to be very careful while tilting the pan.
Taste:
This blueberry coffee cake was as good as the one which I had baked earlier with all purpose flour. This time I did have the almond extract and it definitely gave a nice flavor to the cake. As I have mentioned in my earlier post, this cake is very light, so handle with care while removing it from the pan. I thought that using cornmeal would give a harder texture than using all purpose flour alone, but it was light only. The sweetness was just right. So if you have a sweet tooth you can add another 2-3 tablespoons of sugar. We liked it just the way it was.
My Notes:
Butter and buttermilk was used in the original recipe which I have substituted with vegetable oil spread and soy yogurt to make it vegan.
I used Bob's Red Mill brand of medium grind whole corn meal. I test baked something with the cornmeal just like that and saw that the corn did not cook completely. It was gritty. So either find fine grind whole cornmeal or process in a food processor/blender thoroughly if using the medium grind. I see that even coarse grind is available, I would suggest not to get that unless you have a food mill or a very efficient food processor because the medium one itself took a lot of time for me to get a fine texture.

Try this recipe, click a pic and hashtag it #egglesscooking - Proudly showcase your creations on Instagram, Facebook & Twitter!