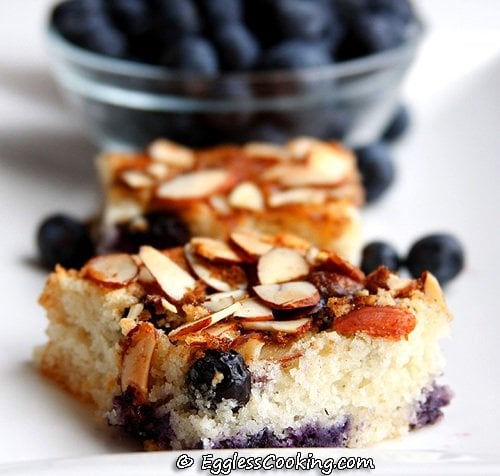 I found this recipe for blueberry coffee cake in Taste of Home's Baking Book. As I have mentioned a couple of times earlier, the recipes which appear in that magazine are perfect and it does not disappoint you at all. So this blueberry coffee cake recipe was no exception to it.
I was not a big blueberry fan when I first tasted it. It felt all slimy and sour. Only after I tried the vegan blueberry muffins recipe I started to develop a liking for that fruit. Ever since I have used blueberries in many baking recipes and all of it has turned out great and I especially love the blueberry pound cake without eggs recipe the most and of course this blueberry coffee cake recipe too.
I also make a lovely blueberry milk with these juicy berries for my kids.
My husband had picked up a box of blueberries and I was looking for recipes to use it and found this coffee cake recipe. The first thing which caught my attention was that it used only 2 tablespoons of butter and it was very easy to prepare. These days my son is so keen on helping me while baking so I have to consider the ease of preparation too while choosing a recipe. So this recipe for the coffee cake was perfect. The only change I had to do was to use unsweetened applesauce to substitute one egg and add little apple cider vinegar to make it an egg-free coffee cake and it turned out GREAT.
I don't know how many times I have baked this eggless coffee cake! It bakes out light and tender and beautiful each and every time. Because the egg free coffee cake turned out great I also tried a vegan version of it and the vegan blueberry coffee cake tastes great too.!

| | | |
| --- | --- | --- |
| Blueberry Coffee Cake Recipe | | |
| Prep Time | Cook Time | Makes |
| --- | --- | --- |
| 15 Mins | 30 Mins | 9 Servings |
| Author | Category | Method |
| Madhuram | Cakes | Baking |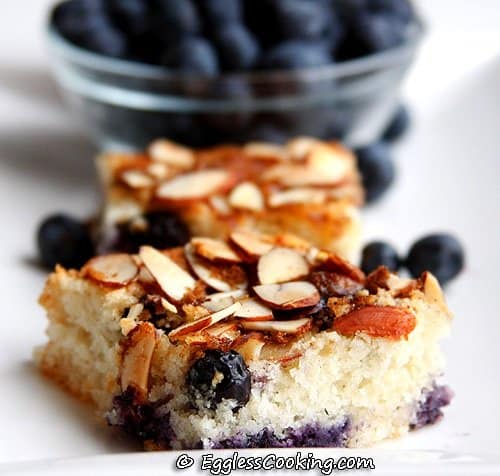 Are you looking for a coffee cake without eggs recipe? Do you have blueberries at home? Then you are in the right place. This egg free blueberry coffee cake recipe will become a sure hit in your house because of it's rich taste yet light and tender texture and amazing taste.

Ingredients:
1 cup

All-Purpose Flour

1/2 cup

Sugar

3/4 teaspoon

Baking Powder

1/4 teaspoon

Baking Soda

1/4 (dry measuring) cup

Unsweetened Applesauce

1/2 cup

Buttermilk (I used 1%)

2 tablespoons

Butter, melted

1/2 tablespoon

Apple Cider Vinegar

1 teaspoon

Vanilla Extract

1/4 teaspoon

Almond Extract

1 cup

Fresh or Frozen Blueberries

1/2 cup

Sliced Almonds

1 tablespoon

Brown Sugar (I used dark)

1/4 teaspoon

Ground Cinnamon

a pinch

Salt
Procedure:
Here is the step by step recipe for Blueberry Coffee Cake:
Preheat oven to 350F for 15 minutes. Grease a 8 inch square baking dish. In a small bowl combine the almonds, brown sugar and cinnamon; set aside. The butter can be melted on stove top or microwave oven or even in the oven while it's preheating.
Combine together the flour, sugar, baking powder, salt and baking soda in a large bowl.
Measure the buttermilk in a liquid measuring cup (or any other bowl). To that add the melted butter, vinegar, extracts and applesauce. Whisk until well blended. If you add the butter while its still hot, the mixture will look curdled, but its okay.
Stir the wet ingredients into dry ingredients until just moistened. Fold in 2/3 cup blueberries. If using frozen blueberries, do not thaw before adding to batter, because the color will bleed.
Pour the batter into the prepared pan. Top with remaining blueberries. Sprinkle the almond mixture on top. Tap the pan lightly a couple times so that the topped blueberries and almonds sticks to the batter.
Bake for 25-30 minutes or until a toothpick inserted near the center comes out clean. Cool the pan on a wire rack.
Remove the cake from the pan after 10 minutes and transfer the cake directly to the wire rack. The cake is quite light, so you will have to be very careful while tilting the pan. A couple of almonds will fall down.
Taste:
I have baked a lot in the past one year but this blueberry coffee cake will definitely make it to the Top 5 if I prepare such a list. I'm not exaggerating here but it was unbelievably good. So good that my husband asked for seconds and had it too! This has never happened before. I didn't have almond extract, I think it would have tasted even better with it.
This cake doesn't rise much, around 1/2-3/4th inch only. As for the texture, it was very light and fluffy, unusual for an egg less cake. I think the vinegar did the trick. The sweetness was perfect, the addition of almonds gave a nice crunch to the cake. The only thing to look for while baking this cake is that it's very light and has to be handled very carefully while removing from the pan.
My Notes:
The original recipe had mentioned 2/3 cup buttermilk, which is what I did for the first batch and as I have mentioned earlier, the cake was so fluffy that I felt that it would fall apart while removing from the pan. I had to be very careful. So while preparing the next batch (yes we liked it so much that I baked it again the next day to share it with my new friends here) I reduced the quantity of buttermilk to 1/2 cup and this time it was quite manageable.
The cake is very light (just like a cake with eggs) when kept at room temperature. It hardens up a little when stored in the refrigerator. So I was thinking that the next time I bake it, I would cool it in the fridge itself, so that removing it from the pan will be easy.
If you leave the cake in the pan itself for much longer time, the bottom of the cake will become soggy from the heat and the condensation. It happened to my first batch and I had to blot it with paper towel.
I think this recipe without the blueberries would make a perfect eggless white cake.

Try this recipe, click a pic and hashtag it #egglesscooking - Proudly showcase your creations on Instagram, Facebook & Twitter!

This recipe has been updated and republished from the 2009 archives.