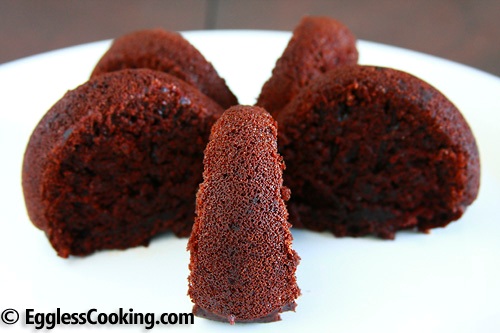 Today I come here with an amazing recipe for a vegan banana chocolate cake. In fact the original recipe was neither vegan nor it was a banana cake. Funny isn't it, when it starts out as something and ends up totally different nevertheless ending up awesome. Many of the recipes I blog here follow that pattern.
In my previous post I mentioned about the Taste of Home website for a huge collection of baking recipes and how I like to linger around there. Another website I often visit is Weight Watchers. Whether your New Year's resolution is to lose weight or not I think it is always better to look for healthy meal ideas and what better place to look for than Weight Watchers. They have a good collection of dessert, baking recipes too. I have tried a couple of recipes from that site as well with some tweaks here and there and have liked it very much.
The following vegan chocolate banana cake recipe too is my version of the Dark Chocolate Cake recipe in that site. The chocolate cake recipe is egg free already. All I did was to substitute a cup of pureed sauerkraut with a cup of pureed banana and made it vegan by substituting canola oil for the melted butter. I also used whole wheat pastry flour instead of all purpose flour. What is sauerkraut? I too was not aware of such a thing until I saw it mentioned in the cake recipe. I understand that it is fermented cabbage pickle in laymen terms. For detailed information check this sauerkraut recipe, which has detailed instructions with pictures.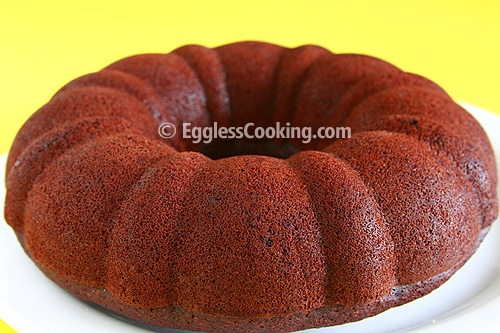 As for my vegan chocolate cake with bananas, it came out very well. One of the reason I chose to bake this cake was, I recently purchased a bundt pan and was waiting for a chance to use it. I saw that this chocolate cake recipe too used one and was egg free too. Another reason being, I had very ripe bananas at home which I didn't want to throw it away. So I decided to use it in this recipe and I'm not regretting it at all. Initially I was thinking that it is going to taste more like a vegan banana cake instead of a vegan banana chocolate cake because of the bananas. Surprisingly, the flavor of bananas in the cake is very mild. The cake was moist, had a very good texture; neither dense nor crumbly, perfect for decorating for birthdays and anniversaries. The only change I would make in that case is to use butter instead of canola oil to give it a rich taste.
Recently I had some overripe bananas at home and wanted to bake cupcakes using it. I already have a plain vegan banana cupcakes recipe here in the blog. I also was in the mood for chocolate flavor. So used this recipe and baked it as vegan banana chocolate cupcakes and it's not a surprise that it turned out great!

| | | |
| --- | --- | --- |
| Vegan Chocolate Banana Cake Recipe | | |
| Prep Time | Cook Time | Makes |
| --- | --- | --- |
| 15 Mins | 1 Hr | Two 8-inch layers OR one 9×13 inch bundt cake |
| Author | Category | Method |
| Madhuram | Cakes | Baking |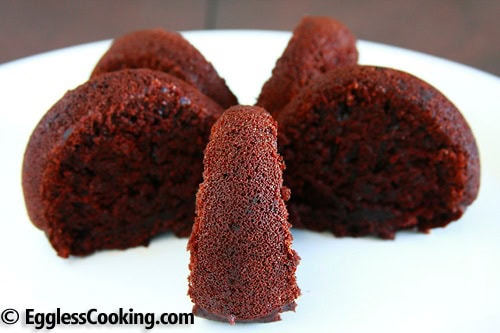 Have over-ripe bananas sitting in the counter and bored of preparing the same old banana bread once again? Then try this rich and moist vegan chocolate banana cake. The flavor of bananas is very mild that you will hardly notice it. Also a piece of this cake is a sinless indulgence because it is low in fat and 100% whole grain too.

Dry Ingredients:
2 cups

Whole Wheat Pastry Flour

1 and 1/3 cup

Granulated Sugar (See My Notes #2)

2/3 cup

Cocoa Powder

1 and 1/2 teaspoon

Baking Soda
Wet Ingredients:
1/4 cup

Canola Oil

1 and 1/2 cups

Hot Water

1 teaspoon

Vanilla Extract

1 cup

Mashed or Pureed Bananas
Procedure:
Preheat the oven at 350F/180C for 15 minutes. Spray a bundt pan with non stick cooking spray.
In a large bowl mix together the dry ingredients and keep it aside.
I pureed 2 small size bananas with little water to measure 1 cup of puree.
To the flour mixture add the canola oil, hot water and vanilla extract; mix well.
Now add the pureed bananas and blend thoroughly.
The cake batter is quite "water-y". Pour the batter in the prepared pan and bake for approximately from 45-60 minutes or until a toothpick inserted comes out clean. The original recipe mentions 55-60 minutes, but mine was done after 45 minutes itself.
At this stage I did see some cracks on the cake. Move the bundt pan to a cooling rack and let it cool for 10-20 minutes. Place a baking sheet on the pan and slowly invert the pan holding the sides of the sheet to remove the cake from the pan. Then carefully transfer the cake to the wiring rack and let it cool completely before you frost. I didn't frost mine.
My Notes:
The original recipe used all purpose flour but we did not realize that the cake was made with whole wheat pastry flour. The cake had a wonderful texture; moist but not sticky and not gritty. This can very well be a birthday cake; but I would use butter in that case.
You could also increase the quantity of sugar to 1 and 1/2 cups if you are not frosting this chocolate banana cake. You could also sprinkle some chocolate chips instead. Since I wanted to make a vegan cake I did not add any. I prefer mild sweetness so the 1 and 1/3 cup was perfect.
The cake was surely moist but I felt that it did not taste rich. The original recipe uses 1/2 cup of melted butter for the fat which I replaced with 1/4 cup canola oil and some mashed bananas. So I think we could use 1/4 cup of melted butter or margarine instead to give that richness. If you want to use entire 1/2 cup butter, you can reduce the quantity of mashed bananas to 3/4th cup.
Update: I did try this recipe once again with all purpose flour and melted butter and it was definitely rich and good enough to qualify for a birthday cake.
The next time I try this recipe I'm going to use cooked beet puree instead of mashed bananas. I'm pretty sure that its going to be so good.

Try this recipe, click a pic and hashtag it #egglesscooking - Proudly showcase your creations on Instagram, Facebook & Twitter!

This vegan chocolate banana cake goes to:
Check out these delicious cake recipes as well: