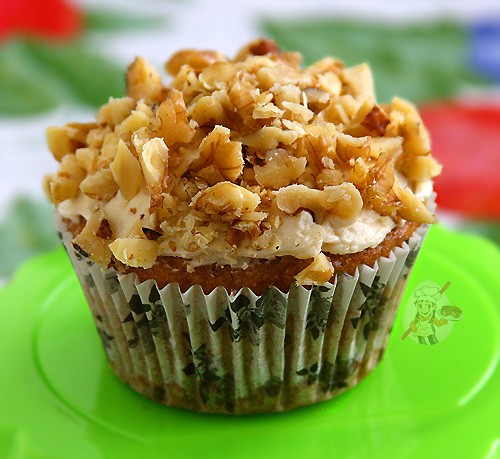 Unlike some people who squirm at the sight of overripe bananas I love it because I can try out new banana recipes. I was going through the list of recipes I already have and found that banana cake and cupcake was missing, if I don't include the hummingbird cupcake which is a blend of lot of flavors including banana, coconut and pineapple and the vegan chocolate banana cupcake.
Since I didn't have enough bananas to make a layered cake I thought I should bake banana cupcakes. I drew inspiration from this recipe and made changes to bake vegan banana cupcakes.
The cupcakes turned out awesome is the least I can say because it had an unbelievable texture, the sweetness was perfect and the banana flavor was mellow. I can't wait to try this recipe as a layered cake and frost it.

| | | |
| --- | --- | --- |
| Vegan Banana Cupcakes Recipe | | |
| Prep Time | Cook Time | Makes |
| --- | --- | --- |
| 20 Mins | 19 Mins | 16-18 Cupcakes |
| Author | Category | Method |
| Madhuram | Cupcakes | Baking |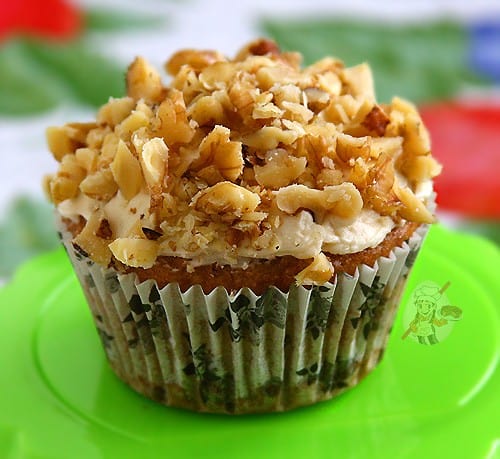 This banana cupcake recipe is the best example to prove that vegan baking is not complicated yet will yield fabulous results.

Part 1:
1/4 cup

avocado oil

1 and 1/2 cups

white sugar

1 cup

mashed banana

1/2 cup

silken tofu, pureed

1 teaspoon

vanilla extract
Part 2:
2 cups

all-purpose flour

1 teaspoon

baking soda

3/4 teaspoon

baking powder

1/4 teaspoon

salt
Part 3:
1/2 cup

almond milk

1 teaspoon

apple cider vinegar
Substitutions:
avocado oil – any other oil or melted butter
almond milk – any other milk or just buttermilk minus the vinegar
Procedure:
Preheat the oven at 375F/190C for 15 minutes. Line a 12 cup muffin tin with paper liners or grease it with non-stick cooking spray. Stir together the almond milk and vinegar; set aside.
In a large bowl, stir together the ingredients listed in Part 1. Mix well. You can use an electric beater too.
In another medium size bowl combine together the Part 2 ingredients.
Add the flour mix and curdled almond milk into the sugar mixture alternately, mixing well after each addition.
Fill each muffin cup two-thirds full. Bake for 18-22 minutes or until a toothpick inserted int he center of the cupcake comes out clean. Mine was done in 19 minutes. Leave the pan on a wire rack for at least 5 minutes before removing the muffins from the pan to cool completely before frosting.
My Notes:
I would normally suggest to use whole wheat pastry flour for the whole or at least part of the recipe, which I didn't mention here because the cupcake turned out damn good and I want you guys to try it as it is first and then do the experimenting. Same with silken tofu too. Unsweetened applesauce or some more bananas, yogurt are usually good substitutes but I want the recipe to be tried as it is.
I used this vegan cream cheese frosting for the cupcake. I just did a very small batch of the frosting for photo sake and the rest was devoured without it because it didn't need any of those frills.
I also baked 12 regular size cupcakes and the rest I baked as mini cupcakes. Looking at the batter I think I would have got about 16 cupcakes.

Try this recipe, click a pic and hashtag it #egglesscooking - Proudly showcase your creations on Instagram, Facebook & Twitter!