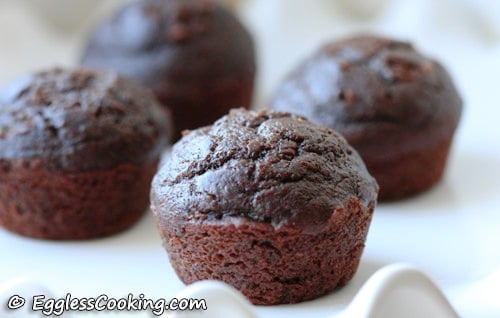 Yes, unlike the usual chocolate cupcakes these cupcakes are rich in fiber and protein. 18gms protein and 21gms fiber in total! Wondering how? One and half cups of pureed black beans is mixed with the batter and the beauty is, you wouldn't taste the black beans or anything different! You can make these cupcakes even more healthy by using whole wheat pastry flour instead of all purpose flour. I adapted this black bean chocolate cupcakes recipe from the book Vegetarian Times Fast and Easy. I made a couple of changes to make it vegan.
Like the other healthy cupcake which I baked earlier, these vegan chocolate cupcakes taste very good the day after baking. I baked these yesterday and I when I tasted soon after it cooled I felt that something was missing, maybe sweetness. But today the flavors were complete, it had the perfect amount of sweetness and tasted like any other ordinary cupcake.

| | | |
| --- | --- | --- |
| Vegan Chocolate Cupcakes Recipe | | |
| Prep Time | Cook Time | Makes |
| --- | --- | --- |
| 15 Mins | 14 Mins + 5 Mins Cooling | 12 Regular Size Cupcakes & 12 Mini Cupcakes OR 16 Regular Size Cupcakes |
| Author | Category | Method |
| Madhuram | Cupcakes | Baking |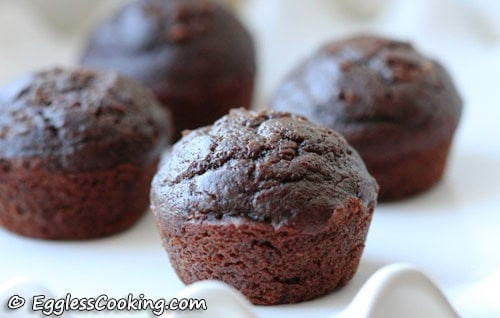 Chocolate cupcakes need not be a forbidden snack anymore! It can be healthy and tasty as well. Check out this cupcake recipe which uses a good quantity of pureed black beans.

Ingredients:
1 And 1/4 Cups

Sugar

1/2 Cup

Prune Puree (Substitute For 2 Eggs)

2 Tablespoons

Water

1/3 Cup

Canola Oil

One 15.5Oz Can Or 1.5 Cups

Cooked, Drained, Rinsed And Pureed Black Beans

2 Teaspoons

Vanilla Extract

1 Cup

All Purpose Flour

1/2 Cup

Cocoa Powder

2 Teaspoons

Baking Powder

1/2 Teaspoon

Baking Soda
Procedure:
Preheat oven to 375F for 15 minutes. Grease or line with paper liners 1 regular size muffin tin and 1 mini muffin tin.
Drain the black beans from the can, rinse it well under running water and puree it in a food processor/blender using approximately 1/4 cup of water. The puree should be very smooth without any lumps.
To this also add the sugar, prune puree, 2 tablespoons of water, canola oil and vanilla extract. Process/blend it again for another 2-3 minutes. Transfer it to a large bowl.
In a small bowl whisk together flour, cocoa powder, baking powder and baking soda.
Add the flour mixture to the wet ingredients in 3 parts. That is, first add 1/3rd of the flour mixture to the bean and prune puree, mix it well. Then add another 1/3rd and then the last 1/3rd of the flour mixture. Having some lumps is fine. I found that using a wire whisk to mix the batter worked well than using a spatula. The batter was in the consistency of pancake batter. Initially I felt that the quantity of the wet ingredients was way too much, but once I started mixing it to the flour I was relieved to find out that the proportions were getting right.
Fill the muffin wells 2/3rds full, around 3 tablespoons of the batter. For the mini muffin tin, just use 1 tablespoon. I placed both the muffin tins in the same rack. The mini muffins were done by 9 minutes and the regular size muffins around 14 minutes. Oven temperatures may vary so check for doneness by inserting a toothpick in the center and it should come out clean.
Cool in pan for 5 minutes. Slide a knife around the edges of the cupcake and invert the tin slowly. The cupcakes will fall down, cool them on a rack. Frosting is optional.
My Notes:
For the prune puree I used 2 jars (2.5oz each) of Beech Nut's baby food. Applesauce can also be instead of prune puree. Use unsweetened organic applesauce, like Nature's Promise.
Melted butter or any vegan butter substitute can be used in place of the canola oil. The original recipe called for soy margarine.
I didn't have cupcake liners at home, so I used vegetable shortening to grease the pans instead of coating it with non-stick cooking spray. I have noticed in the past that while using the latter, pans get grease stains which are very difficult to clean.
I recently have found out that using 1/4 teaspoon of baking soda for each egg replaced gives the light and airy texture to the baked product. In this recipe I used 1/2 cup of prune puree to substitute 2 eggs, so I used 1/2 teaspoon baking soda in total. The result was vegan chocolate cupcakes with the spongy texture of the usual cupcakes.
We can also control the sodium in the recipe by using low-sodium or no salt added canned beans. Or better soak dried beans and cook it ourselves without salt and add a pinch of salt to the flour mix, because salt enhances the flavor of any sweet dish.

Try this recipe, click a pic and hashtag it #egglesscooking - Proudly showcase your creations on Instagram, Facebook & Twitter!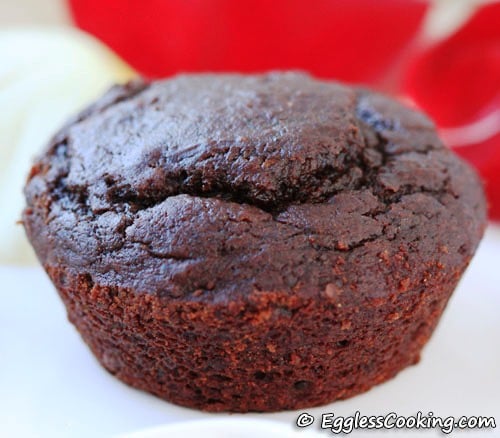 This vegan chocolate cupcakes goes to:
1. Egg Replacement Event – Pureed Fruit hosted by me.
2. Baking for Beginners hosted by Vandana.
3. Santa's Holiday Challenge hosted by JZ.