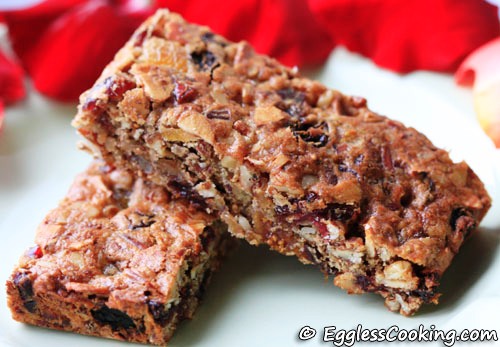 Merry Christmas to all! Two days ago I was browsing the Joy of Baking site for some inspiration to bake something new. I found this dried fruit and nut quick bread recipe. I've always wanted to bake a rich Christmas fruitcake, and this recipe fit the bill because it uses only very little flour and is fully loaded with dried fruits and nuts. Another interesting thing, it does not require any oil or butter. Yes it's true, no oil or butter absolutely. It's also dairy free. The only thing I had to change was to use an egg substitute. Since it's a fruitcake I decided to use applesauce to replace the eggs in the recipe. Also there is no other ingredient in the recipe to moisten it, so I added 1/4 cup of water and additional 1/4 teaspoon of baking soda to compensate the eggs.
Another change I made was using a 13X9 inch baking pan instead of a loaf pan and also increased the oven temperature. The time mentioned to bake the bread was 60-75 minutes. Yesterday I found time to bake only at 10pm and I didn't want to spend 1 hour for a single fruitcake, when I had plans to bake cranberry shortbread bars also, both to be gifted to the firefighters and others before Christmas. So I decided to use a 13X9 inch pan, which definitely was wise because the fruitcake was done around 35 minutes itself. This was also very convenient to cut them into small pieces.
I also flavored the fruitcake with Supreme Spice's Tea Masala Extract. For long time now I have wanted to try spice extracts, finally ordered it last week and got my shipment of Tea Masala Extract, Kesar Milk Extract and Tulsi Extract. The tea masala extract is my absolute favorite now. You have to try it to believe it. It transforms your ordinary tea into something exotic and it's especially refreshing in this gloomy weather these days.
Tea masala extract is a blend of cinnamon, nutmeg, ginger, cardamom, clove and pepper, which I thought would be perfect to pair with this fruitcake. At first I added 5 drops of the extract to the dough, but felt that it was not enough and so added another 5 drops and mixed the dough well. While the cake was baking the kitchen was filled with so much aroma of the spices, which made me think If I had gone overboard my adding 10 drops. I couldn't wait until it was cool enough to cut it and have a bite. Anyway I let it cool on a wire rack overnight and cut them today. But by then the pungency of the spices had reduced and the cake tasted very good with the flavor of the spice extract in the background.

| | | |
| --- | --- | --- |
| Vegan Christmas Fruitcake Recipe | | |
| Prep Time | Cook Time | Makes |
| --- | --- | --- |
| 15 Mins | 30 Mins + Overnight Cooling | 28 Pieces |
| Author | Category | Method |
| Madhuram | Food | Cooking |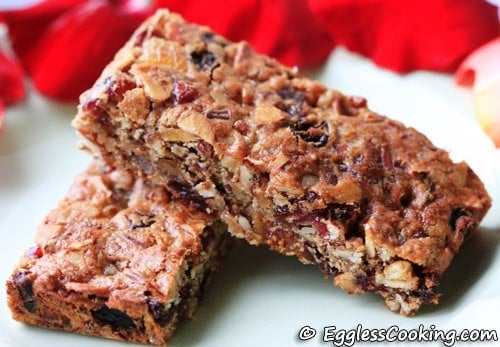 A very healthy and tasty vegan Christmas fruitcake loaded with nuts and dried fruits.

Ingredients:
3/4 Cup

All Purpose Flour

1/2 Teaspoon

Baking Soda

1/4 Teaspoon

Baking Powder

1/4 Teaspoon

Salt

3/4 Cup

Light Brown Sugar

3 Cups

Chopped Dried Fruits (Any Combination)

3 Cups

Chopped Nuts (Any Nuts)

3/4 Cup

Applesauce (Instead Of 3 Eggs)

1/4 Cup

Water

1 Teaspoon

Vanilla Extract

5 To 10 Drops

Tea Masala Extract (Optional)
Procedure:
Preheat the oven at 375F for 15 minutes.
Grease and dust a 13×9 inch pan with little flour.
In a large bowl whisk together all purpose flour, baking soda, baking powder, salt and light brown sugar.
Also add the chopped dried fruits and nuts of your choice. Make sure that the dried fruits are not lumped together. Use your fingers mix it thoroughly.
In a liquid measuring mug, measure 3/4th cup of applesauce. Add the vanilla extract, 1/4 cup water and tea masala extract (if using). Whisk it nicely.
Add the wet ingredients to the dry ingredients and mix it well. Since it's a lot of dried fruits and nuts, chances are the flour mixture in the bottom may not be combined well.
Spread the batter into the prepared pan and use a spatula to evenly press it.
Bake for the 30 minutes at 375F. When I inserted a toothpick in the center it was almost done and it had started to become golden brown. I wanted to bake it for another 5 minutes, but I worried if the cake would become very dark, so I reduced the temperature to 300F and baked it for 5 more minutes.
Once out of the oven, leave the pan on a wire rack and let it cool completely before cutting it. I inverted the fruitcake on a big cookie sheet and then cut them into pieces. This cake will store for months in the refrigerator.
My Notes:
Any combination of nuts and dried fruits can be used in this fruitcake. The only thing to be followed is that it should be 3 cups of nuts and 3 cups of dried fruits. I used 1 cup each of walnuts, pecans and sliced almonds. For dried fruits, I used 1/2 cup each of raisins, dried cranberries, dates, apricots and 1 cup of dried and sliced figs.
Let the fruitcake cool completely in the pan before inverting it. I was not patient enough and turned it over and the cake broke into 2 pieces. Fortunately I was able to patch it up. So I would suggest cooling it overnight.

Try this recipe, click a pic and hashtag it #egglesscooking - Proudly showcase your creations on Instagram, Facebook & Twitter!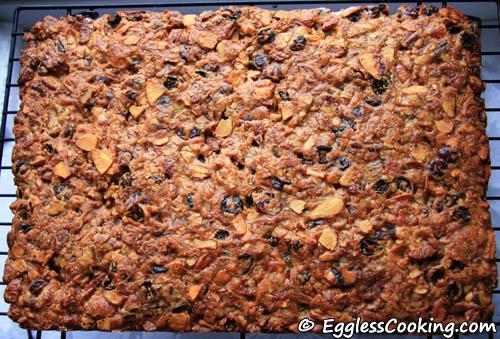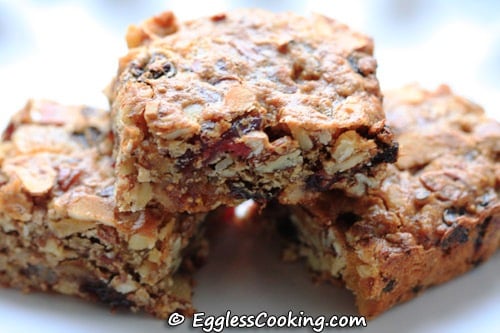 This Christmas fruitcake recipe goes to:
1. Egg Replacement Event – Pureed Fruit hosted by me.
2. Baking for Beginners hosted by Vandana.
3. Homemade Christmas Gift hosted by Happy Cook &
4. Santa's Holiday Challenge hosted by JZ.