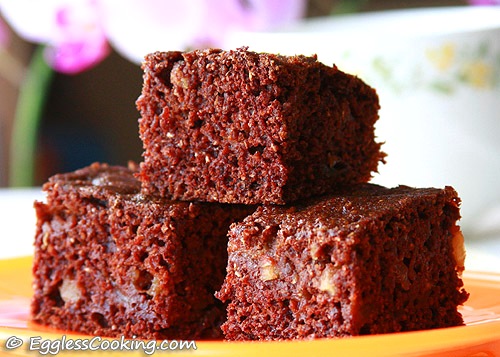 My another successful baking experience with Taste of Home's recipe! I had bookmarked this apple cake recipe quite a while ago and got the chance to try it recently and it was a super duper hit. The original recipe by itself is egg free and vegan but I made some healthy changes.
I decided to use whole wheat pastry flour instead of all purpose flour, reduced the quantity of oil and substituted some of it with unsweetened applesauce and the result was a very moist, delicious and guilt free vegan cocoa apple cake. This recipe is quite similar to the whacky vegan chocolate cake except for the fact that we are using lemon juice instead of vinegar. This is my first experience with lemon juice as an egg substitute and I was not sure what to expect but was super excited after tasting the cake because it was so soft and light. I was quite unsure about the quantity of lemon juice because I have read that 1 tablespoon of vinegar and 1 teaspoon of baking soda can be used to replaced 1 egg and that vinegar can be substituted with 2 tablespoons of lemon juice and this recipe uses only 1 teaspoon of lemon juice. I was going back and forth about using 1 teaspoon or 1 tablespoon but finally decided to follow the original recipe itself and was completely satisfied with the apple cake.
Recently I baked a peanut butter quick bread with whole wheat flour and it tasted yucky and I had to throw it away just like that. I don't know if its the brand of whole wheat flour or the recipe. So I'm not sure how this recipe would turn out with plain whole wheat flour as against whole wheat pastry flour. So if you don't have whole wheat pastry flour go with all purpose flour itself as mentioned in the original recipe. Regular whole wheat flour doesn't work well in all recipes. But I have to mention that my bottle gourd chocolate cake came out very well with whole wheat flour. That was a different brand of flour, so I guess its the brand that makes the difference.

| | | |
| --- | --- | --- |
| Vegan Cocoa Apple Cake Recipe | | |
| Prep Time | Cook Time | Makes |
| --- | --- | --- |
| 15 Mins | 35 Mins | 8x8 inch square cake cut into 16 squares |
| Author | Category | Method |
| Madhuram | Cakes | Baking |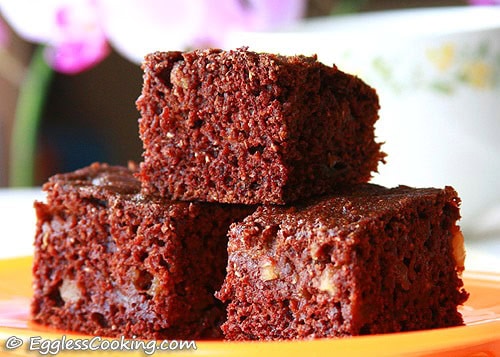 Check out this amazing vegan cocoa apple cake recipe. Its simple to bake but has a great taste!

Ingredients:
1 and 1/2 cups

Whole Wheat Pastry Flour

1/4 cup

Cocoa Powder

1 teaspoon

Baking Soda

1/2 teaspoon

Salt

1 cup

Water

1/4 cup (dry measuring cup)

Unsweetened Applesauce

1 tablespoon

Oil (I used canola)

1 teaspoon

Lemon Juice, freshly squeezed

1 teaspoon

Vanilla Extract

1 cup

Peeled, Cored & Diced Apples into small pieces (1 medium)

3/4 cup (See My Notes)

Granulated Sugar
Procedure:
Preheat oven to 350F/180C for 15 Mins. Lightly grease and line the cake tin with parchment paper. Spray the paper with non stick cooking spray as well.
In a medium size bowl sift together the flour, cocoa powder, baking soda and salt. Break the lumps in baking soda if any and mix it well with the flour.
In another bowl mix together the water, applesauce, oil, lemon juice and vanilla extract.
Pour the wet ingredients over the dry mixture and stir until just moistened.
Fold in the apples and sugar into the batter and pour it in the prepared pan.
Bake it for 30-35 minutes or until a toothpick inserted in the center of the cake comes out clean. I checked mine after 30 minutes and it was done perfectly.
My Notes:
The original recipe mentioned to use 2/3rd cup of sugar which is approximately 10 tablespoons. I read the review which mentioned that the apple cake was not sweet enough, so I increased it to 3/4th cup; which is approximately 12 tablespoons. I felt that the cake could have been a bit more sweet. I don't mind the mild sweetness but another 2 tablespoons wouldn't have hurt. So if you have a sweet tooth you may want to increase the quantity of sugar.

Try this recipe, click a pic and hashtag it #egglesscooking - Proudly showcase your creations on Instagram, Facebook & Twitter!