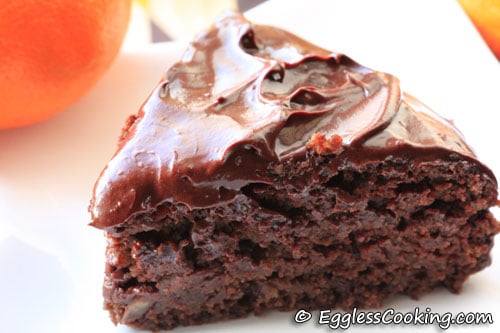 Bottle Gourd in a cake? Sounds weird right? The credit for this one goes to my friend and neighbor R. Couple of months back she wanted to try the eggless zucchini bread recipe I had posted. She didn't have zucchini in hand and she told me that she used bottle gourd instead.
We were eagerly waiting to taste the bread but she told me that the bread did not turn out good because of some problem with the oven. From then onwards I have wanted to try bottle gourd in a cake because quite often people ask me what they can substitute for zucchini.
Finally, I tried it in this cake and the verdict is I would use it in a rich chocolate cake but not in any other cake/muffin recipe. The cocoa masks most of the smell from the bottle gourd. Usually, my husband is the first to point out things like this, but even he couldn't notice any difference and my son too.
I have made a couple of other substitutions also in this recipe. I posted an eggless chocolate cake recipe using silken tofu back in August 2008 and since then I've been asked the following questions.
Can I use whole wheat flour instead of all purpose flour?
What can I use instead of silken tofu?
Can I reduce the quantity of oil?
Can I halve the measurements?
Can I use an 8-inch round cake pan instead of 9-inch pan?
A couple of visitors have tried the original recipe incorporating a few substitutions thereby answering some of the questions above and also have left their feedback. But I thought I should do it and check it out for myself.
I decided to attend to all these questions in one go. So that's what this recipe is about. I'm very glad that I did it because it turned out to be a very healthy chocolate cake and is absolutely delicious.
To start with I halved the measurements to get one cake. Last time I had used two 9 inch pans, so this time I went with one 8 inch round pan. I had both white whole wheat flour and whole wheat pastry flour (both are preferred substitutes for all-purpose flour) at home but decided to go with regular whole wheat flour itself because the former may not be available in all places.
Usually it is recommended to start with substituting 1/3rd of all-purpose flour with whole wheat flour. So it would be 2/3rds of white flour and 1/3rd of wheat flour. But I decided to change it and went with 3/4ths of whole wheat flour. I used the whole wheat flour I bought from the Indian grocery store, but don't remember the brand.
I have used 1/2 cup of unsweetened applesauce instead of oil. But to give a taste which is closer to the original I have added 2 tablespoons of oil. So if you are already using oil instead of applesauce you may omit this 2 tablespoons of oil.
Since we are experimenting with yogurt as egg substitute this month and as it's also available everywhere, I decided to use it instead of silken tofu.
The substitutions did not stop with the cake, it continued to the frosting also. I did not have confectioner's sugar at home and since I'm trying to be on a "shopping-diet" I didn't want to buy it either. I had some chocolate chips and baking bars in hand.
But those frostings require whipping cream which I didn't have either. Then all of a sudden a light bulb flashed! My son drinks Ovaltine (chocolate malt drink like Bournvita and Boost) and that powder is so fine, the texture resembles that of confectioner's sugar. So I decided to use it for the frosting. I was really wowed by the result. It was so good and tasty.
Even after all these substitutions the cake has come out very well. It's not light and fluffy. It's moist and slightly dense but the taste is unbelievable. We are literally digging in the cake every day. My husband who is a health nut is also enjoying it as much as we are.

| | | |
| --- | --- | --- |
| Chocolate Bottle Gourd Cake Recipe | | |
| Prep Time | Cook Time | Makes |
| --- | --- | --- |
| 15 Mins | 38 Mins | One 8-Inch OR 9-Inch Cake |
| Author | Category | Method |
| Madhuram | Cakes | Baking |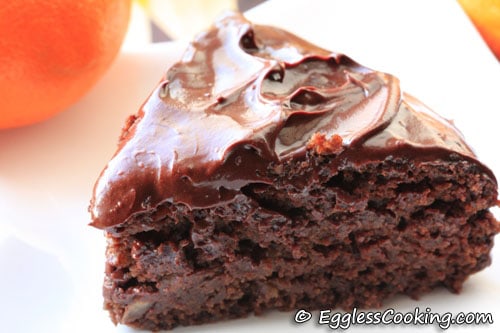 Can a rich chocolate cake be healthy enough to eat for breakfast? Yes it can be! This eggless chocolate recipe is the answer.

Ingredients For Cake:
1/4 cup

All Purpose Flour

3/4 cup

Whole Wheat Flour

1/2 teaspoon

Baking Powder

1 teaspoon

Baking Soda

6 tablespoons

Unsweetened Cocoa Powder

3/4 cup

Granulated Sugar

1/2 cup

Unsweetened Applesauce (you could use oil too)

2 tablespoons

Canola oil (Only if using applesauce)

1/4 cup

Hot Coffee

1/4 cup

Milk (Omit it if using Zucchini/Bottlegourd)

1/4 cup

Yogurt (I used plain non fat, measured it with dry measuring cup)

1 teaspoon

Vanilla Extract

1 cup

Bottle Gourd, grated (Optional. You can use zucchini too)
Ingredients For Frosting:
3 tablespoons

Margarine/butter at room temperature (I used Promise, Heart Health)

1 and 1/2 cups

Powdered sugar (I used Ovaltine. The one I used did not have eggs in the ingredients list.)

1/4 cup

Unsweetened cocoa powder

3-4 tablespoons

Fat Free Milk
It yields about 3/4th cup of frosting, enough for one 8-inch or 9-inch cake.
Cake Procedure:
Preheat the oven to 325F for 15 minutes. Lightly grease an 8-inch round cake pan and dust it with cocoa powder. Update: I baked this cake before I knew about the parchment paper trick. Since I knew that I haven't baked a cake without it. Take a sheet of parchment paper, place the pan you want to use on the paper and trace the shape with a pencil. Cut it out. Spray the cake tin with non-stick spray, place the parchment cut out and spray it lightly once again.
Grate the bottle gourd/zucchini, if using. After grating, I also coarsely chopped it with a knife. Measure 1 cup and transfer it to a bowl. Let the water secrete from the gratings. If using the water you may omit the 1/4 cup of milk later.
In a large bowl sift together the all purpose flour, whole wheat flour, baking soda, baking powder, cocoa powder, and sugar. Make a well.
Add all the wet ingredients one by one.
With an electric mixer, beat the mixture on low speed for 2-3 minutes until the dry and wet ingredients are well combined. Do not over beat it.
Add the grated bottle gourd/zucchini, if using. Mix together.
Pour the batter in the prepared pan. Tap the pan a couple of times so the batter is spread evenly and there are no air bubbles.
My cake was ready only around 38 minutes. I think it took longer because it was a dense batter with the whole wheat flour, applesauce, and the bottle gourd. So start checking from about 20 minutes, depending upon the ingredients you are using. A toothpick inserted in the middle of the cake should come clean.
Once out of the oven, transfer the pan to a wiring rack to cool. After about an hour remove the cake from the pan and let the cake cool completely before frosting. Update: If you follow the parchment trick, the cake will come out clean just after 15 minutes. This will also avoid excess moisture due to the heat trapped inside the pan.
For Frosting:
In a medium size bowl add the margarine, Ovaltine (powdered sugar) and cocoa powder. Start beating with an electric mixer on low speed. At this stage, it may seem to be very dry. Don't panic. Wait until you add the milk.
Add milk little by little and continue beating the mixture till you get a nice spreadable consistency. I used around 3 tablespoons of milk.
Now transfer the cake to a plate and start frosting it. I'm very lousy at it. Somehow managed to cover the cake with the frosting. But it was easier this time when compared to my first attempt. The frosting was in the correct consistency.
I saw this technique of using the back of a spoon to create swirls on the frosting. Tried it and I think it looked somewhat close. Create an indentation on the frosting with the back of a spoon close to each other.
My Notes:
I think my cake had too much moisture content because of the milk, hot coffee and the water from the bottle gourd. I think that's also one of the reasons it took so much time to bake. Also when I removed the cake from the pan I found that it was very wet. I had to use a couple of kitchen paper towels to blot the water. So I also refrigerated the cake for a couple of hours before frosting it. That's the reason I have mentioned to omit milk if using grated bottle gourd or zucchini.
The recipe for the frosting is from 1001 Low Fat Vegetarian Recipes. The original recipe requires margarine or butter. I didn't have both. So I used the Promise blend which we have it on our toast. I was worried if it would work or not, but was so excited to see that the frosting came out beautifully.
There are 2 types of Ovaltine available. I used the Ovaltine which is fortified with 8 vitamins and minerals. I used Ovaltine because I didn't have confectioner's sugar at home, but in a way, it worked out for the best. 4 tablespoons of Ovaltine (ie) 1/4 cup has 15gms sugar whereas the sugar content in 1/4 cup of confectioner's sugar is 29gms. I checked it in the grocery store. So I think this frosting is even better and healthier than the original one. Even though Ovaltine has lesser sugar content than confectioner's sugar, I found the frosting was a bit too sweet for my taste. Then imagine how it would have been had I used powdered sugar.
If you are going to try the Ovaltine frosting, I would recommend decreasing the quantity of sugar in the cake to even 1/2 cup. I think this cake is a pretty healthy cake but for its sugar content.

Try this recipe, click a pic and hashtag it #egglesscooking - Proudly showcase your creations on Instagram, Facebook & Twitter!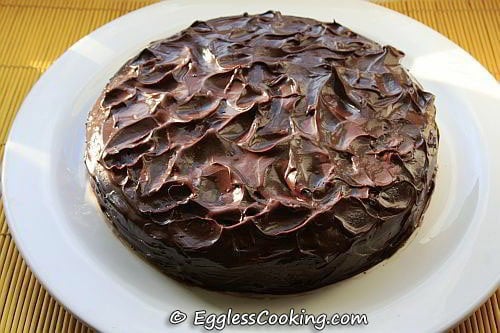 This also goes to Roma's JFI-Wheat. JFI originally started by Indira.
Check out these delicious cake recipes as well: