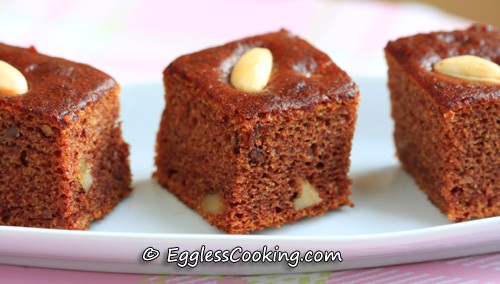 Hi friends, I'm back with a tasty vegan date cake. Actually I came back from India in the last week of August itself, but did not feel like blogging all these days. The trip was mostly good except when my son fell very sick when swine flu was at peak there. Thankfully it was regular flu and he is fine now. I thought of meeting all the food bloggers in Chennai but couldn't organize it with an hectic schedule. Hope to make it at least the next time.
On a different note, ladies, do you think that your husband is not appreciative of your efforts you put in the home front? Doesn't he help you around the house? Then pack your bags immediately and fly to India (or anywhere) and stay there at least for a month and see (enjoy) the respect you get when you come back! Even the simplest thing you do will be noticed by your better half. I'm loving it!
I didn't bake much in the past 2 weeks but for the vegan chocolate cake for my mother-in-law's birthday (she came with us) and Shilpa's eggless date cake. The date cake has been in my to-bake list for quite sometime now. Somehow I didn't get a chance to bake it until recently. We got a big pack of (Lion brand) seedless dates from India and I wanted to use it up. My son also has started going to school full time and I have to pack lunch for him. He usually eats some fruit or some healthy sweet after his lunch and dinner. So I decided to bake this cake.

| Prep Time | Cook Time | Makes |
| --- | --- | --- |
| 20 Mins (Excludes Date Soak Time) | 40 Mins | 16 Cake Pieces |
| Author | Category | Method |
| Madhuram | Cakes | Baking |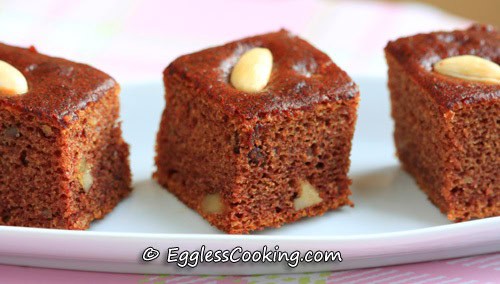 Vegan dates cake? Does it sound healthy? Does it sound not so tasty? You are absolutely wrong. This is the simplest cake recipe one can bake and I can assure you that it's unbelievably moist and tasty.

Ingredients:
18

dates

3/4 cup

soy milk

3/4 cup

white sugar

1/4 cup

oil

1/4 cup

unsweetened applesauce

1 teaspoon

vanilla extract

1 cup

all-purpose flour

1 teaspoon

baking soda

1/4 cup

chopped walnuts

16

almonds for decoration
Procedure:
Remove the seeds front he dates and soak it in warm milk overnight.
The next day before baking grind it into a smooth paste along with the sugar adding some more water/milk if necessary.
Preheat the oven at 350F/180C for 15 minutes. Grease well an 8×8 inch square baking pan with non stick cooking spray or line it with parchment paper. You may use a circle pan too. In a medium size bowl sift together the flour and baking soda and set aside.
In a large bowl pour the dates paste. Mix in the oil and applesauce. Stir in the flour mixture little by little. Use a whisk to mix so that lumps won't form.
Add the walnuts and mix well.
Pour the batter into the prepared pan, arrange the almonds in a pattern and bake for for 35-40 minutes or until a toothpick inserted in the centre of the cake comes out clean.
Transfer the pan to a wire cooling rack. Leave it for at least 10-15 minutes before you can remove the cake from the oven. Cool it completely for another 15-30 minutes before you can slice this decadent vegan date cake.
Taste:
The cake tasted very good. I'm sure that I'm going to bake this date cake quite often. It's a hit with everybody in my family and my mother-in-law has already asked me to bake this for her when she leaves to India.
My Notes:
I wanted to try a vegan version because I was having some unsweetened soy milk at home. Sometimes soy milk (some brands) can leave an after taste. So I also added 1 teaspoon of vanilla extract which was not mentioned in the original recipe. You can also try flavoring it with cardamom powder.
We had kept the dates in the refrigerator and it was very hard. So I soaked it in 3/4th cup warm soy milk. I left it soaked for nearly 15-16 hours. Maybe that much soaking is not required but I didn't find time to bake it earlier. I blended it in my food processor with the required amount of sugar and while doing so felt that some more liquid might be necessary. So added another 1/4 cup of soy milk (this is not mentioned in the original recipe).
cup of oil is mentioned in the original recipe. Shilpa also mentions that she has tried baking the cake without oil and it turned out good as well, dense though. So I used 1/4 cup vegetable oil and 1/4 cup unsweetened apple sauce. Measured the oil in liquid measuring mug and the applesauce in dry measuring cup.

Try this recipe, click a pic and hashtag it #egglesscooking - Proudly showcase your creations on Instagram, Facebook & Twitter!