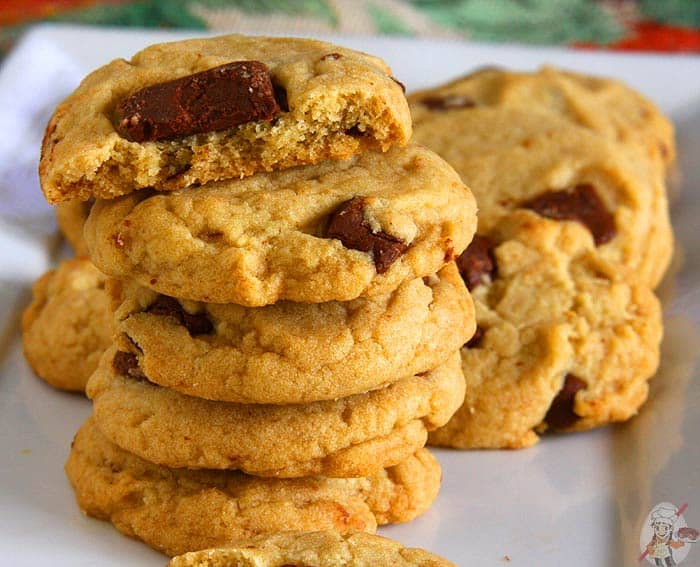 A few weeks back, a friend from the US was all praises for the cookies she had recently in a store called Insomnia Cookies. She wouldn't stop talking about it to me, which made me wonder if there was any store near my place, and I found a store in Toronto.
We hardly go to Toronto. So I thought, why not bake the cookies myself? I already have a gazillion variety of eggless chocolate chips cookie recipes in the blog. Still, I couldn't resist my temptation to try yet another recipe.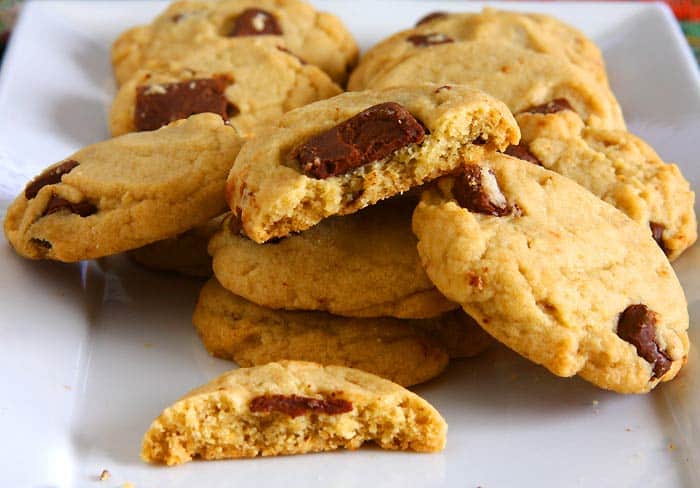 With a quick Google search, I found quite a few "copycat" Insomnia cookie recipes, and this one caught my attention mainly because recently I had purchased Enjoy Life's chocolate chunks to try another vegan recipe. I also had Earth Balance's vegan butter substitute for the same reason.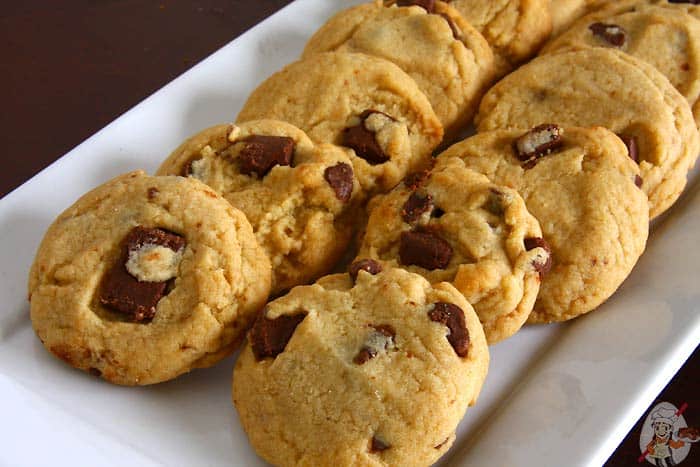 So instead of making eggless Insomnia Cookies, I thought, why not try vegan Insomnia cookies? I had all the ingredients to make it vegan.
I also doubled the recipe because I was meeting some friends and thought these cookies could be a good gift idea. I replaced the 2 eggs in the recipe with an Ener-G egg replacer.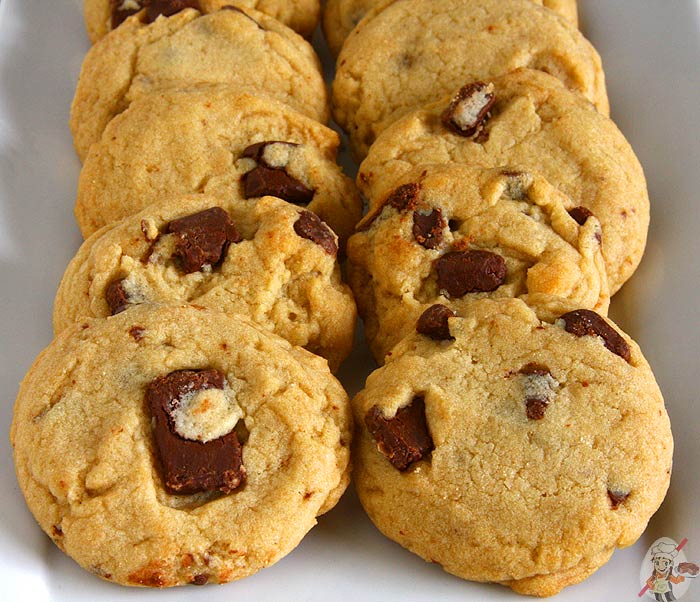 The cookies were soft and chewy with the perfect sweetness. The taste and texture were just perfect. I cannot compare it to the original Insomnia cookies because I have not tasted it, but I hope it was close.
How To Make Vegan Insomnia Cookies?
Here is the step-by-step pictorial instructions on how to make vegan Insomnia Chocolate Chunk cookies from scratch: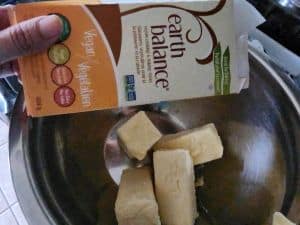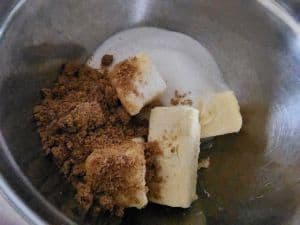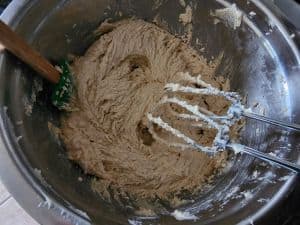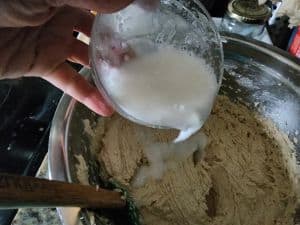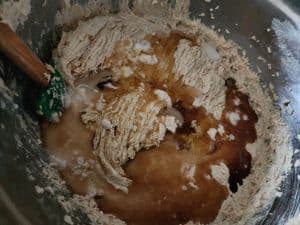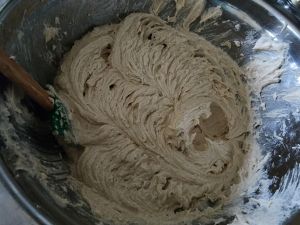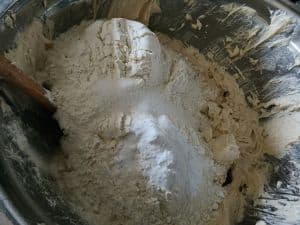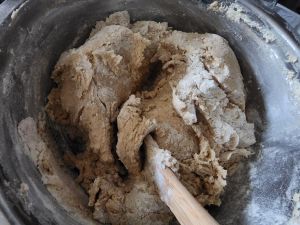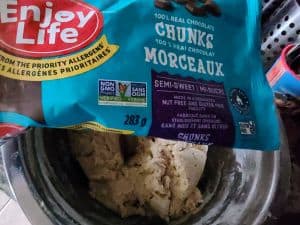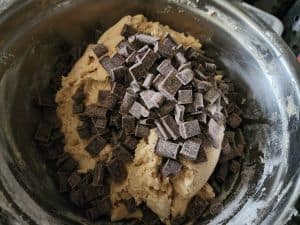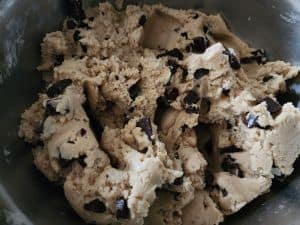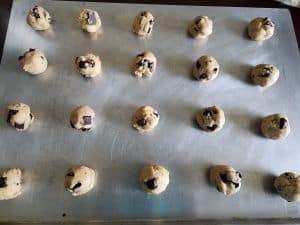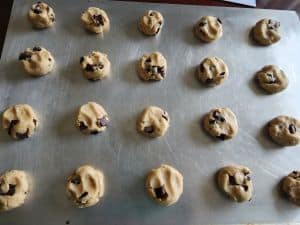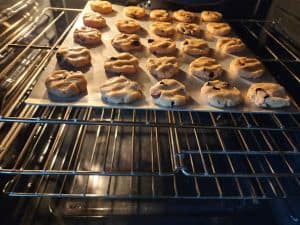 | | | |
| --- | --- | --- |
| Vegan Insomnia Chocolate Chunk Cookies Recipe | | |
| Prep Time | Cook Time | Makes |
| --- | --- | --- |
| 30 Mins | 15 to 16 Mins | 6 Dozen (72 Cookies) |
| Author | Category | Method |
| Madhuram | Cookies | Baking |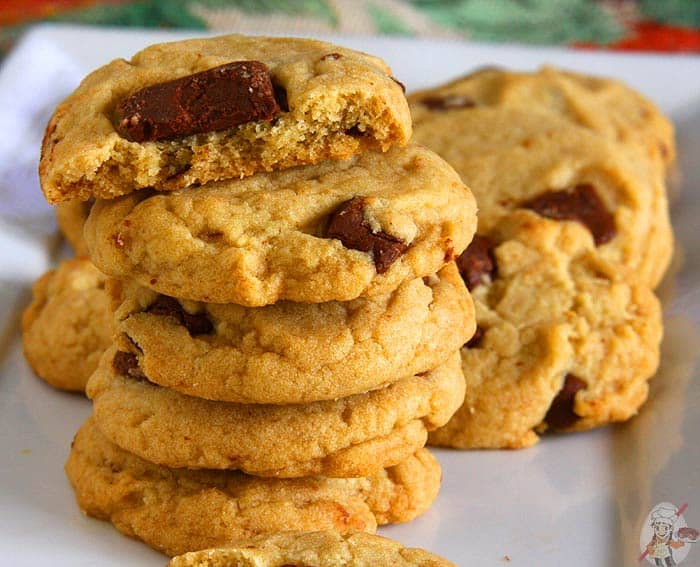 Crispy around the edges and soft and chewy in the center, these Vegan Insomnia Cookies will be a hit with your loved ones, just like mine.

Ingredients:
PART 1:
2 cups

vegan butter (Earth Balance)

2 cups

granulated sugar

1 cup

brown sugar

4 teaspoons

Ener-G egg replacer powder

6 tablespoons

water

4 tablespoons

corn syrup

2 teaspoons

vanilla extract
PART 2:
5 and 1/2 cups

all-purpose flour

1 teaspoon

baking soda

1 teaspoon

salt
PART 3:
2 cups

vegan chocolate chunks
Procedure:
Preheat oven to 350F/180C. Line baking sheet/s with parchment paper or lightly grease it with non-stick cooking spray. I usually rub the butter wrapper on the baking sheet/s.
In a small cup, whisk together the Ener-G egg replacer and water; set aside.
Add the vegan butter substitute and sugars (white and brown) in a large bowl and beat until light and creamy.
Add the Ener-G egg replacer mix, corn syrup, and vanilla extract to the creamed butter-sugar mix, and beat well.
To this creamed wet mix, add the dry ingredients listed under Part 2. Mix well with a wooden spoon.
Mix in the chocolate chunks. The cookie dough is ready now.
Use a tablespoon to scoop the dough and place it on the cookie sheet. As always, I test-baked about 5 cookies to see how well they spread or don't spread so that I don't mess up a huge batch of cookies. I normally try two things. Few cookies, I just drop the dough and, for the remaining, flatten it. The baking test showed that the cookies didn't spread much as it is, so flattening the dough was absolutely necessary. This may change with the type of fat you use, the consistency of how well it is creamed with the sugar, and the rest of the ingredients. So always test-bake before trying a huge batch.
Bake the cookies for 15-16 minutes or until golden brown.
Remove the cookie sheet from the oven, place it on a wire cooling rack, and cool completely before storing it in an air-tight container.
Repeat the same process for the rest of the dough.
Taste:
These cookies are delicious and warm from the oven. The soft and chewy texture, along with the melting chocolate chunks, it's pure bliss.
Once it cools, the edges are crispy and soft in the center. After a day or two, it sort of gets a bit on the hard side. It's nothing to complain about. The kids loved it. But you can warm it up in the microwave oven for a few seconds to have softer cookies.
Next time I will have to try to make these Insomnia cookies using butter. I'm sure it will have a different flavor.
My Notes:
If you don't want to make it vegan, use butter and regular chocolate chunks/chips instead of Earth Balance vegan butter substitute and Enjoy Life's allergen-free chocolate chunks. This will reduce the cost of baking the cookies. Do not use shortening because it will make the cookies crispy rather than soft and chewy, which I believe is the original texture of the Insomnia chocolate chunk cookies.
Although I did not try freezing the cookie dough for this recipe, I'm sure it would work perfectly. Scoop the dough onto the cookie sheet, lightly flatten it (if the test bake proved that the cookies do not spread without flattening), cover the cookie sheet with plastic wrap, and place it in the freezer. After a couple of hours, transfer the frozen cookie dough into a freezer bag and store it for 3-4 months. If you are in the mood for freshly baked warm cookies, simply remove the cookie dough from the freezer, place it on the baking sheet, and bake it, maybe for a couple of minutes extra. Thawing is not necessary.
Nutrition Facts
Vegan Insomnia Chocolate Chunk Cookies
Amount Per Serving
% Daily Value*
Potassium 3mg0%
Total Carbohydrates
14.3g
5%
* Percent Daily Values are based on a 2000 calorie diet.


Try this recipe, click a pic and hashtag it #egglesscooking - Proudly showcase your creations on Instagram, Facebook & Twitter!