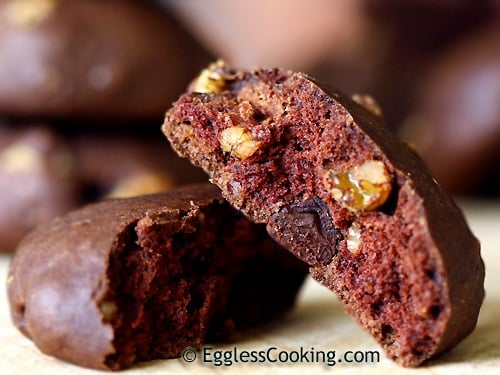 It's time for the review of Mega Chocolate Chunks from Enjoy Life Foods. What got me very excited about these chocolate chunks was that its vegan. For long time now I have been trying to get hold of some vegan chocolate chips but couldn't find it. I was able to find a lot of other specialty food products and even some from the Enjoy Life Foods' line but not the vegan chocolate chips. So I immediately agreed to review the mega chunks. For large-batch chocolate cookies, also see the egg-free chocolate shortbread cookies.
As always with Enjoy Life Foods, this one too was too good to be true and we found out that its true indeed. My son and I tasted the plain chocolate chunks and we didn't find it any different from the usual chocolate chips. That's a great news for all vegans and those allergic to dairy. The ingredients of these chunks are Evaporated Cane Juice, Natural Chocolate Liquor (non-Alcoholic), Non-dairy Cocoa Butter. Its vegan, gluten free, casein free, kosher, does not contain trans fats and artificial ingredients.
Its good eaten plain but how does it fair while baking? I wanted to test it as well and decided to bake a peanut butter banana bread and vegan double chocolate cookies. As the name implies, these are mega chunks, so I chopped them up roughly before using it in the recipes.
I had borrowed Veganomicon from the library and found a simple recipe for double chocolate cookies. I decided to follow the recipe ditto but in the midst of measuring flours and getting other things ready, I got an idea. Why not substitute maple syrup for the granulated sugar and oil mentioned in the recipe? Maple syrup is sweet and the consistency can also substitute the oil. But life is not that straight forward and easy. Is it? I just test baked one cookie and couldn't wait for it to cool. I tasted it and found that it was very dense. Eliminating fat altogether is not a good idea. So I added 1/4 cup of oil (as against the 2/3rd cup mentioned in the original recipe) to the remaining dough and mixed it well and baked as usual. Now the cookies were soft, chewy and more cake like. Lovely! The chocolate chunks did what it was supposed to do; mimicked the taste and texture of the regular chocolate chips.

| | | |
| --- | --- | --- |
| Vegan Double Chocolate Cookies Recipe | | |
| Prep Time | Cook Time | Makes |
| --- | --- | --- |
| 20 Mins | 10 Mins + 5 Mins Cooling | 30 Cookies |
| Author | Category | Method |
| Madhuram | Cookies | Baking |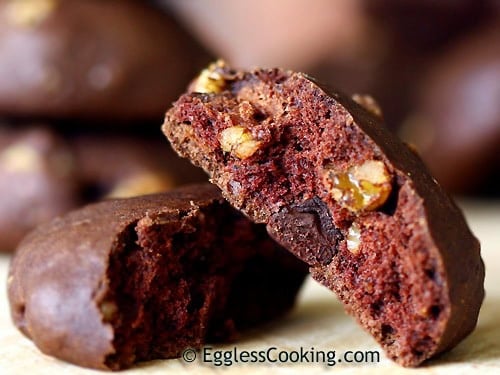 Vegan Double Chocolate Cookies
5.0

from

9

reviews
Want to bake vegan cookies? These vegan double chocolate cookie recipe is one recipe you should definitely try. They are soft, chewy and have a cake like texture. It's simple to make yet big on taste and won't be disappointed!

Ingredients:
2 Cups

All Purpose Flour

2/3 Cup

Unsweetened Dutch-Processed Cocoa Powder

1 Teaspoon

Baking Soda

1/2 Teaspoon

Salt

1/4 Cup

Vegetable Oil

3/4 Cup

Maple Syrup

4 Teaspoons

Flax Seed Meal

1/2 Cup

Almond Milk (Or Any Other Non Dairy Milk)

2 Teaspoons

Vanilla Extract

1/2 Teaspoon

Almond Extract

3/4 Cup

Vegan Chocolate Chips

3/4 Cup

Chopped Walnuts
Procedure:
Preheat oven to 350F/180C for 15 minutes. Line baking sheets with parchment paper.
In a large bowl, sift together the flour, cocoa powder, baking soda and salt.

In another large bowl, mix together the oil, maple syrup, flax seed meal, almond milk and extracts, and mix well.

Fold in the dry ingredients in batches. The batter will start to get stiff. You may have to use your hand from now on.

Add the chocolate chips and walnuts, and mix with a wooden spoon or your hand.

Use a 1 tablespoon measurement to scoop out the dough and place it on the baking sheet. Then roll each piece of dough and flatten into disks using your fingers and place it an inch apart on the cookie sheet.
Bake for 10 minutes. Remove from the oven and let stand for 5 minutes, then transfer to a wire rack to cool completely.
Taste:
As mentioned earlier these vegan double chocolate cookies have a very soft, cake-like texture. My mother-in-law felt that it needed a bit more sweetness but she loved the cookies very much and so did I. For some reason my son was not too excited about these cookies. He was just fishing for the chocolate chunks in the cookies.
My Notes:
If you want slightly crisper cookies do what was mentioned in the original recipe. Instead of the maple syrup add 1 and 1/2 cups of sugar and increase the quantity of oil to 2/3rd of a cup. No need to cream the mixture, just mix it together with the milk and extracts.
Flax seed meal was also optional in the original recipe. It was mentioned that using flax seed meal will give chewier cookies.
You could use any non dairy milk. The original recipe had used soy.
If you have a sweet tooth and decide to follow my method, you may want to increase the quantity of maple syrup to 1 cup.

Try this recipe, click a pic and hashtag it #egglesscooking - Proudly showcase your creations on Instagram, Facebook & Twitter!