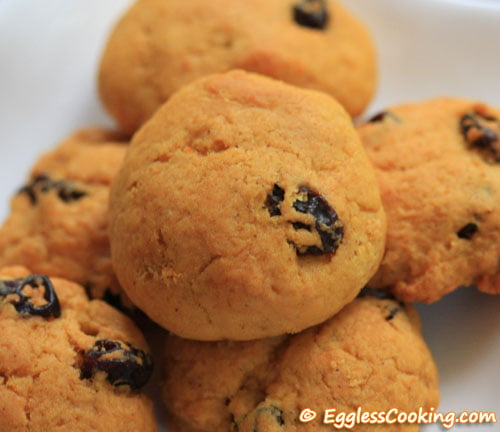 Vegan pumpkin cookies is this Halloween special! Pumpkin cookies, pumpkin pancakes, pumpkin muffins, pumpkin scones….it's everything pumpkins in October and November!
A couple of years ago when my eldest was in pre-school I made these vegan pumpkin cookies for his class snack. A rotation system for bringing snacks to school was in place then and each student had to provide snacks to the class for 2 days once in few months.
The first day I made him these vegan brownie cupcakes which was a huge hit with the kids and the teachers and I was told that they were eagerly waiting for the next snack I was going to bring.
It was almost close to Halloween and I had some canned pumpkin puree left and wanted to make a recipe using it. That was also the time when I had bought The Taste of Home Baking Book. Found this pumpkin recipe in that book and the original recipe by itself was vegan, so I didn't have to worry about egg substitution. The only change I made was I used Earth Balance vegan butter alternative instead of the shortening used.
The eggless pumpkin cookies came out very well. If you like your cookies to be soft and chewy, you should try this recipe. The recipe also had instructions for frosting, since I was baking them for kids I omitted it. I didn't want them to become hyper-active in the class later.
You can simply add chocolate chips to this recipe instead of raisins or bake these vegan pumpkin chocolate chip cookies recipe or try this easy pumpkin chocolate chip cookies.

| | | |
| --- | --- | --- |
| Vegan Pumpkin Cookies Recipe | | |
| Prep Time | Cook Time | Makes |
| --- | --- | --- |
| 20 Mins | 14 Mins + Cooling Mins. | 40 Cookies |
| Author | Category | Method |
| Madhuram | Cookies | Baking |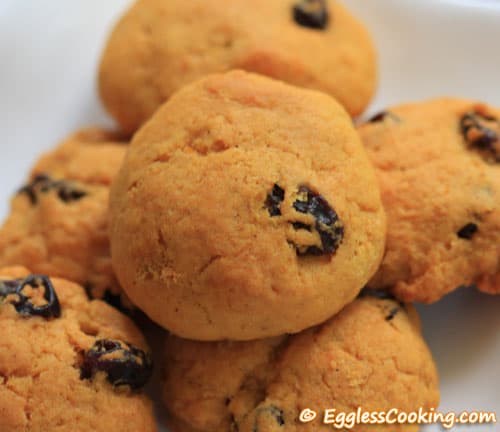 Vegan Pumpkin Cookies
5.0

from

21

reviews
If you are looking for a simple, vegan pumpkin cookie recipe, you have got to try this one for sure. These egg free pumpkin cookies are easy to bake and will make a huge batch that will feed a crowd.

Ingredients for Cookies:
1/2 Cup

Shortening (I Used Crisco All)

1 Cup

Sugar

1 Cup

Pumpkin Puree (Not Pumpkin Pie Filling Simply Canned Pumpkin Puree Or You May Also Choose To Buy Fresh Pumpkin And Cook It)

1 Teaspoon

Vanilla Extract (I Use Trader Joes Pure Vanilla Flavor Alcohol Free)

2 Cups

All Purpose Flour

1 Teaspoon

Baking Powder

1 Teaspoon

Baking Soda

1 Teaspoon

Ground Cinnamon (I Made It 1/2 Teaspoon)

A Dash

Salt

1 Cup

Raisins
Ingredients For Frosting:
2 Tablespoons

Butter (Vegans Can Use Earth Balance Or Any Other Soy Products)

1 And 1/2 Cups

Confectioner's Sugar

2 Tablespoons

Milk (For Vegan Version Use Soy Milk Instead)

1 Teaspoon

Vanilla Extract
Procedure for cookies:
Preheat the oven at 350F for 15 minutes.
In a large mixing bowl, cream shortening and sugar until light and fluffy.
Add pumpkin and vanilla.
Combine the flour, baking powder, baking soda, cinnamon and salt.
Add the dry ingredients to the creamed mixture and mix well.
Fold in raisins.
Drop by teaspoonfuls (I used 1/2 tablespoon measurement to scoop the dough) 2 in. apart onto greased baking sheets.
Bake the cookies for 12-14 minutes or until lightly browned. Mine took exactly 14 minutes for the batch which I baked in an aluminum baking sheet. The dark non stick baking sheet batch began to brown at 12 minutes itself. So watch closely.
Remove to wire racks to cool.
Procedure for frosting:
Melt butter in a small saucepan.
Stir in the sugar, milk and vanilla until smooth.
Frost cooled cookies.
My Notes:
Since this was my first experience with shortening, when I began to cream it with sugar I was sure that the cookies would not bake properly, because it does not cream like softened butter and sugar. Shortening is more solid than butter, even at room temperature, so even after creaming it with a hand held electric mixer for more than 7-8 minutes, it was sort of in a semi solid state. Or maybe that's what is light and fluffy, I do not know. But anyway I proceeded with the recipe, but the cookies did bake good enough.
I think either using freshly prepared pumpkin puree or adding some more liquid (like milk/soymilk) if using canned pumpkin would make the cookies even more light and crispy. I used the canned puree and it's solid packed, so it does not have enough moisture. Already the creamed mixture did not release any moisture and the pumpkin puree also was solid, so the cookie dough was stiff. I was literally praying that the cookies should come out properly or I would have to run out to the store at 9 in the night to get something for the kids next day. Fortunately it came out well. Since I have not tasted pumpkin cookies before, I don't have anything to compare with. But we liked it very much. As I have mentioned earlier, the cookies were chewy and not crispy.
Nutritional Information for 1 Cookie
Calories:

75


Total Fat:

2.4g


Cholesterol:

0mg


Total Carbohydrate:

13.3g

Sugars:

7.4g


Dietary Fiber:

0.5g


Protein:

0.9g


Sodium:

68mg


Potassium:

61mg

Try this recipe, click a pic and hashtag it #egglesscooking - Proudly showcase your creations on Instagram, Facebook & Twitter!