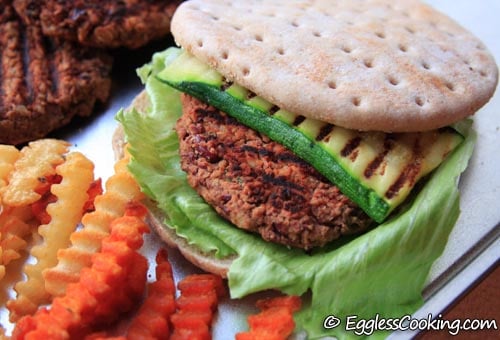 For long time now, I have wanted to prepare veggie burgers, or rather it was my husband's long pending request and I finally made it from Jai and Bee's blog. Their Spicy Vegan Kidney Bean Burgers is a fantastic recipe. I was able to prepare it for dinner in no time. I made some changes to the original recipe to use what we had in hand and to suit our taste.
We had our kidney beans veggie burgers on a bed of iceberg lettuce and grilled zucchini with a side of potato/sweet potato fries.
You can use this kidney bean burger recipe as a base to make a variety of veggie burgers. Black beans or chickpeas can be used too. Some cooked quinoa or brown rice can also be mixed in while making the burger patties for additional protein and fiber content.

| | | |
| --- | --- | --- |
| Vegan Kidney Bean Burgers Recipe | | |
| Prep Time | Cook Time | Makes |
| --- | --- | --- |
| 15 Mins | 15 Mins/Batch | 8 Vegan Burgers |
| Author | Category | Method |
| Madhuram | Tiffins/Main-Course | Cooking |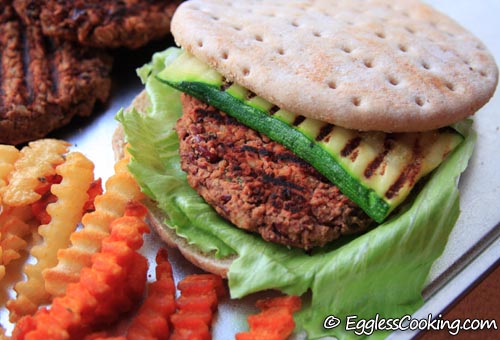 Want to make a fast food take out style dinner at home which is easy and healthy? This vegan kidney bean burgers is the way to go. Once you have all the ingredients ready to go, this kidney bean veggie burger can be made in no time.

Ingredients:
2 (15.5 oz) cans

kidney beans (used "no salt added" ones)

1/4 cup

chopped onions

3 cloves

garlic, chopped

1 small piece

ginger, chopped

1 tablespoon

Madras curry powder

1 tablespoon

Maggi Tomato Chili Ketchup (or any flavouring of your choice)

2 tablespoons

fresh coriander/cilantro, chopped

1/4 teaspoon

ajwain

2 tablespoons

nutritional yeast or roasted chickpeas flour

to taste

salt and lemon juice

1/4 cup

coarsely chopped almonds or any other nuts
Procedure:
In a food processor blend together all the ingredients except the chopped almonds. It should not be a fine paste. It should be coarsely ground. Using the "pulse" option would be better.
Add the salt and lemon juice as per taste.
You should be able to roll it into balls and flatten it as patties. If it looks sticky add some corn flour to get the right consistency. I used some more oats to be able to make it as patties. If it looks dry add a tablespoon of water.
Now fold in the chopped almonds too. Do not skip it as it gives a very good crunchy texture.
Use a tabletop grill if you have one or toast the patties on a hot pan/grill style griddle on stove top. I used the latter. Spray the grill with non stick oil spray and placed the burgers on it. It took around 8 -10 minutes for one side. Let it cook completely on one side, don't be in hurry and bother to turn them immediately, because it will lose it's shape. After 8 minutes or so, slowly flip it over the other side and let it cook for another 7-8 minutes. Vegan kidney bean burger is ready to eat!
My Notes:
If you don't prefer using canned beans, you soak about a cup of raw kidney beans overnight, pressure cook it with enough water and then proceed with this kidney bean burger recipe.
I don't have a food processor, so at first I just drained one can and rinsed it well and mixed all the other ingredients listed in the recipe and blended it using my Indian mixer. And let me tell you, it was little tricky to get the right consistency. Initially it did not grind at all and once I added a little water it became very mushy. I was glad that I reserved the other can. Now I opened the 2nd can, drained and rinsed it and mashed the beans nicely with a potato masher and mixed the ground mixture to this. Even then I was not able to make balls out of it. So instead of adding flour to the mixture as they had mentioned, I added a handful of quick cooking oats and I got the desirable consistency to shape them into burgers.
The original recipe mentions to use either ajwain (omam) or cumin, but I strongly suggest to go with ajwain, because I felt that it gave a very good flavor and aroma to the burgers.
I also did not have nutritional yeast, so used roasted chick pea flour (besan) instead.
For the buns, I used Arnold's Select 100% Whole Wheat Sandwich Thins. It is a mere 100 calories, with 6gm fiber and 5gm protein and it doesn't taste like mulch also.

Try this recipe, click a pic and hashtag it #egglesscooking - Proudly showcase your creations on Instagram, Facebook & Twitter!