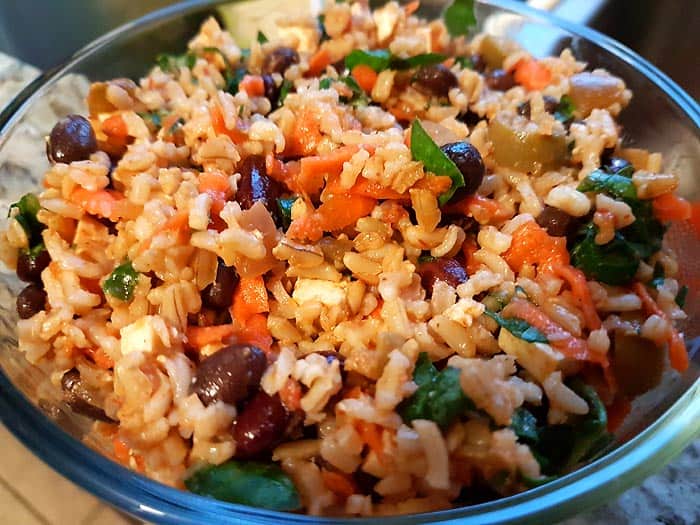 It's the beginning of a new school year and it's time to start wondering what to pack for lunch.
Packing kids' lunches has so many components to be taken into consideration. 1) It has to be easy and quick to make 2) It has to be wholesome and healthy 3) It has to be kid approved and all three of which are mutually inclusive. Additional conditions would be 1) if it can be made the previous day/ahead of time 2) if it tastes good even cold 3) if it packs well, etc.
I have two boys aged 12 and 7 and I wouldn't call them picky eaters except for a very few "I can't eat these, please don't force me to eat it" things like mushy green peas, avocado, cooked tomato pieces, etc. Lucky me! 😉 They are pretty much open to trying new things, sometimes after a bit of persuasion.
For instance when I heard about green smoothies for the first time a couple of years back and I tried it reluctantly. I was surprised how good it tasted in fact and had to nudge them a little to try it. And now 5 years later, it's still a staple breakfast at least twice a week.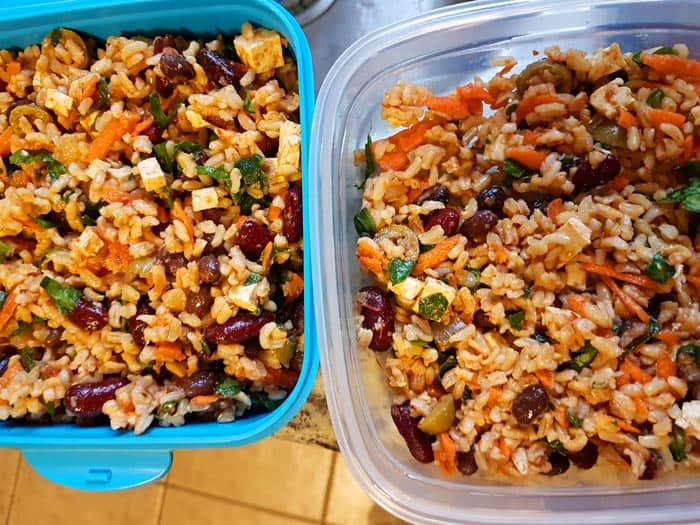 One of the principles I follow is if I am trying a new dish for the lunch box, I do not just pack it for school the very first time I make it, however good/tasty I think it is. Guessing game never works here. Our kids will never fail to surprise us. Also sometimes certain dishes taste good immediately after it is made but either turns soggy or hard by the time it's lunch break for the kids. So it is always better to try a new recipe on the weekends or a day ahead at least, test it with the kids and then decide whether it will qualify for the lunch box or not.
That's how this burrito bowl recipe has gotten into my "kids approved lunches" list. Chipotle's burrito bowl is one of their favorite dishes and I tried something similar for lunch on a weekend because I hadn't stocked my fridge with fresh groceries that week and had to make good with what I had. I accidentally made a huge batch of the rice and had leftovers.
The kids themselves offered to take it for lunch the next day. I'm not exaggerating when I say that sitting in the fridge for almost a whole day, the rice had soaked up all the flavors and tasted even better the next day. Empty lunch boxes spoke for itself!
Now to the recipe. I shouldn't even be calling it a recipe though! 😉 You will know why I say so shortly. The measurements really don't matter in this recipe. You can add as much or as less of the ingredients according to how much you have in hand.

| | | |
| --- | --- | --- |
| Brown Rice Burrito Bowl Recipe | | |
| Prep Time | Cook Time | Makes |
| --- | --- | --- |
| 10 Mins | 10 Mins | 7-8 Servings |
| Author | Category | Method |
| Madhuram | Frozen Desserts | Freezing |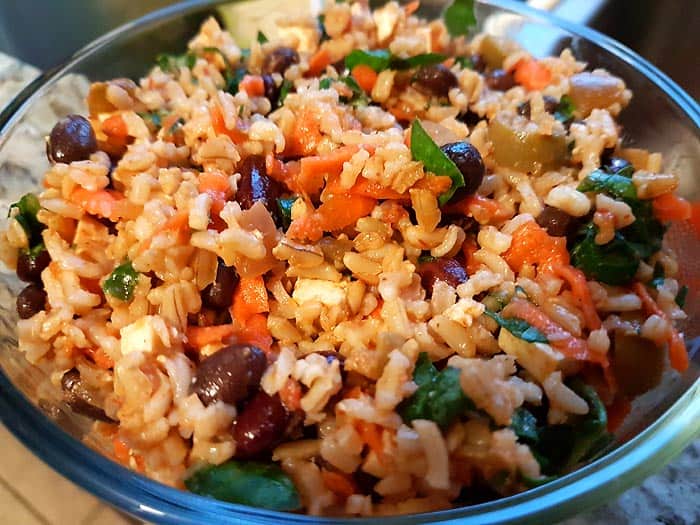 Looking for a quick fix, healthy, vegetarian meal which is also kid friendly? This versatile brown rice burrito bowl is the answer!

Ingredients:
3 cups

instant brown rice

2 cups

baby spinach, finely chopped

1 (15 oz can)

black beans and/or kidney beans (drained and rinsed)

1 cup

steamed sweet corn kernels

2 small

cucumbers, diced

1 medium

carrot, grated

1/2 block

extra-firm, organic tofu, diced

1/2 to 3/4 cup

salsa

1 teaspoon

taco seasoning

1 teaspoon

lemon juice

1/4 teaspoon

red chili powder (optional)

salt

to taste

fresh coriander finely chopped

as needed
Optional:
sour cream
cheddar
ice-berg lettuce
Procedure:
Cook the instant brown rice in the microwave oven or on stove top following the instructions on the pack. Once done, fluff it up using a fork and transfer to a large bowl.
Now add all the ingredients one by one and mix it well.
My Notes:
Add more or less of any ingredients. I used a combination of both black beans and kidney beans leftover which I had in the fridge. Chickpeas is also fine. Tofu is not a must. That day I didn't have corn. But I have tried this recipe earlier with corn.
If you/your kids like sweet peppers, use a variety of colored peppers, finely diced.
You can use cooked quinoa instead of brown rice. Even couscous too.
Use mild, medium or spicy salsa to suit your taste buds.
I would suggest adding sour cream, cheese and lettuce just before serving or eating. Lettuce will become soggy and so does adding sour cream too will make the rice a bit watery. So add it just before serving if eating at home or pack it separately if taking it for school. The burrito bowl tastes good even without these 3 ingredients. So omitting should be totally fine too.

Nutrition Facts
Servings: 8
Per Serving
% Daily Value*
Calories

366

Total Fat

4.2g

5%
Saturated Fat

0.7g

4%
Trans Fat

0g

Cholesterol

0mg

0%
Sodium

361mg

16%
Potassium 623mg
13%
Total Carb

70.9g

24%
Dietary Fiber

6.4g

23%
Sugars

2.5g

Protein

12.2g

Vitamin A 69% – Vitamin C 7%
Calcium 7% – Iron 18%

Try this recipe, click a pic and hashtag it #egglesscooking - Proudly showcase your creations on Instagram, Facebook & Twitter!