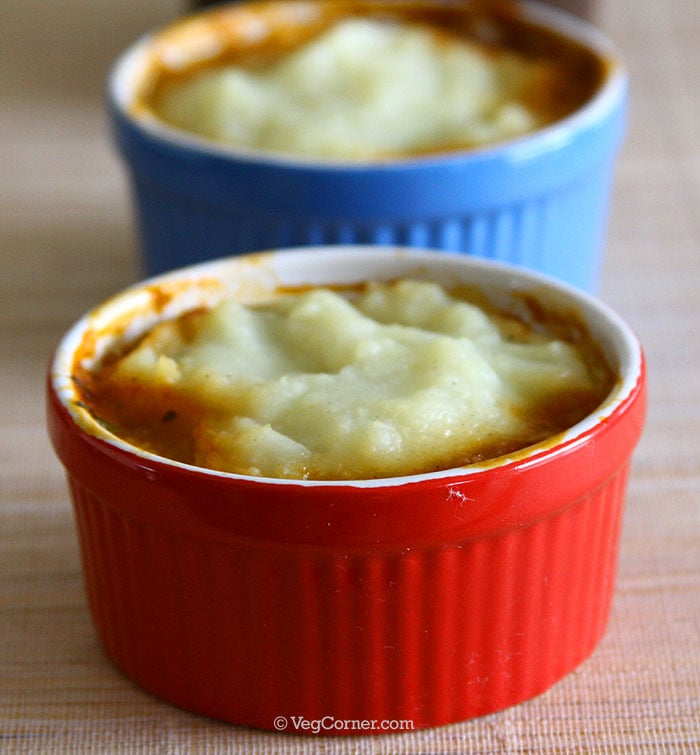 Over the past couple of months I have been reading Raj's wonderful blog and have been following his Facebook group and have gained invaluable insight about nutrition and fitness. It's a long way to go but I'm glad that I have at least found "the" path.
I'm gradually incorporating some of his principles in my(our) routine, starting with food. He does advocate eating meat (and at least eggs for vegetarians) which is not an option for our family (although I'm thinking of including eggs for my kids), so I'm trying to stick to his other rules, the most important being including a lot of vegetables, going easy on grains (including whole grains), avoiding unhealthy oils and simply eating real food.
Eat your vegetables. It definitely sounds boring and also leaves you wondering "how many salads can I eat every day? what else is there to cook with vegetables?" If you are a South Indian vegetarian like me, start by increasing the quantity you cook and eat of the daily curry (dry side dish made with vegetables) and Kootu (stew-like dish made with lentils and vegetables).
Instead of making Rasam and Sambar every day, make some hearty soups loaded with veggies. So nowadays I'm spending a lot of time browsing for recipe ideas. At first I thought that it was going to be very difficult to cook something new everyday but it isn't actually. On the contrary, dishing out the same old thing day in and day out only makes cooking a boring chore.
Though I have to agree that this new food routine is posing a problem for me when I decide to bake because according to Raj, flour (including whole grain flours) and sugar (be it honey, maple syrup or the million other alternatives) in any form is evil. There is no healthy dessert. Period.
You could have your dessert once a while or as long you keep it under control. But I love to bake, what do I do now? Hopefully I can find a solution for this.
Other than that I don't see why we shouldn't be following his principles in our daily life. If you are not a bake-aholic like me then more power to you. Start incorporating these tips one meal at a time and take it one day at a time.
So these days I'm looking forward to trying a new recipe every morning (at least most of the days). It's the dishwashing job that puts me off. I can hear you guys telling why don't you use the dishwasher. That's what it is for? Don't get me started on that now because it's a long story. To just give you a hint, it's being used as a storage. Now you can start judging me while I move on to this amazing low-carb vegan shepherd's pie recipe.
I saw this recipe and immediately realized that I had most of the ingredients in the fridge, which never happens usually. So I decided to prepare it for lunch the very same day. It was my very first try to make a shepherd's pie. Actually, I haven't even tasted it before. So I was even more excited to see how it turns out.
To follow one of Raj's rule of eating potatoes and white rice only post work out, I decided to make this vegan shepherd's pie low carb, by substituting mashed cauliflower topping for the regular mashed potato topping and it turned out great. I also made other substitutions and changes to the recipe which I have briefed in the Notes section.

| | | |
| --- | --- | --- |
| Low Carb Vegan Shepherd's Pie Recipe | | |
| Prep Time | Cook Time | Makes |
| --- | --- | --- |
| 20 Mins | 45 Mins | 4-5 Servings |
| Author | Category | Method |
| Madhuram | Main Course | Baking |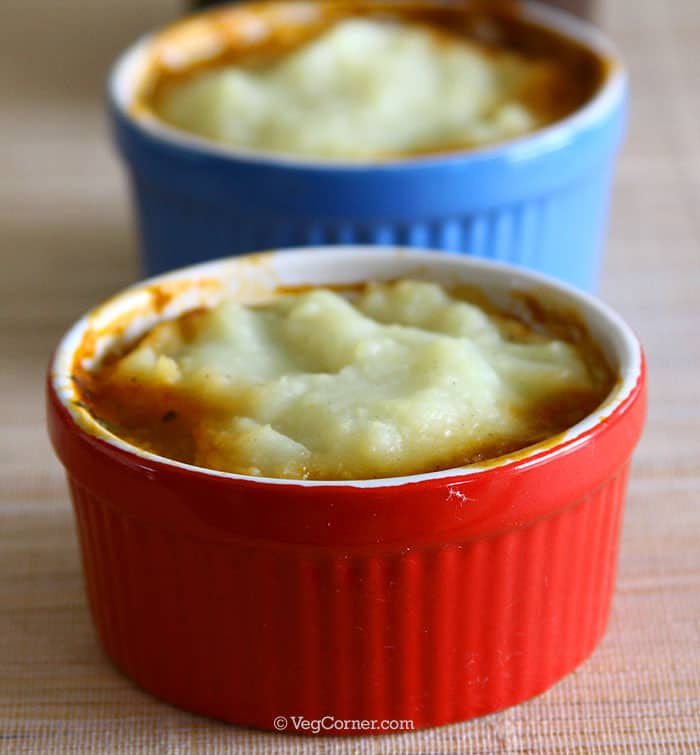 Loaded with fresh vegetables and flavorful herbs, there's nothing not to like in this vegan shepherd's pie.

Ingredients For The Top Layer:
4 Cups

Cauliflower Florets

1 Cup

Diced Potatoes, Peeled (1 Medium Size)

2 Tablespoons

Extra Virgin Olive Oil

Salt And Pepper

To Taste
Ingredients For The Bottom Layer:
2 Tablespoons

Extra Virgin Olive Oil

1 And 1/2 Cups

Chopped Onions (I Used 1 Large Red Onion)

3 Cups

Diced Zucchini (About 3 Medium Size)

2 Cups

Sliced Mushrooms

1 Cup

Green Peas

2 Cloves

Garlic, Minced

1

Tomato, Chopped Into Small Pieces

1 Cup

Organic Tomato And Basil Sauce (See My Notes)

1 And 1/2 Tablespoon

Balsamic Vinegar

Salt And Pepper

To Taste

1/2 Teaspoon

Dried Italian Herbs Seasoning

4-5 Cups

Chopped Spinach
Procedure:
Bring about 4-5 cups of water to boil in a large sauce pot. Meanwhile prep the cauliflower and potato. Soak them both in clean water to remove any dirt if any.
When the water begins to boil, add salt and the potatoes; cover the pot partially. After about 7 minutes add the cauliflower florets and after another 10 minutes both the cauliflower and potatoes would have cooked completely. Remove the pot from the stove and drain it reserving some of the liquid. Add the olive oil and mash the vegetables using a potato masher. Add some of the reserved water if needed. Check for seasoning and add salt and pepper as needed. Keep this aside.
Assuming that you have all the vegetables chopped and ready you can start the cooking process for the bottom layer once you add the potatoes to the boiling water. At this stage you could also start preheating the oven at 375F/190C for 15 minutes. Lightly grease the baking dish you are going to use with either butter or olive oil. I used olive oil.
Now to prepare the bottom layer heat olive oil in another pan and add the chopped onions. Add some salt to quicken the cooking time of onions. Keep stirring.
Once the onions are cooked well, add the zucchini. Add another pinch of salt and stir well. Cook with lid covered partially for another 3-4 minutes.
Add the mushrooms, peas and garlic, stirring occasionally, for another 3 minutes.
Add chopped tomatoes, cook for 2 minutes.
Add tomato sauce, vinegar, herbs, salt and pepper to taste.
Bring to simmer and cook for about 3-4 minutes, partially covered.
Now add the chopped spinach. 4-5 cups might look a lot but once you put it in the sauce it will start wilting. You can add it in batches, if the pan you are using is quite small. Let all the spinach wilt and cook for another 2 minutes.
Transfer this mixture to the prepared baking dish or dishes in my case. I used 2 big bowls (for my husband and myself) and 3 small ramekins for my kids so we can have individual serving of vegetarian shepherd's pie.

Spread the mashed cauliflower over the dishes evenly.

Bake for 20-25 minutes or until bubbling hot. You can actually see the sauce bubbling.
The pie will be piping hot so don't be in a hurry to taste it!
Taste:
This was my first taste of shepherd's pie ever. So I didn't have anything to compare it with. For me, it was a very good dish. My husband relished it very much and so did my kids. Even the 1-year-old! Will I make it again? Definitely. Although I would like to give it an Indian spin using Indian spices like bay leaf, cinnamon, cumin, coriander etc.
To my surprise the mashed cauliflower layer really tasted very good. I was not expecting that at all. I have known for a while that cauliflower is a good substitute in mashed potato recipe but didn't try it until now and I agree that it's really a good switch. You hardly notice the difference.
My Notes:
I have not tried to imitate a shepherd's pie with meat by using meat replacements. This is simply a vegetarian shepherd's pie with lots of vegetables in it. So if you are looking for the texture of the meat in this pie, you could add some soy and/or other meat substitutes available in the grocery store.
This recipe has a lot of room for changes. I didn't follow the original recipe exactly. I omitted some vegetables included many. I didn't have eggplant so increased the quantity of zucchini and mushrooms. I also used a cup of tomato and basil pasta sauce instead of a can of diced tomatoes and dried herbs instead of fresh basil. I also included a ton of spinach which was not mentioned in the recipe. So feel free to use the veggies you have in hand, but try to keep the quantity more or less the same.
If you are one among those lucky people who don't need to watch their carbs, then go ahead and do a complete mashed potato layer (but I don't see the reason because the mashed cauliflower was really good) and add some beans (chickpeas, kidney beans etc) to the filling.
Add some paneer or tofu (preferably tempeh) for protein and you have got yourself a complete meal.

Try this recipe, click a pic and hashtag it #egglesscooking - Proudly showcase your creations on Instagram, Facebook & Twitter!