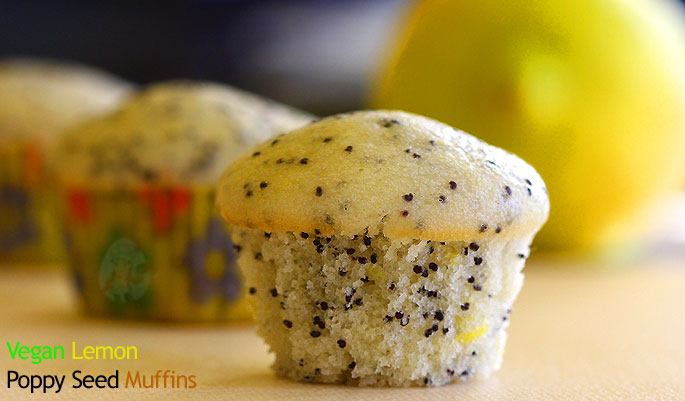 A couple of days back I had asked my Facebook fans a question about recipe requests, which is if they have any recipe they would like to see here. I got a lot of feedback. Poppyseed cupcakes or muffins, choux pastry, eclairs, yeast breads, pies, cheesecakes were asked the most. I didn't have time to bake something as elaborate as pies, cheesecakes or choux pastry so decided to go with a rather simple one.
I too have wanted to try baked treats with poppy seeds for a long time now, especially after trying a moist lemon poppy seed bread in my son's school 2 months back. The Facebook request made me go for it immediately. I started browsing for recipes and found that either lemon or orange or a combination of both was used in combination with the poppy seeds, be it muffins, cupcakes or quick breads. I liked the bread which I had in school so wanted to try that flavor combo itself but decided to bake muffins instead.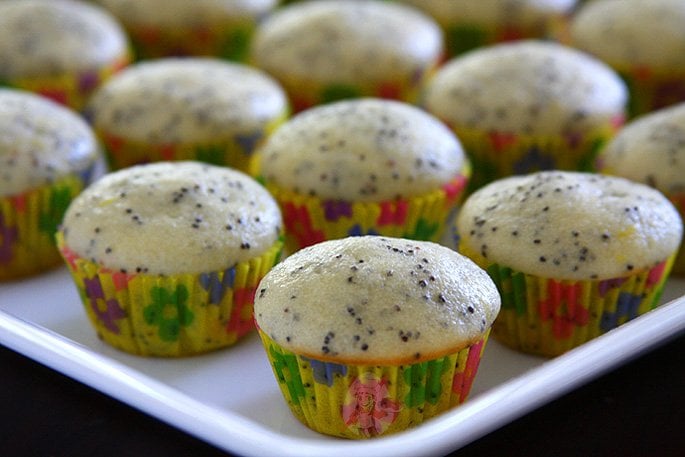 I bookmarked a couple of recipes but ended up tweaking the vegan chocolate chip muffin recipe itself because I loved the taste and texture of it. The original recipe is from Vegan Brunch, but I have modified it to bake these moist lemon poppy seed muffins. It can very well be cupcakes too because it had a nice smooth top when it was done baking. With some lemon-cream cheese frosting, these poppy seed cupcakes would be a cute addition on any breakfast, brunch or party table. Initially, it felt like that it was not sweet enough but ended up being perfect for us.

| | | |
| --- | --- | --- |
| Vegan Lemon Poppy Seeds Mini Muffin Recipe | | |
| Prep Time | Cook Time | Makes |
| --- | --- | --- |
| 15 Mins | 10 Mins | 36 Mini-Muffins |
| Author | Category | Method |
| Madhuram | Muffins | Baking |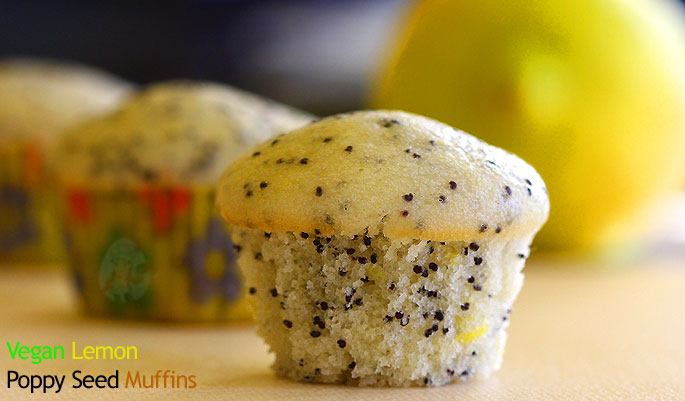 I don't have enough adjectives to describe these cute, moist and fluffy mini muffins. The flavor of fresh lemon juice and zest along with the crunchy poppy seeds will make these bite size muffins a mega hit.

Wet Ingredients: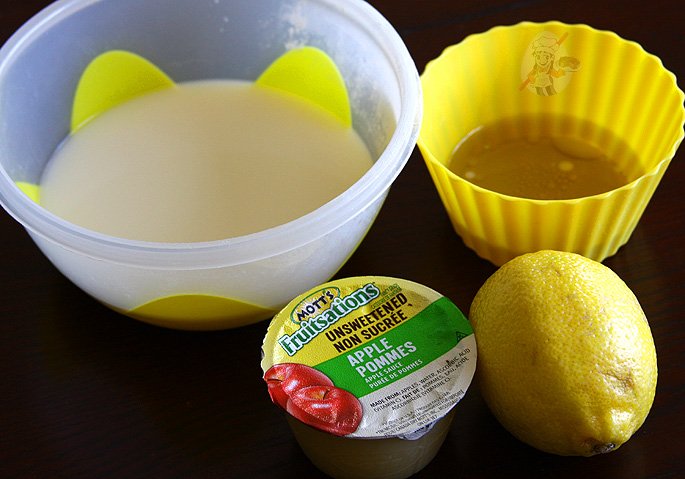 1 cup

rice milk

3.5 tablespoons

lemon juice

1/4 cup

unsweetened applesauce

1/4 cup

avocado oil

lemon zest from 2 lemons
Dry Ingredients: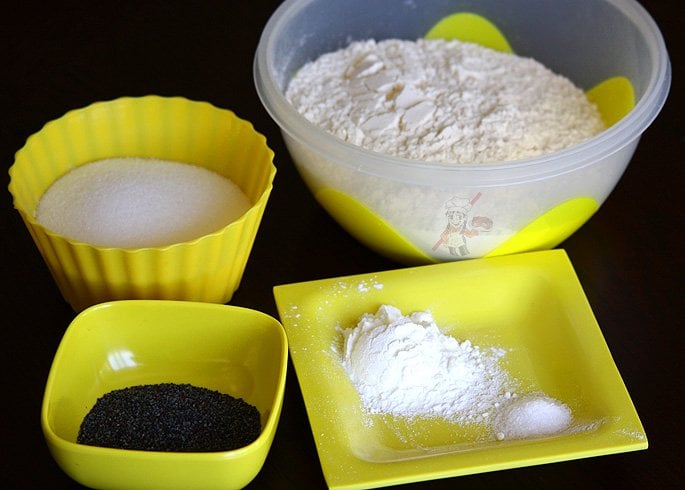 2 cups

all-purpose flour

3/4 cup

white sugar

2 and 1/2 tablespoons

poppy seeds

1 tablespoon

baking powder

1/4 teaspoon

salt
Procedure:
Preheat oven to 375F/190C for 15 minutes. Lightly grease a 24 cups mini muffin tin or line it with paper liners.
In a medium size bowl mix together the milk and lemon juice; set aside for about 5 minutes (Check My Notes). After that stir in applesauce, oil and lemon zest.
In a large bowl, whisk together the dry ingredients and make a well in the center.
Pour the wet ingredients into the flour mix and stir until just combined. Do not over mix.
Scoop out about a tablespoon of batter in each muffin cup. Bake for about 10-12 minutes or until a toothpick inserted in the center of a muffin comes out clean. Mine was done in 10 minutes.
My Notes:
The milk and lemon juice mixture did not curdle as much as I expected. The milk and vinegar combination curdles very quickly but since I was making lemon poppy seed muffins I decided to use extra lemon juice itself.
The mixture of non-dairy milk and vinegar/lemon juice is to make a vegan alternative for sour milk or buttermilk. I started off with just 2 tablespoons of lemon juice but after tasting the batter once everything was mixed I felt that it did not have enough "lemony" flavor. So ended up adding another 1.5 tablespoons of the juice, making it 3.5 tablespoons in total which was the entire juice from 1 lemon.
I guess the amount of juice you use will actually depend upon how sour the lemon you are using it.

Nutrition Facts
Servings: 36
Per Serving
% Daily Value*
Calories

60

Total Fat

1.3g

2%
Saturated Fat

0.2g

1%
Trans Fat

0g

Cholesterol

0mg

0%
Sodium

19mg

1%
Potassium 60mg
2%
Total Carb

11.1g

4%
Dietary Fiber

0.5g

2%
Sugars

4.4g

Protein

1.2g

Vitamin A 0% – Vitamin C 1%
Calcium 5% – Iron 3%

Try this recipe, click a pic and hashtag it #egglesscooking - Proudly showcase your creations on Instagram, Facebook & Twitter!