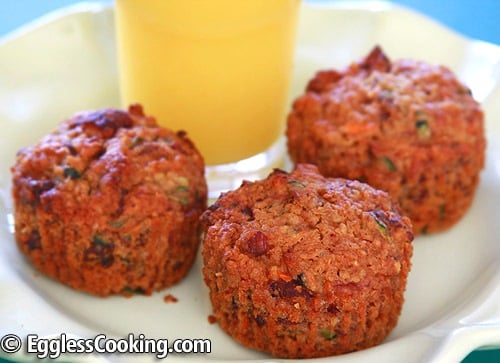 I haven't struggled so much to come up with a name for a recipe before. Usually I go with the title of the original recipe if it is from some source or pick something which is more apt. This oat bran muffin recipe is an exception to it because it has a big list of healthy ingredients and leaving even just one doesn't seem right to me.
So you must be wondering what is really there in this muffin! It has significant amount of oat bran, carrots, apples, zucchini, raisins and pecans. I have made it vegan as well. Now you can understand what I'm talking about right? Muffins can't get any healthier and tastier too. Yes you read it right, these oat bran muffins are damn tasty. You don't really realize the presence of oat bran because it is loaded with lot of other ingredients.
Usually when a recipe calls for a huge quantity of healthy flour like whole wheat or oat bran in this case, we usually try to mask it with a whole lot of other unhealthy ingredients but in the end term it as healthy. But this muffin recipe is a BIG exception to this. It has so much other healthy ingredients going in but it actually doesn't taste healthy at all. It tastes just like any other ordinary carrot muffin or even better I can say. I found this recipe in "250 Best Muffin Recipes" by Esther Brody. I have modified it a little bit to make it vegan and to use the stuff I had in the refrigerator. My son helped me with measuring the ingredients and when I was in doubt myself whether the muffins are going to turn out right, like a big fellow he was assuring me that it is going to be just fine. And it was very fine indeed! These oat bran muffins are good for any time of the day. It can be a very good way to start your day with a cup of milk or freshly squeezed orange juice, or to pack it in the lunch box as dessert, or an after school snack or to end your day with a guiltless indulgence.

| | | |
| --- | --- | --- |
| Wholesome Vegan Oat Bran Muffins Recipe | | |
| Prep Time | Cook Time | Makes |
| --- | --- | --- |
| 15 Mins | 16 Mins | 24 mini muffins & 9 regular muffins |
| Author | Category | Method |
| Madhuram | Muffins | Baking |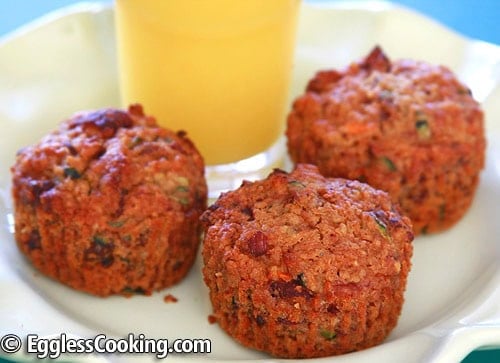 It's difficult to believe that these delicious muffins are vegan and loaded with a lot of healthy ingredients including oat bran.

Dry Ingredients:
1 cup

All Purpose Flour

1 cup

Oat Bran

2 teaspoons

Baking Soda

1 and 1/4 teaspoon

Baking Powder

1/2 teaspoon

Salt

1 teaspoon

Ground Cardamom

1 cup

Brown Sugar, packed (light brown)

1 cup

Grated Carrots

1 cup

Grated Apple

1 cup

Grated Zucchini

1/2 cup

Raisins

1 cup

Chopped Pecans
Wet Ingredients:
1/4 cup

Oil (I used Canola)

1/2 cup

Unsweetened Applesauce

1/4 cup

Water

1 teaspoon

Vanilla Extract
Procedure:
Preheat oven to 375F/190C for 15 minutes. Line required muffin tins with paper liners or grease it with a non stick cooking spray.
In a large bowl, stir together the dry ingredients and make a well in the center.
Similarly combine together the wet ingredients in a separate bowl. Just stir it well with a whisk.
Pour the wet mixture of the dry ingredients and stir until just combined. Do not over-mix.
Spoon the batter into prepared muffin tins.
Bake in the preheated oven for 10 minutes for the mini muffins and around 16 minutes for the regular size muffins. The time mentioned in the original recipe was about 20 minutes, but when I did the toothpick test around 15 minutes I saw that the muffins were almost done, so just left it for one more minute.
Leave the pan on the wire rack for just 5 minutes and transfer the muffins directly to the cooling rack. If the muffins are left in the pan for more than 5 minutes the muffins will start to condense.
My Notes:
I just washed the carrot, apple and zucchini. Did not peel it before grating.
Zucchini was not used in the original recipe, instead 2 apples were used and 1/2 cup skim milk. Since I used grated zucchini it started secreting water and so used only 1/4 of liquid (water in this case to make it vegan). So if you are using all apples, you may want to use another 1/4 cup of liquid or add less or more according to the consistency of the batter.
Also 2 teaspoons of cinnamon was used. Since I'm not a cinnamon fan I used 1 teaspoon of cardamom instead and actually felt that even that was more. If you are not a spice fan like me even 1/2 teaspoon should be fine.
Once the dry and wet ingredients are mixed together you may notice that the mixture is very tight unlike the usual muffin batter. Don't worry though because the zucchini starts secreting water and makes it right.
The mini muffin cups hold roughly about a tablespoon of the batter and fill the regular size muffin to the top of the tin. Since this muffin batter is thick it does not rise a whole lot, so you don't have to worry about the muffins overflowing.
The original recipe mentions that it will yield 18 regular size muffins. Since I wanted to pack it for my son's lunch I first filled a 24 mini muffin tin and the rest of the batter was just enough for 9 regular muffins. Had I spooned the batter among the 9 muffin cups I would have got even beautiful muffins with bigger tops.

Try this recipe, click a pic and hashtag it #egglesscooking - Proudly showcase your creations on Instagram, Facebook & Twitter!