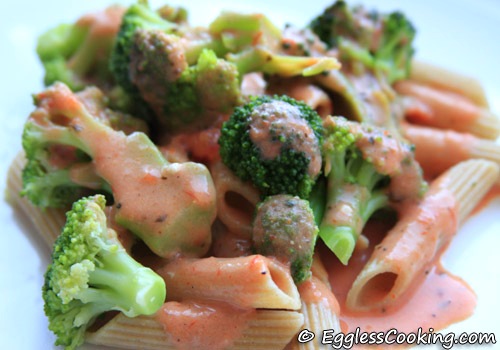 Vegan and creamy? Sounds like an oxymoron right? The secret to the creaminess is "silken tofu". It's pureed and mixed with regular pasta sauce and is topped over the pasta and steamed vegetables.
This recipe is from the book Vegetarian Times Fast and Easy. I had copied it a long time back. As soon as I came to know about Vaishali's It's a Vegan World – Italian event, this dish came to my mind.
Those who have not tasted tofu before or having doubts about how it would taste in a sauce, you can take my word on this one. I'm very sure that you will love this sauce and pasta dish. The sauce tastes nothing like tofu. You will not get any weird smell or funny aftertaste.
Even my son who generally eats plain cooked pasta, did not mind the sauce this time. Now he has two favorite pasta sauces, the beet sauce and this one. For the best sauce I had used ricotta cheese to get the creaminess, but this one tasted as good as the beet sauce. We also did not miss the white pasta. I think the sauce even made the whole wheat penne to taste better.
Unused portion of tofu has to be stored in an airtight container in the refrigerator and should be used within 2-3 days. Don't know what to do with the balance tofu? Check out here for other silken tofu recipes.

| | | |
| --- | --- | --- |
| Vegan Pasta with Creamy Tomato Sauce Recipe | | |
| Prep Time | Cook Time | Makes |
| --- | --- | --- |
| 10 Mins | 20 Mins | 3 Servings |
| Author | Category | Method |
| Madhuram | Pasta/Spaghetti | Cooking |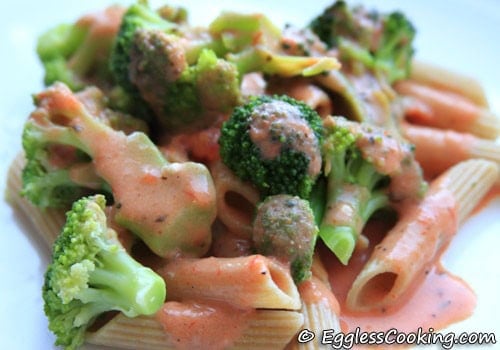 Delicious vegan pasta dish with creamy tomato sauce using silken tofu.

Ingredients:
2 cups

Uncooked Whole Wheat Penne

4 cups

Broccoli

1/2 cup

Silken Tofu

1 and 1/2 cup

Pasta Sauce (I used Preggos Heart Smart Italian Sauce)

As Per Taste

Salt

To Taste

Ground pepper
Procedure:
Cook pasta as per package directions. Drain pasta, reserving 1/2-3/4 cup cooking water.
Steam broccoli until tender, about 6-7 minutes.
Puree the tofu in a food processor or blender, until smooth.
In a medium saucepan combine tofu, pasta sauce and enough reserved pasta water to create a creamy sauce. Cook sauce over medium heat, stirring occasionally, until heated through. Do not boil.
Season to taste with salt and pepper.
Transfer pasta to serving bowl; add broccoli, and toss to mix.
Top with sauce, and serve.
My Notes:
I did not measure the servings exactly, but I'm sure it is enough to feed at least 3 adults.
The original recipe had 1/2 cup chopped black olives. If you want to use it, you should add it to the sauce while it's heating.
If you are able to find reduced-fat firm silken tofu use it, because that was mentioned in the original recipe. I didn't get it, so I have used Mori Nu's regular silken tofu.
My son loves broccoli, so there was almost nothing left for the pasta when we sat down to eat. I had a pack of frozen Italian vegetables (broccoli, carrots and cauliflower). So I steamed it and tossed it with the pasta. That was good too.

Try this recipe, click a pic and hashtag it #egglesscooking - Proudly showcase your creations on Instagram, Facebook & Twitter!