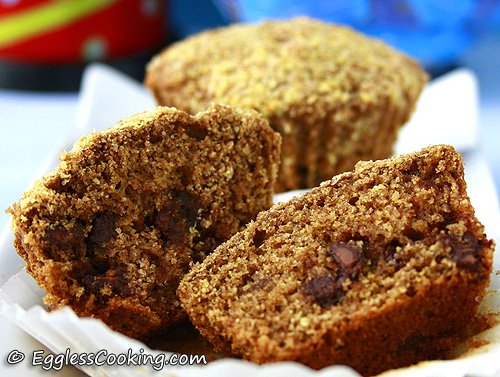 Do you have a collection of truly tried and tested recipes, which you would like to pass down to the generation to come? If I make a such a list, this recipe for chocolate chip muffins will definitely find a place in it. This healthy muffin recipe is from the book Deceptively Delicious by Jessica Seinfeld. This book is full of tips, tricks and recipes to prepare healthy and tasty meals. The only change I had to make was to substitute the egg white.
The author had suggested using either whole wheat pastry flour or all-purpose flour. I decided to go with the pastry flour and I'm so glad that I did it because the muffins came out so well; tasted excellent, had a wonderful texture and was very satisfying.

| | | |
| --- | --- | --- |
| Healthy Chocolate Chip Muffins Recipe | | |
| Prep Time | Cook Time | Makes |
| --- | --- | --- |
| 15 Mins | 25 Mins | 11 Muffins |
| Author | Category | Method |
| Madhuram | Muffins | Baking |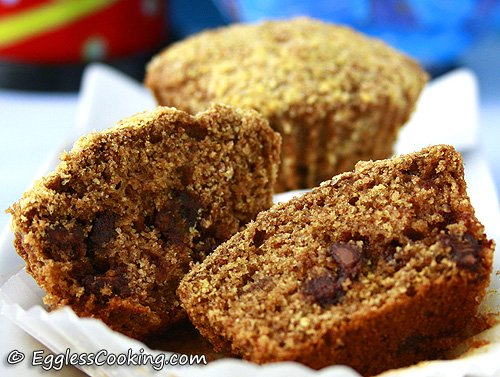 I can't believe these yummy chocolate chip muffins are made with whole wheat pastry flour and are eggless.

Ingredients:
1/2 cup

Brown Sugar (I used dark brown sugar), firmly packed

4 tablespoons

Soft Tub Margarine Spread (I used Becel Original)

3/4 cup

Buttermilk (I used 1%)

3/4 to 1 cup

Chocolate Chips (I used milk chocolate chips)

1/4 cup or one 2.5oz small jar

Prune Puree (I used Beech Nut baby food)

1 tablespoon

Water

1 tablespoon

Unsweetened Applesauce

2 teaspoons

Vanilla Extract

2 cups

Whole Wheat Pastry Flour

1 teaspoon

Baking Powder

1 teaspoon

Baking Soda

1/4 teaspoon

Salt

1/4 cup

Wheat Germ, toasted
Procedure:
Preheat oven to 350F for 15 minutes. Line a 12-cup muffin tin with paper liners and use a nonstick cooking spray to grease the liners. In a baking sheet toast the wheat germ while the oven is preheating. Have a close watch or else it might burn. Around 5 minutes should be enough.
In a large mixing bowl, beat the margarine and sugar until creamy using a handheld electric mixer. Stir in the buttermilk. The mixture appears to be curdled but doesn't worry. Also, add the prune puree. Add the 1 tablespoon water to the baby food jar and shake it well and then pour it to the rest of the ingredients. Stir in the applesauce and vanilla extract too.
Add the rest of the dry ingredients (flour to salt) except the wheat germ to the wet ingredients and stir until just combined; do not over-mix. Lumps in the batter are fine.
Divide the batter among the muffin cups. Sprinkle the tops with wheat germ (around 1 teaspoon for each muffin). I usually fill 3 tablespoons of batter for each muffin. Even though the measurement is for 12 muffins, I was able to fill only 11 cups. So fill the 12th cup with water (3/4th of the tin should be enough), to ensure even baking of the muffins.
Bake around 20-25 minutes or until a toothpick inserted in the center comes out clean. I baked mine for 23 minutes.
Remove the muffin tin from the oven and cool it on a wire rack for 5 minutes. After 5 minutes take the muffins out of the pan and let it cool on a wire rack.
Taste:
If you think that healthy and tasty don't go together, you have to taste these muffins to change your belief. It is unbelievably tasty for a muffin made with whole wheat pastry flour. No raw smell or bitter aftertaste, the right amount of sugar and amazing texture! I don't think I will like any other chocolate chip muffin more than this one or try any other recipe, because this is PERFECT. I did skimp on the wheat germ topping because I was not sure if I would like it, but what a surprise, it blended well with the muffin and did not affect the taste. My son loved these muffins.
Another interesting thing, these muffins tasted so good on the day I baked them itself. Usually, whole wheat baked goods don't taste good the same day, it gets better the next day. I know that I cannot resist my temptation to taste it immediately, so I baked these after dinner assuming that it can cool overnight and we can have it for breakfast the following day. But I was able to be patient only for 3 hours. I skeptically took a piece of the muffin and was really blown away by the texture and taste and ended up eating the entire muffin. Initially, you will be able to smell the baking powder (very mild) but not after the second day.
My Notes:
As per the original recipe you can use either prunes or dates. Blend 1/4 cup chopped prunes or dates with 1/4 cup hot water and puree until smooth. I had a jar of pureed prune, so I used it instead. The 2.5oz jar measures exactly 1/4 cup.
The muffins are brown in color because of the prune puree but that does not affect the taste at all. I think using dates will leave its taste in the muffins.
The original recipe required one egg white, which can be substituted with 2 tablespoons of any egg substitute. I think the egg white acts as a binder in this recipe. So I used a tablespoon of water (to wash the prune puree jar) and 1 tablespoon applesauce. If you have extra prune/date puree you can use 2 tablespoons of the same.

Try this recipe, click a pic and hashtag it #egglesscooking - Proudly showcase your creations on Instagram, Facebook & Twitter!