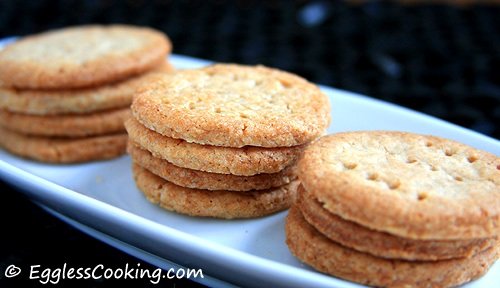 Digestive cookies (or digestive biscuits) are the backbone of British baking (that's what I read in a book). I was looking for a recipe with British origin in the Reader's Digest Cookies book and found this one to be very simple to bake with ingredients easily available.
I have not changed anything in the recipe and also don't have anything to write in the My Notes section because it's pretty straightforward. Just mixing dry ingredients and wet ingredients, forming a soft dough, rolling it out and cutting shapes with a cookie cutter. How difficult is this?

| Prep Time | Cook Time | Makes |
| --- | --- | --- |
| 15 Mins | 15 Mins | 45 Cookies |
| Author | Category | Method |
| Madhuram | Cookies | Baking |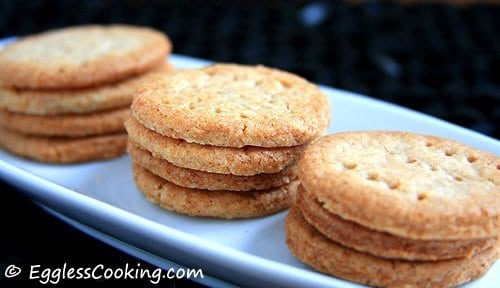 Whole Wheat Digestive Cookies
4.0

from

4

reviews
A simple recipe for Britain's famous digestive cookies.

Ingredients:
1 and 1/3 cups

Whole Wheat Flour

1/4 cup

All Purpose Flour

1 teaspoon

Baking Powder

1/2 teaspoon

Salt

2 tablespoons

Rolled oats/quick cooking oats

5 tablespoons

Butter

1 cup

Sugar

1/3 cup

Milk (I used 2%)
Procedure:
In a large mixing bowl sift all the dry ingredients except oats and sugar. Stir in the oats.
Take out the butter from the refrigerator, cut up into small pieces and add it to the flour mixture. Using a pastry blender further cut the butter until the mixture resembles coarse crumbs. If you don't have a pastry blender you can do this with your fingers or fork too, but it's more work.
Stir in the sugar and add milk little by little to form a soft dough. Knead until smooth.
Press the dough into disk, wrap in plastic wrap and leave it in the fridge for 30 minutes. Set the kitchen timer for 15 minutes. When the timer goes off start preheating the oven at 375F for 15 minutes. So by the time the oven preheats it will be 30 minutes and you can start working on the cookie dough. Also butter 2 cookie sheets.
Lightly flour the surface. Roll out the dough into 1/4 inch thickness. Use a cookie cutter to cut out the cookies. Gather the dough scraps, re-roll and continue the same procedure until all the dough is used.
The cookies tend to stick to the floor, so use a spatula to lift and transfer the cookies to the baking sheets. Place them 1 inch apart. Prick all over with a fork.
The baking time depends on the thickness of the cookies and the material of the baking sheet. Note that cookies baked on a dark-colored non stick baking sheet tend to bake faster and if not alert the bottom will get burnt. My second batch cookies were thinner than the first batch. So the first batch took 13 minutes, while the second batch was done in 10 minutes. Look for golden color cookies. If baking both the batches at the same time, place each baking sheet in individual racks and shift sheets halfway through baking.
Leave the cookies in the baking sheet itself for 5 minutes and then transfer to a wire rack to cool.
Taste:
These digestive cookies taste exactly like sweet chapathi (or what we call chakkara roti in our house). I don't if everybody makes this chapathi. First you roll out the chapathi dough, apply generous amount of ghee and sprinkle sugar all over, then fold it and apply ghee and sugar on each fold and roll it out once again and then cook it on a hot tava. So these cookies taste exactly like that. If you like the sweet chapathi you will definitely like this one too. Initially you may feel that it is very sweet but once you eat one cookie you will get addicted to the sweetness and will reach out for one more.
As for the texture, it is crispy but not "melt in your mouth" type of crispness but quite similar to a hard candy. After reading hard candy don't assume that you cannot bite it. It's definitely chewable and very tasty.

Try this recipe, click a pic and hashtag it #egglesscooking - Proudly showcase your creations on Instagram, Facebook & Twitter!