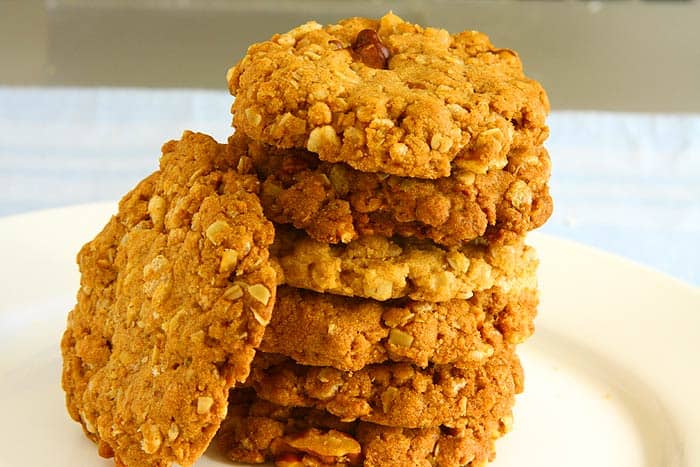 A few months back, I bookmarked this 10-cup cookie recipe from my favorite website, Taste of Home. When we had a couple of visitors from India last month, I made these cookies because it would yield a huge batch, and I could pack it for them.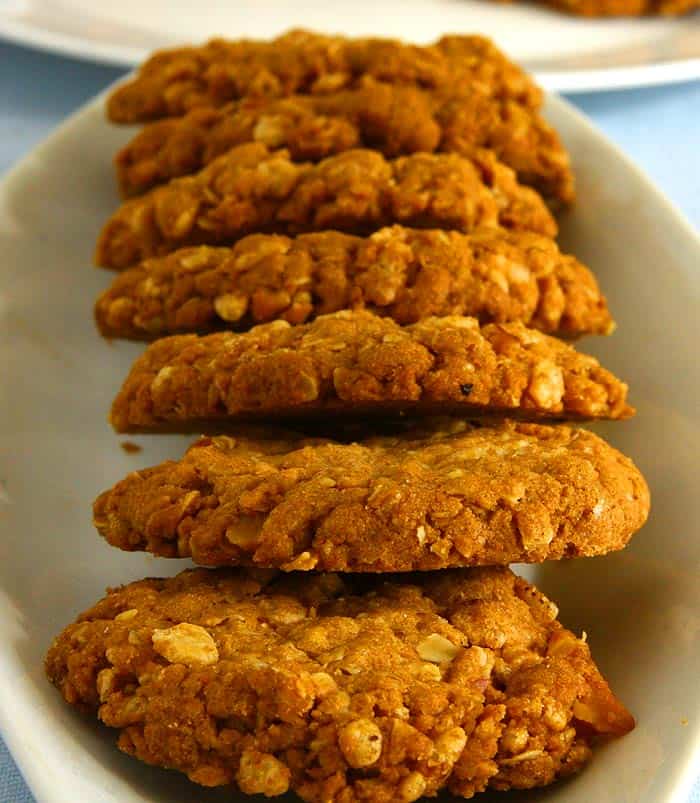 Although I already have a big batch oatmeal raisin cookies recipe and big batch brownies recipe here I wanted to try another new recipe.
As the name implies, it's a 10-cup recipe that uses 10 cups of ingredients, 1 cup each of 10 ingredients in total. As I was baking it for a bigger crowd I slightly upped the ingredients, 1.5 cups each to be exact.
So if you want to stick to the original 10-cup cookies recipe, you can check it out here. In that case, you will have to substitute only 2 eggs. I have used an additional EnerG egg replacer (for 3 eggs) because I have increased the rest of the ingredients.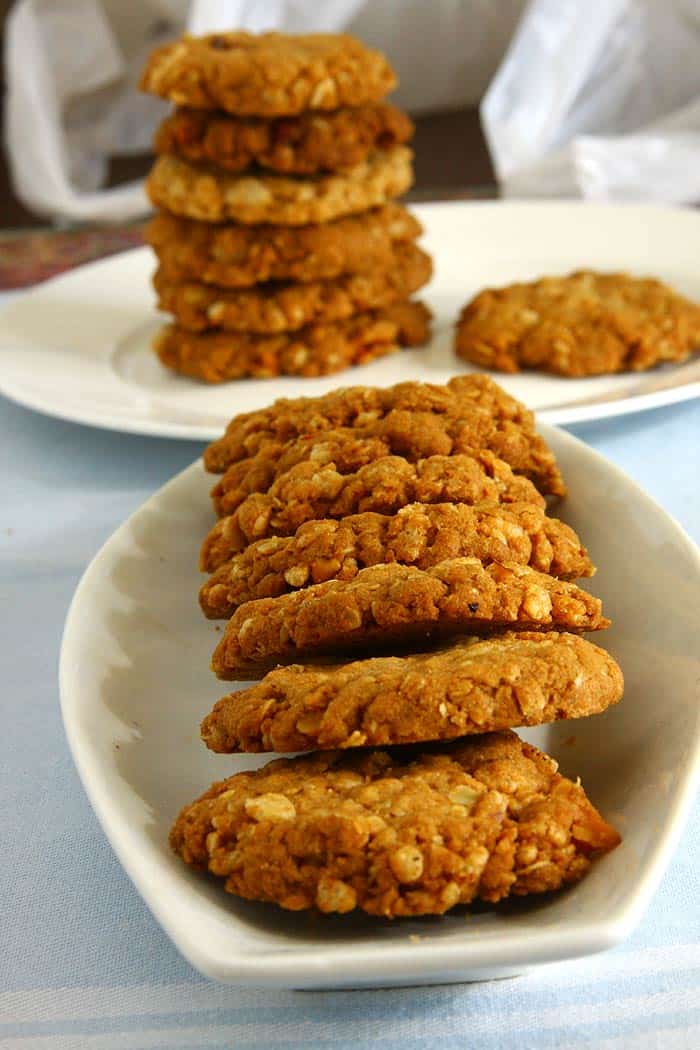 Also, instead of the all-purpose flour used in the original recipe, I have used Kodiak pancake flour which is rich in protein and fiber. This pancake flour also has some leavening agents premixed. So I have adjusted the baking powder and baking soda accordingly.
This recipe is so forgiving in the sense that even after all the changes, I have made the cookies baked out perfectly.

| Prep Time | Cook Time | Makes |
| --- | --- | --- |
| 30 Mins | 12 to 15 Mins | 84 Cookies (7 Dozen) |
| Author | Category | Method |
| Madhuram | Cookies | Baking |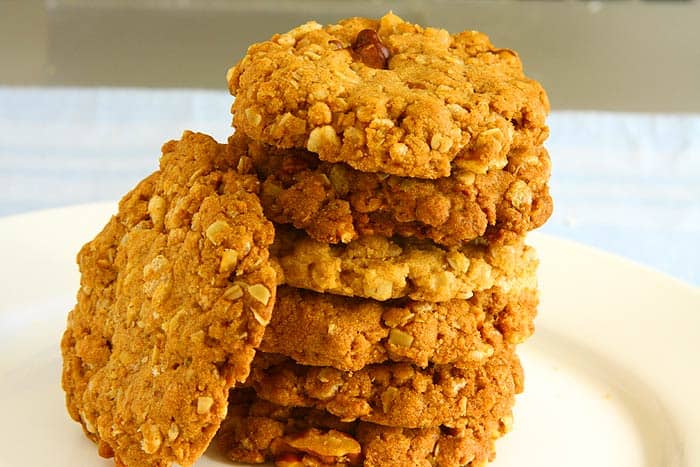 Do you have an army to feed? These multi-grain chocolate chip cookies, loaded with oats, nuts, and dried fruit, will be the perfect recipe. A variety of flavors from peanut butter, coconut and chocolate chips, yet they all blend together harmoniously, making it very tasty.

Ingredients:
PART 1:
1 and 1/2 cups

butter, softened

1 and 1/2 cups

peanut butter

1 and 1/2 cups

granulated sugar

1 and 1/2 cups

brown sugar

3 teaspoons

Enger-G egg replacer

6 tablespoons

water

2 teaspoons

vanilla extract
PART 2:
1 and 1/2 cups

Kodiak pancake flour

1 teaspoon

baking soda

1/2 teaspoon

baking powder

1/2 teaspoon

salt
PART 3:
1 and 1/2 cups

chocolate chips

1 and 1/2 cups

rolled oats

1 and 1/2 cups

shredded coconut (I used unsweetened)

1 and 1/2 cups

chopped walnuts

1 and 1/2 cups

raisins
Procedure:
Preheat oven to 350F/180C. Whisk together Ener-G and 6 tablespoons of water in a small cup and set aside.
In a large bowl, cream the butter, peanut butter, and both types of sugars until light and creamy.
Also, add the Ener-G mix and vanilla extract and blend in.
To this, add in the dry ingredients mentioned in Part 2. You can hold a sieve on the creamed butter and sift the dry ingredients over the butter mixture.
Mix well the flour mix into the butter-sugar mix.
Now add all the ingredients listed under Part 3 one by one mixing well with a wooden spoon/spatula.
Drop about a tablespoon of dough for each cookie on a greased baking sheet leaving about an inch of space between each cookie. These cookies spread pretty well. So I suggest testing 3-4 cookies at first, seeing how it spreads, and then baking a bigger batch estimating the space, or making other changes.
Once the baking sheet is filled with the dropped cookie dough, bake for 12-15 minutes or until the edges/bottom turns golden brown.
Remove the baking sheet from the oven and place it on a cooling rack for about 10 minutes. Later move the cookies from the cookie sheet to the wire rack for them to cool completely before storing them in an air-tight container.
My Notes:
If you follow the original recipe to use 1 cup of each ingredient, it's enough if you use an egg substitute for 2 eggs.
Also, you can play around with the add-on ingredients, like dried cranberries instead of raisins, any other nuts instead of walnuts, or just more of one ingredient, like you can use 2 cups of oats, but you will have to cut back one cup of another add-on ingredient. I hope you get the idea. The total will have to be 10 cups of ingredients. If you go beyond that you will have to change the egg and leavening agents too.
Nutrition Facts
10-Cup Cookies
Amount Per Serving
% Daily Value*
Potassium 113mg2%
Total Carbohydrates
21.7g
8%
* Percent Daily Values are based on a 2000 calorie diet.


Try this recipe, click a pic and hashtag it #egglesscooking - Proudly showcase your creations on Instagram, Facebook & Twitter!