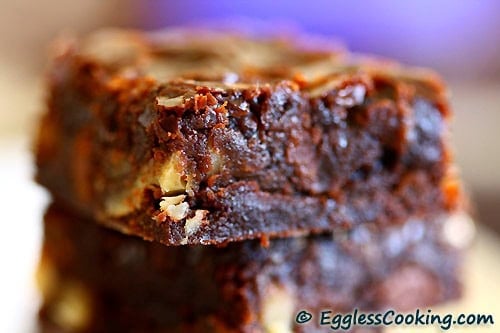 Hi friends, hope you all had a wonderful summer. I'm back from India after almost 2 months of vacation. We went to celebrate the little one's first birthday. Fortunately everything went on very smoothly this time unlike the last visit where my eldest fell sick and it was very scary especially with the swine flu scare at that time. After this visit my eldest has picked up a lot of Tamil and these days he is easily switching between Telugu and Tamil. Initially I had planned to post recipes from there regularly but with a busy schedule I wasn't able to do that even though I had a couple of recipes lined up.
I baked these brownies long back for a get together here in Canada. I bought the brownie mix in Costco. It's the huge pack. The instructions in the package were given for two 9×13 inch pan and three 8 inch pans. Since I wanted lot more brownies I used a bigger pan which I got from a restaurant supply store.

| | | |
| --- | --- | --- |
| Big Batch Brownies Recipe | | |
| Prep Time | Cook Time | Makes |
| --- | --- | --- |
| 20 Mins | 35 Mins | About 12 Dozen Squares |
| Author | Category | Method |
| Madhuram | Brownies | Baking |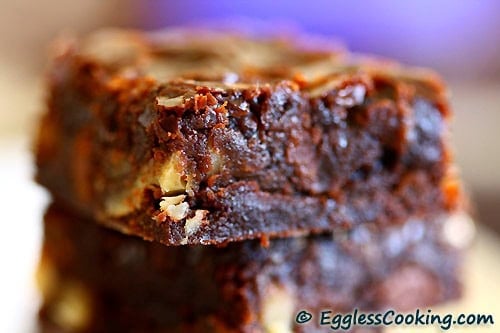 Want to be the star in your next pot-luck gathering? Then bake these brownies and it will become a huge hit.

Ingredients:
4 Pouches

Ghirardelli Brownie Mix

1 And 1/3 Cups

Water

1 Cup

Vegetable Oil

1 Cup

Yogurt (Plain)

1 Tablespoon

Vanilla Extract

2 Cups

Chopped Walnuts
Procedure:
Preheat the oven at 325F/160C for 15 minutes. Line the baking sheet with aluminum foil (leaving enough sheet around the edges so that you can lift it off easily once the brownie is cooled enough) and grease it lightly with non stick cooking spray. I used a very big cookie tray. It measured to 21×15 inches.
Empty the contents of the brownie mix in a large bowl. Then add the rest of the ingredients one by one and mix it using a big wooden spoon.
Pour the batter onto the prepared pan and spread it out with a spatula. Bake it for about 30-40 minutes. Doing the toothpick test for doneness in this case could be tricky because it has a lot of chocolate chips in it and the toothpick might get in the melted chocolate chips and it would be difficult to say whether it is done or not. So see if the brownie is pulling away from the sides of the pan and you should be fine.
Transfer the pan to a cooling rack and leave it for 15-20 minutes to cool. Then slowly lift off the sheet and let it cool for another hour or so before you can slice the brownies.
Taste:
The brownies looked and tasted great. It sliced very well too. I baked it for a big party and it was a huge hit.
My Notes:
I did not grease the aluminum foil, so it was a bit difficult to remove the brownies from the sheet. So do not forget to grease it with non-stick cooking spray or shortening.

Try this recipe, click a pic and hashtag it #egglesscooking - Proudly showcase your creations on Instagram, Facebook & Twitter!