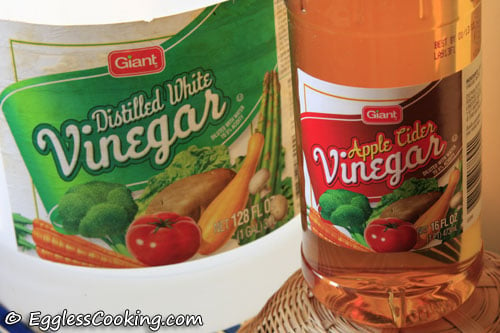 This page specifically describes how to use vinegar as an egg substitute in baking. Check out other possible egg substitute ingredients, quantity, and best suitable baking recipes here.
First I would like to thank all my blogging buddies for flooding my inbox with recipes using EnerG egg replacer powder. You all know that my husband only does the round up right! I have to give him the content and he will take care of the presentation part. Since he is extremely busy with his office work, he can work on this only on Sunday. So wait until Monday to see what wonders you can create with egg replacer powder.
This month's egg substitute is vinegar. I read in a couple of books that 1 tablespoon of vinegar along with 1 teaspoon of baking soda can be substituted for 1 egg. Both white distilled vinegar and apple cider vinegar can be used. This combination works best in cakes, cupcakes and quick breads. I also read in few forums that 2 tablespoons of lemon juice can be used in place of the 1 tablespoon vinegar. So for this event you could use either, but I have to mention here that I have not tried the lemon juice substitution.
Also I see a lot of baking recipes with vinegar, especially in various vegan books, websites and forums. You can try those recipes also. That is, you could either take a recipe which has eggs and substitute it with vinegar or try recipes which already has vinegar in it and is eggless too.
Now for the rules of the event:
1. Bake anything from cookies, cakes, cupcakes, muffins, breads, tarts, pies, etc using vinegar/lemon juice and post about it in your blog between
Feb 13th 2009 and March 14th 2009
.
2. Post the recipe in your blog, with a picture and link back to this post. Also feel free to share your experiences and tips while using the substitute regardless of the outcome. This would provide the much needed insight about that particular egg substitute.
3. Since the idea behind the event is to help those who are searching for tried and tested eggless baking recipes, you can also send me the recipes which you have posted earlier in your blog using vinegar/lemon juice as an egg substitute. Reposting is not necessary, but link it to this event. That being said, I would really appreciate if you could try new recipes too and post it, because eggless recipes are never enough.
4. Also multiple entries are welcome more than ever for this event.
5. Email me your name, blog URL, name of the recipe, recipe URL, photo in 150wx120h size to ere(at)egglesscooking(dot)com with Vinegar as the subject.
6. Non bloggers are also welcome to send your recipes, tips and picture of your creation and I will include it in the round up.
Check here for recipes using vinegar as egg substitute.