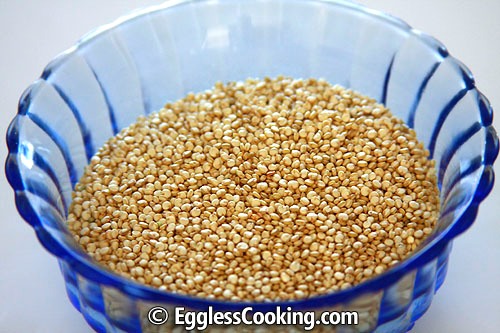 Wish you all a very happy Tamil New Year! After a small hiatus, I thought its high time that I kick start the whole grain baking event with Quinoa (pronounced as Keenwah) this month. Quinoa is not exotic any more. I would say that the credit for the popularity of quinoa (and other similar healthy ingredients) goes to the enthusiastic food bloggers who bring it to light.
Here is an interesting detail of Quinoa:
Quinoa in Tamil is: சீமைத்தினை.
Quinoa was even mentioned in old Tamil literature (Thirukural – திருக்குறள்) as follows on verse 433:
தினைத்துணையாங் குற்றம் வரினும் பனைத்துணையாக்
கொள்வர் பழிநாணு வார். (குறள் 433)
Meaning: Those who fear guilt, if they commit a fault small as a millet seed (quinoa), will consider it to be as large as a palm tree.
The protein content in Quinoa is very high making it very popular among vegetarians, vegans and athletes. In fact it is considered even superior to rice and wheat. It is also a good source of fiber, phosphorous, magnesium and iron. Another fact worth remembering is it is gluten free too. To know more about the benefits and nutritional value of quinoa check here.
Whole grain forms of Quinoa includes any type of whole quinoa, quinoa flour and quinoa flakes. Please do let me know if you are aware of any other form of whole quinoa.
Quinoa Recipe Ideas: