When I first saw the words "stromboli recipe" in a magazine, I didn't know what it was. It looked beautiful but sounded very fancy and difficult to make it at home. I went through the recipe and surprisingly found out that it was very easy to make in fact! Phew! glad that I did not skip such an easy stromboli recipe!
So what is this stromboli? How did it get it's name? It's basically a rolled pizza with a fancy name! So if you now how to make a pizza, which I'm sure even a kid can do it if the pizza dough is ready, you can make this stromboli pizza. The story behind the name is interesting. It seems the person who first made it named it after a movie called "Stromboli"!
Now getting back to the recipe, the original was not a vegetarian stromboli recipe. It had meat in it and I have made some changes to make this a veggie stromboli.
I used store bought refrigerated pizza dough to make this stromboli. This really saves a lot of time. It is as easy as just spreading the dough and topping it with the vegetables and cheese and rolling it up like you would roll a cake roll. Nothing difficult at all.

| | | |
| --- | --- | --- |
| Vegetarian Stromboli Recipe | | |
| Prep Time | Cook Time | Makes |
| --- | --- | --- |
| 25 Mins | 25 Mins | 24 Slices |
| Author | Category | Method |
| Madhuram | Strombolis | Baking |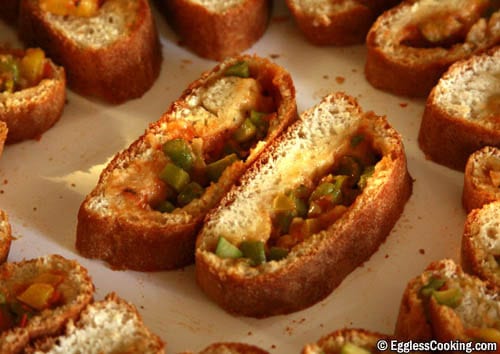 Want to make homemade stromboli? Follow this easy recipe for vegetarian stromboli and it will be in ready in no time. Kids will also have fun making this veggie stromboli. Use any vegetables of your choice or whatever is at home to make this. It's that easy!

Ingredients:
1 Cup

Sliced Asparagus (Approximately 10-12 Spears)

1 Cup

Yellow Peeper, Diced (1 Medium Size)

2

Seeded And Chopped Plum Tomatoes (I Used 1/4 Cup Of Crushed Tomatoes Instead)

1 Clove

Minced Garlic (I Used 2 Cloves)

1 Teaspoon

Olive Oil

1/2 Teaspoon

Salt

As Needed

Italian Seasoning

1/4 Teaspoon

Pepper (Not Mentioned In The Original Recipe)

1

Refrigerated Pizza Tube (I Used Pillsburry Pizza Crust)

1 Cup

Shredded Italian Blend Cheese (I Used Part Skim Pizza Blend Cheese)
Procedure:
Here is the step by step recipe for Vegetarian Strombolis:
Heat oven to 400F/200C for 15 minutes.
In a glass bowl, combine asparagus, peepers, tomatoes, garlic, olive oil, salt, Italian seasoning and pepper.

Mix them well and here is how it looks:

Cover and microwave for 4 minutes, stirring once in the middle. Let cool 5 minutes. Drain off excess liquid. (But I did not have any excess liquid)
Unroll pizza dough onto baking sheet and shape into a rectangle.

Place half of cheese onto bottom third of dough along its length.

Spread veggie filling onto cheese.

Top with remaining cheese.

Roll up to shape stromboli (into a log).

Bake for 25 minutes.

Let cool 5 minutes before slicing and serving.
Taste:
I got around 23 pieces for this measurement. My husband and I loved it. A different twist to the regular pizza.
My Notes:
This was a bit salty, so you may want to increase the amount of pepper if you want it spicy.
I suggest to cool the baked Stromboli even for 10 minutes, so that slicing will not be difficult and you will also get neat slices.

Try this recipe, click a pic and hashtag it #egglesscooking - Proudly showcase your creations on Instagram, Facebook & Twitter!

I was surprised and thrilled when my friend Dee, sent me a mail telling that her friend Yamuna is a regular visitor to my blog and she has tried this Stromboli Recipe and has sent a picture of it, telling that it has become her family's favorite.  The slices have come out perfectly.  Thank you very much dear Yamuna.  You really made my day!
This recipe was updated & republished from 2008 archives.