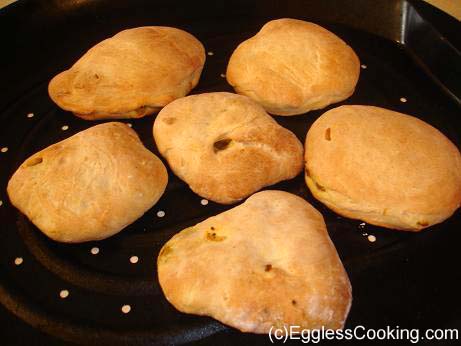 I don't know whether I can call this dish a bun, but it was inspired by Shilpa's Spicy Stuffed Potato Buns. Maybe we can also name it as Stuffed Pizza, Indian Style. It's very simple to make and is delicious. I wanted to try Shilpa's recipe, but I doubted whether I could handle the yeast action and stickiness. I know I have to take a daring step to bake breads and buns. But I'm gonna postpone it for later. Suddenly an idea flashed, why not try baking it using refrigerated pizza dough. Last week I got two of those, one of which I used for the Twirly Whirly Pizza. I had another recipe in mind for the 2nd packet, but I wanted to try this one.  
Stage 1:
Pre-heat the oven at 400F (200C).
Stage 2:
Prepare any type of stuffing you want. I cooked Shilpa's onion masala.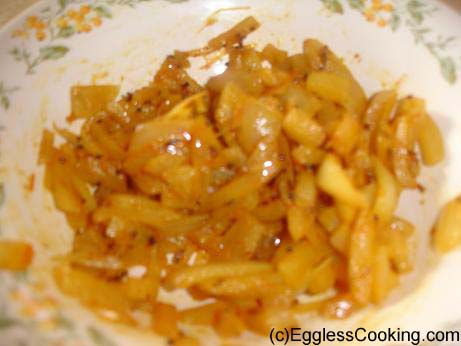 Stage 3:
Flour the work area and unroll the dough. Also flour a rolling pin and roll the dough once to reduce the thickness of the dough. Be very careful to maintain the rectangular shape, otherwise you will be having a hard time like me. (See My Notes section)
Stage 4:
Take a medium size round shape cookie cutter and cut circles from the dough.
Stage 5:
Place a spoonful of the masala on one circle and close it with another. Do likewise for the remaining also.
Stage 6:
Place all the stuffed buns on a greased pan, brush the buns with oil and bake it for 20 min or until the tops are golden brown. Enjoy it with a cup of hot tea!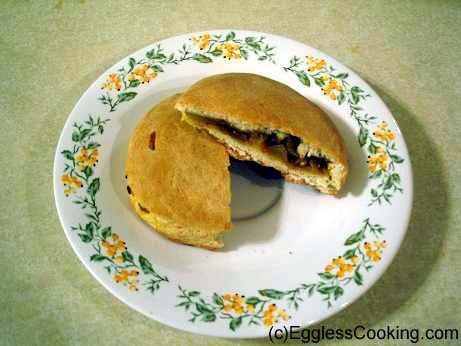 My Notes:
1. When I unrolled the pizza dough there was a hole in the middle of the rectangle, so I just cut out 2 circles and then made the mistake of kneading the dough into one big ball, thinking that it will be easy to handle. I thought that I can just pinch small balls of dough, roll them and cut out perfect circles. What was I thinking? I pinched a golf ball size of dough and started rolling it, but I was not able to roll them into proper shape at all. I lost my patience and just wanted to get my hands off the dough. Now you can understand why 5 out of the 6 buns are in some odd shapes like amoeba. So try to maintain the rectangular shape of the dough and quickly cut as many circles as possible.
2. As I say always, try with 1 bun first. By this you can get an idea of the baking time, thickness of the dough etc.
3. I set the oven at 400F, because Shilpa's recipe calls for that temperature for the spicy potato buns. I think 425 F should also work fine.
4. The buns were not soft and fluffy as you would imagine a bun to be (I guess it's either the pizza dough or I should have made the circles thinner), but it was very very tasty. Give it a try. Don't get mislead by the shapes.