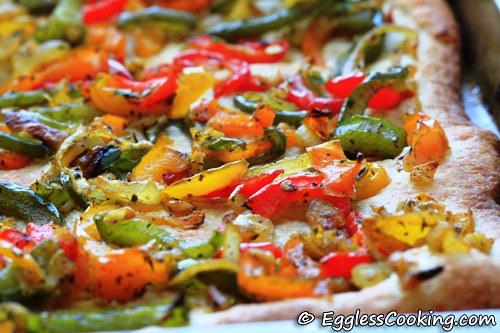 Even though I love to bake and have had little success with cakes and cookies, I'm not good enough to create my own recipes. I'm simply a "recipe follower". I can make some substitutions here and there, but that's it. That's why I prefer cooking and other non-risky oven tasks like baking pizzas etc. You can come up with different recipes and even though it does not turn out as expected, there is always something you can do to make it right.
I think some culinary Muse has laid her merciful eyes upon me, because I have had lot of success creating new recipes in my kitchen in the past one week. It started with this vegan pizza recipe. I got the idea for this pizza from my vegan pasta pepporanata recipe. I thought why not cook the peppers, top it over refrigerated pizza dough and bake it. I also got another idea to use the oven preheating time efficiently. I wanted to cook the peppers before topping it on the pizza. Instead of preheating an empty oven and cooking the peppers on stove top, I decided to roast the vegetables in the oven itself while it was preheating.
The idea worked very well. The peppers, onions and garlic cooked enough in the 15 minutes. It was also my first try with thin crust pizza dough and I loved it. The pizza slices were nice and crispy. The added bonus, my son loved the pepper masala very much. He was simply eating the peppers not letting me to top it on the pizza dough. I did not miss the cheese at all. You also don't need to be a vegan to enjoy this vegan pizza.

| Prep Time | Cook Time | Makes |
| --- | --- | --- |
| 10 Mins | 31 Mins | 8 Rectangle Pieces |
| Author | Category | Method |
| Madhuram | Pizzas | Baking |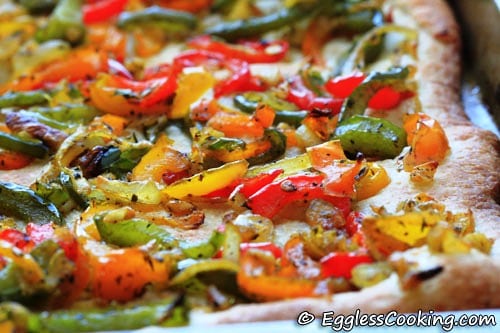 This no cheese vegan pizza recipe is easy to prepare and tastes good too!

Ingredients:
1 pack

Refrigerated Pizza Crust (I used Pillsbury Thin crust)

1

Thinly Sliced Medium Size Green Pepper

1

Thinly Sliced Medium Size Red Pepper,

1

Thinly Sliced Medium Size Yellow Pepper

1

Thinly Sliced Medium Size Orange Pepper

1

Thinly Sliced Big Onion

1 to 1 and 1/2 tablespoon

Olive oil

2-3

Minced or Sliced Garlic Cloves

As Per Taste

Salt

As Per Taste

Black Pepper Powder

As Per Taste

Red Chilli Flakes

1/2 to 1 tablespoon

Italian Seasoning

1/4 teaspoon

Sugar
Procedure:
Switch on the oven to 400F. In a large cookie sheet (use the one which you think will fit the pizza dough) add all the ingredients except the pizza dough. That is, the thinly sliced peppers, onion, garlic, oil and the seasonings. Mix it well and spread it on the baking sheet.
Cook it for 15 minutes stirring occasionally. I also broiled it for another 5 minutes, keeping the oven door open. Transfer the caramelized vegetables to a plate or wax paper.

Usually while baking the pizza dough you have to oil the baking sheet. Since we have roasted the vegetables already you can see that the baking sheet is already greased. So simply remove the dough from the can and unfold it on the cookie sheet. Spread it evenly to cover the cookie sheet. The dough may tear, but don't worry, because you can always repair it using your fingers to stretch the dough and cover the holes.
Top the dough with the cooked pepper and onion mixture evenly.
Bake it for 12-16 minutes, until the bottom turns golden brown and the top is also baked enough.

I did not want to scratch my baking sheet while cutting the pizza, so removed it from the cookie sheet before cutting it.
My Notes:
Since it is a thin crust dough the bottom starts becoming brown around 10-11 minutes itself but the top does not get cooked properly by then. After another 5 minutes the top also is baked enough. I took out mine after 16 minutes.
This pizza is slightly on the sweeter side because of the sweet peppers. I think that's the reason my son liked it so much. So for the adult version you may want to spice it up with some extra black pepper powder and red chili flakes.

Try this recipe, click a pic and hashtag it #egglesscooking - Proudly showcase your creations on Instagram, Facebook & Twitter!