History of Buttermilk

Originally buttermilk was made in the process of churning butter from cream. The leftover liquid is buttermilk. This was called traditional buttermilk. These days commercially available buttermilk which is also known as cultured buttermilk is made by fermenting dairy milk with bacterial culture. Back in those days this cultured buttermilk was called artificial buttermilk to denote that traditional buttermilk was natural buttermilk. These days even powdered buttermilk is available which can be mixed with water to get the liquid form.

Yogurt is made by fermenting cow's milk using yogurt cultures. The fermentation process converts the lactose into lactic acid and that gives it the tangy taste.

Both buttermilk and yogurt come in low fat and non-fat varieties.

Health benefits of Buttermilk/Yogurt:

Buttermilk supposedly helps in digestion, reduces acidity and believed to reduce blood pressure too. Yogurt is an excellent source of calcium, protein, riboflavin, vitamins B6 and B12.

How to use it Baking?

Both buttermilk and yogurt are good egg substitutes especially while baking muffins, cakes and cupcakes. It gives the baked goods a nice airy and light texture. Buttermilk and yogurt can be used interchangeably in baking recipes. If you are not able to find buttermilk, dilute yogurt with few drops of water and use it instead. Another substitute would be mixing lemon juice/vinegar with milk (either dairy or non-dairy if vegan).

Substitute for Buttermilk

Yes there is a substitute for buttermilk. If you have yogurt or sour cream at home you can dilute it by adding few drops of water and use it in place of buttermilk or mix some lemon juice/vinegar with milk (dairy or non-dairy).

How to replace Yogurt/Buttermilk for eggs?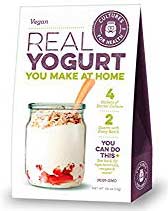 Both buttermilk and plain yogurt are good egg replacements, especially while baking muffins, cakes, and cupcakes. You can buy it in the refrigerator section of grocery aisles next to the milk.
1/4 cup of buttermilk or yogurt for each egg to be replaced. Vegan yogurt can be used as an egg replacement in vegan baking.
The baked goods will be lighter and not as dense as the ones with pureed fruit.

Yogurt/Buttermilk Recipes
Here is the full list of baking recipes that use Yogurt/Buttermilk as an egg substitute.