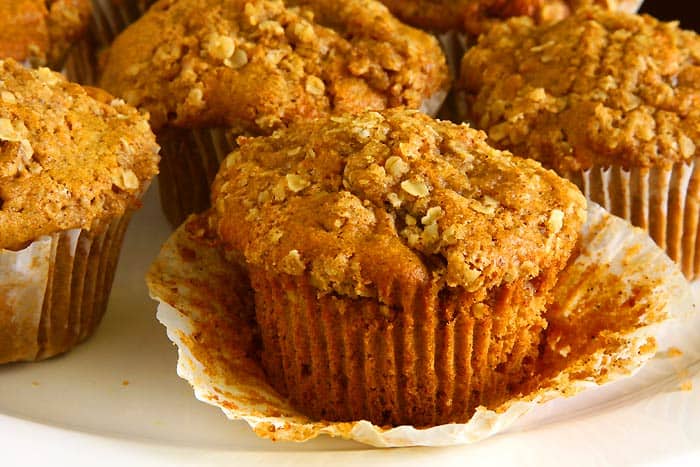 Thanks to the pandemic I had forgotten what school potlucks were and how excitedly we would get together to plan the menu. When my son's school sent a letter stating a staff-appreciation breakfast potluck in a couple of days, I didn't want to miss the chance to bake/cook for these wonderful people.
I had some ideas about what to bring to the potluck. I felt granola and muffins would be a good choice because making a huge batch of the both is quite easy.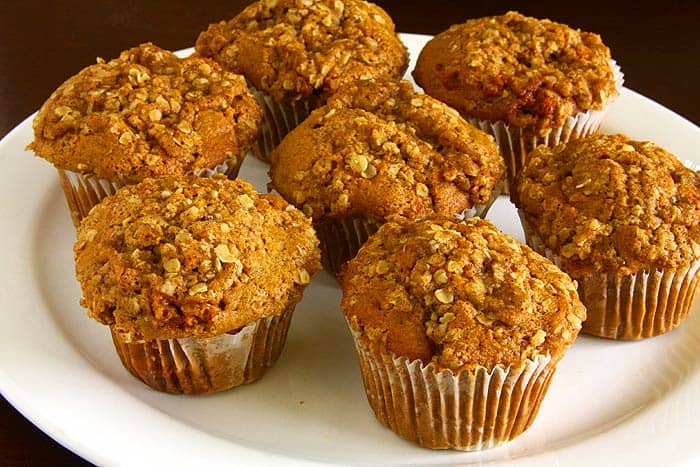 I wanted to try a new muffin recipe with the ingredients that I had at home. I had a pack of caramel toffees that I wanted to use in a baking recipe. I also had red delicious apples at home. So my excitement level was way up when I came across this caramel apple muffin recipe.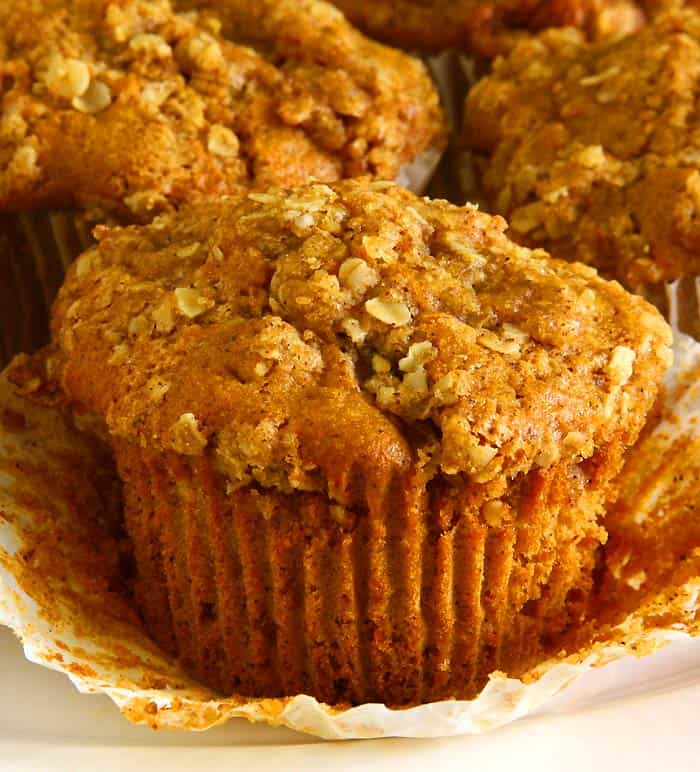 I used flax eggs to replace the eggs in the recipe and some apple cider vinegar to get a lighter texture. I also replaced half of the all-purpose flour with whole wheat pastry flour, increased the number of apples, and reduced the quantity of toffees.
The end product was a hearty yet light apple muffin sweetened just right. The crumb topping gave an excellent taste and texture to these delicious muffins.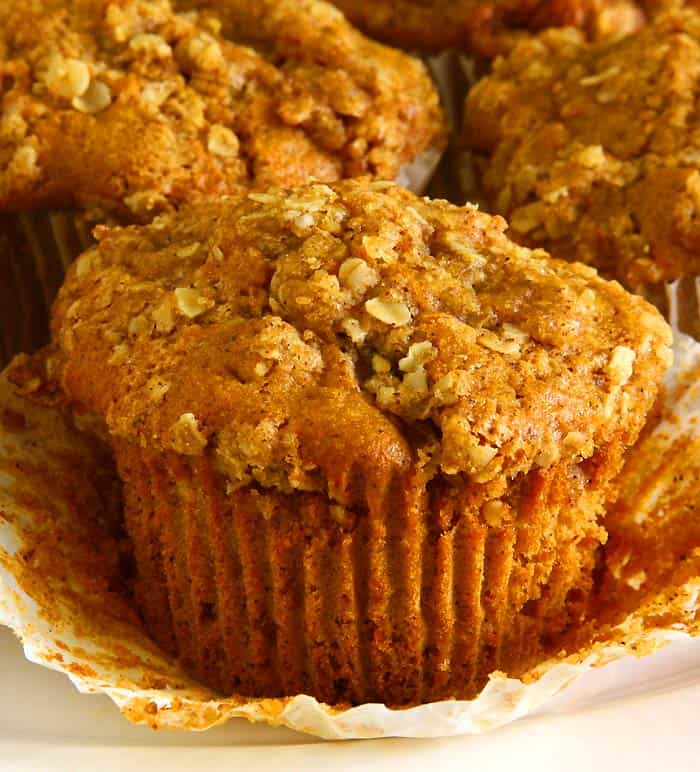 | | | |
| --- | --- | --- |
| Eggless Caramel Apple Muffins Recipe | | |
| Prep Time | Cook Time | Makes |
| --- | --- | --- |
| 20 Mins | 21 Mins | 21 Muffins |
| Author | Category | Method |
| Madhuram | Muffins | Baking |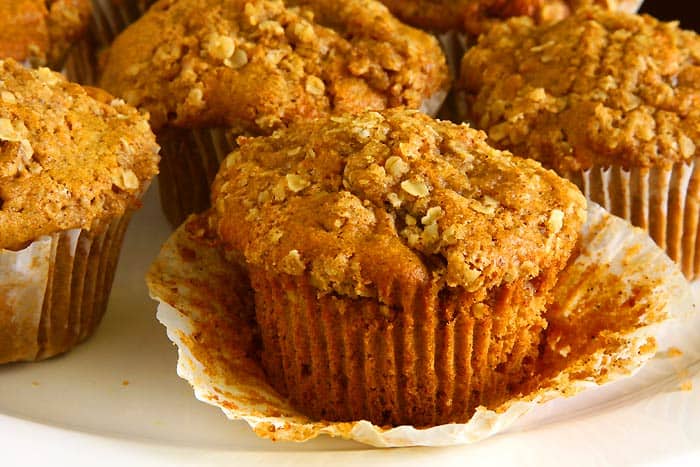 Looking for a delicious way to use apples? Try these caramel apple muffins. It's your usual apple muffin, but the surprise ingredient is the caramel toffee which gives it a lovely twist and taste.

Ingredients:
DRY INGREDIENTS:
2 cups

whole wheat pastry flour

2 cups

all-purpose flour

1 and 1/2 cups

granulated sugar

4 teaspoons

ground cinnamon

3 teaspoons

baking powder

1 teaspoon

baking soda

1 teaspoon

salt (See My Notes)
WET INGREDIENTS:
2 cups

milk (2%)

1/2 cup

melted butter (See My Notes)

4 teaspoons

vanilla extract

1/2 tablespoon

apple cider vinegar

1/4 to 1/2 cup

water/milk, if needed
ADD-ONS:
2 cups

grated apple (See My Notes)

18

toffees, chopped
TOPPING:
1 cup

brown sugar

1/2 cup

oats

6 tablespoons

melted butter

2 teaspoon

ground cinnamon
Procedure:
Preheat oven to 425F. Line two 12-cup muffin tins with paper muffin liners and grease them well with non-stick cooking spray. In a small bowl stir 2 tablespoons of ground flaxseed with 6 tablespoons of water and set aside.
In a large bowl, add the dry ingredients one by one, mix well with a whisk, and make a well.
Add the wet ingredients one after the other and mix the dry and wet ingredients well enough to avoid lumps.
Now add the grated apple and chopped caramel toffees. Use a spatula or wooden spoon to incorporate everything together. You may want to add water or milk if the batter is too thick.
Use a 1/3rd cup measurement to scoop the batter and fill the muffin tins. I expected 24 muffins but got only 21.
Prepare the crumb topping mixture by mixing all the ingredients listed under Topping. Sprinkle this topping over the muffin batter in each cup evenly.
Bake the muffins at 425F for 5 minutes, reduce the temperature to 375F, and bake for another 15-16 minutes or until a toothpick inserted in the center of the muffin comes out clean.
Remove the muffin tins from the oven and place them on a wire rack to cool. After about 10 minutes remove the muffins from the pans and cool them completely before storing them in an air-tight container.
Taste:
I would say that the best part of these apple muffins was the crumb topping. Initially, I thought of omitting it, but I was glad I didn't make that mistake. Sometimes muffins or baked treats with flax eggs make the item dense in texture. That's why I added apple cider vinegar; it worked out perfectly to give a light texture to the muffins.
The sweetness was just right. The caramels didn't make the muffins overly sweet.
My Notes:
I usually use unsalted butter while baking. The butter price has increased so much, and I stock them when it's on sale. A few months back salted butter was on sale but not unsalted. So I started using salted butter while baking but omitting the salt in the recipe. So in this recipe, I have not added the salt that I have mentioned in the recipe.
The original recipe uses diced apples, but I prefer shredded in all my baking recipes that call for diced apples or pear because it mixes uniformly. The flavor and taste are also spread throughout the baked treat. One medium-sized apple when grated results in 1 cup of loosely packed apple. I used 2 apples.
I had to use 1/4 cup of water because the batter was thick. I guess it's because I used whole wheat pastry flour and increased the quantity of apples.
Nutrition Facts
Eggless Caramel Apple Muffins
Amount Per Serving
% Daily Value*
Potassium 153mg3%
Total Carbohydrates
51.1g
19%
* Percent Daily Values are based on a 2000 calorie diet.


Try this recipe, click a pic and hashtag it #egglesscooking - Proudly showcase your creations on Instagram, Facebook & Twitter!