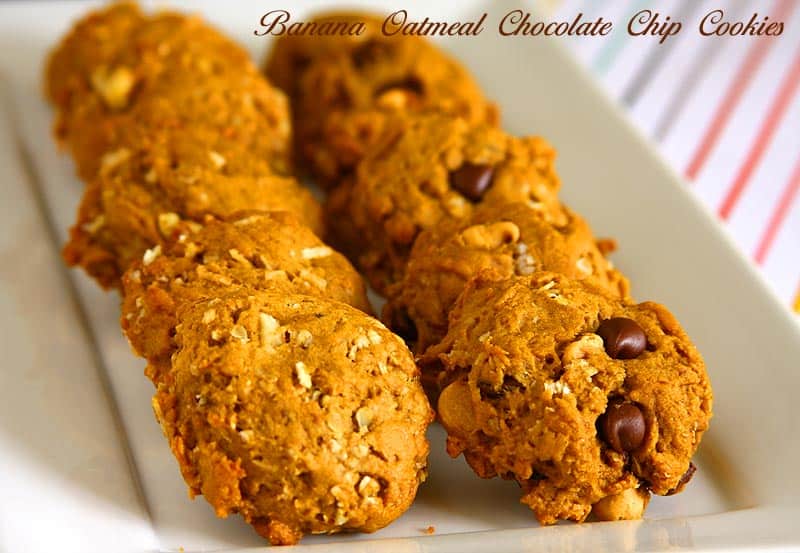 If you are a regular visitor to this blog, by now you must have known that I love to bake with bananas. The huge collection of baking recipes using bananas is enough proof. This banana oatmeal chocolate chip cookies recipe adds to that never ending list.
We usually feel bad when the produce we buy perishes. But banana is one thing which I love even more when it starts to get mushy. Then it will be baking time!
You can also freeze it and use the frozen banana in smoothies instead of ice cubes. It gives a subtle banana flavor, sweetness without the necessity of adding sugar and also makes the smoothie creamy and cold without the use of ice cubes.
I had a couple of overripe bananas and wanted to make a very quick recipe. Didn't have butter at home, so was looking for a recipe which uses oil. Found this banana chocolate chip cookies recipe. The recipe was egg free to begin with but I made few changes to suit our preference.
My husband is one of those rare species of human beings who doesn't like chocolate. So came up with this idea of using chocolate chips for some of the cookies and coconut flakes for the rest.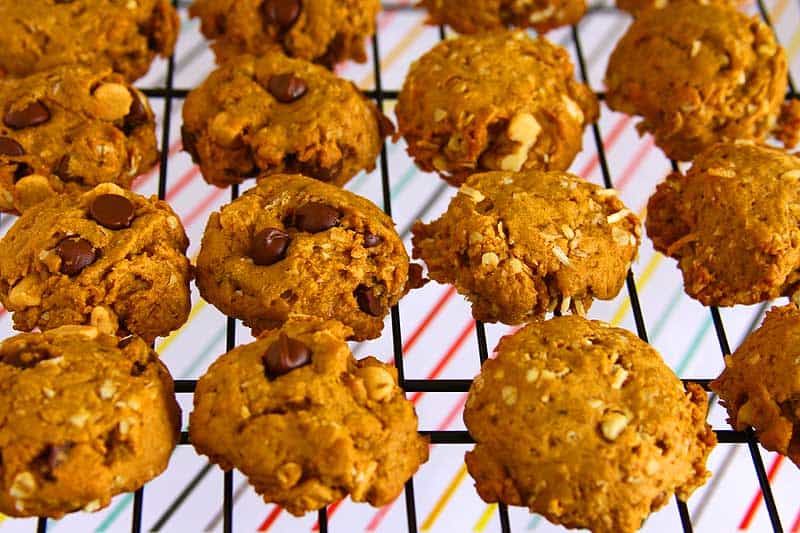 But how was I going to do it? I decided to divide the cookie dough into two parts and stir in the chocolate chips and peanut butter chips in one half of the dough and coconut flakes and walnuts in the rest of the dough.
Also oatmeal and whole wheat flour was not used in the original recipe, but I included to the recipe to make these healthy banana oatmeal chocolate chip cookies. I also reduced the quantity of sugar. The sweetness was just right for us. But if you have a sweet tooth you may want to increase the quantity of sugar by another 1/4 cup.
These banana chocolate chip cookies are of course soft and chewy because of the mashed bananas. So do not expect a crispy cookie.

| | | |
| --- | --- | --- |
| Banana Oatmeal Chocolate Chip Cookies Recipe | | |
| Prep Time | Cook Time | Makes |
| --- | --- | --- |
| 20 Mins + 30 Mins chill time | 12 Mins | 32 Cookies |
| Author | Category | Method |
| Madhuram | Cookies | Baking |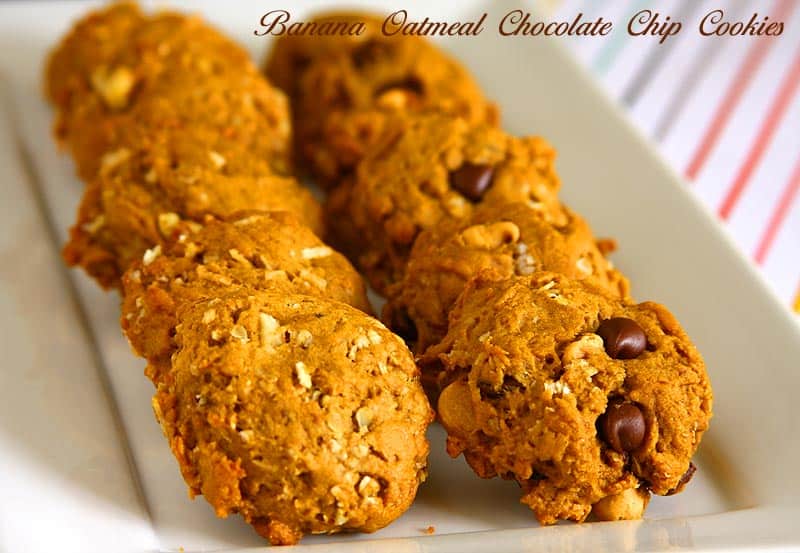 Have overripe bananas at home? Try these easy to bake egg free banana oatmeal chocolate chips cookies and I assure it will be an instant hit with your family and friends. No fancy ingredients, special equipments needed. One of the easiest recipes to make with the yummiest taste.

Ingredients:
1 cup

all-purpose flour

1 cup

whole wheat pastry flour

1/2 cup

quick cooking oats

1 tsp

baking soda

1 tbsp

corn starch

1/2 tsp

salt

1/3 cup

avocado oil

2

ripe bananas, peeled

3/4 cup

coconut palm sugar

1/4 cup

granulated sugar

2 tsp

vanilla extract
Add-ons:
1/2 cup

chocolate chips

1/2 cup

peanut butter chips

1/2 cup

chopped walnuts

1/2 cup

unsweetened coconut, toasted
Procedure:
In a medium bowl whisk together the flours, oats, baking soda, corn starch, and salt; set aside.
Cream oil, bananas, and sugars together. Beat in vanilla extract until combined.
Stir in the flour mixture just until combined.
Divide the cookie dough into two halves. Stir in the chocolate chips and peanut butter chips in one half. Walnuts and coconut in the other half.
Refrigerate dough for 30 minutes.
Preheat oven to 350F/180C. Line two cookie sheets with parchment paper or lightly spray with cooking spray.
Use a cookie scoop to scoop out cookie dough onto prepared cookie sheets and flatten it. (See My Notes)
Bake cookies for 11-13 minutes or just until they start to turn light, golden brown on top.
Let cookies cool completely on cookie sheets. I would recommend storing the cookies in the fridge because of the banana. You can nuke it in the microwave oven for a couple of seconds before serving.
My Notes:
You can use brown sugar instead of coconut palm sugar. Any neutral flavor oil of your choice instead of avocado oil.
I did flatten the dough lightly but I guess I could have done it liberally because the cookies did not spread as much as I thought it would. So these banana oatmeal chocolate chip cookies I baked was not as flat as the ones in the original recipe. So if you want flatter cookies, press down the dough well enough or test bake 2-3 cookies at first and then decide how much you will have to flatten the dough.

Try this recipe, click a pic and hashtag it #egglesscooking - Proudly showcase your creations on Instagram, Facebook & Twitter!