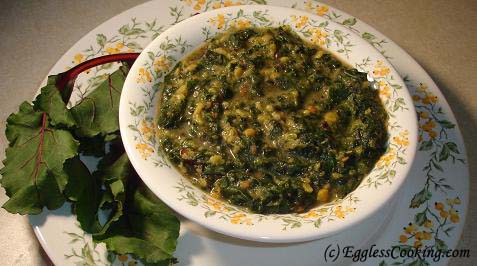 Are the tops of Beets Edible? Until recently I did not know that beet greens were edible.  During her last visit here my mother-in-law only mentioned it and cooked it for us.  I don't  know why I hadn't googled earlier to find more about these greens.  Better late than never, right?
I found out that Beet greens contain a large amount of vitamins A and K and anti-oxidants Beta Carotene and Lutein.  For more detailed information about the nutrient value click here.
My mother-in-law mentioned that the stems are not edible, so she used only the leaves.  But later I searched in the net and found that the stems are edible, healthy and tasty too.  Check it out here. 
This Beet Greens Kootu is like preparing any other greens/vegetable kootu.  It's very simple to prepare and goes well with both rice and chapatis.

| Prep Time | Cook Time | Makes |
| --- | --- | --- |
| 10 Mins | 30 Mins | 3-4 Servings |
| Author | Category | Method |
| Madhuram | Side-dish | Cooking |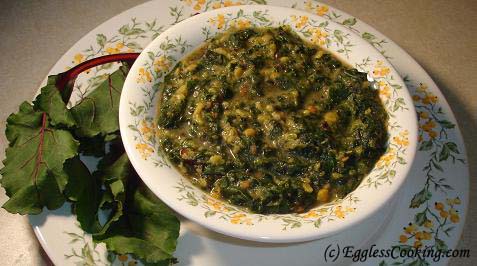 Enjoy this simple and delicious Indian Daal recipe using beet greens.

Ingredients:
1 Small Bunch

Beet Greens

(We Bought A Bunch Which Had 3 Beets With Greens)

1/4 Cup

Moong Daal/Toor Daal

1/4 Teaspoon

Turmeric Powder

A Pinch

Hing

As Per Taste

Salt
For Griding:
4 Tablespoons

Coconut

2 Teaspoons

Cumin

1/2

Red Chilli

1/2 (Or As Per Taste)

Green Chilli

2-3 Teaspoons Or As Necessary

Milk/Water
For Tempering:
1 Tablespoon

Oil

1 Teaspoon

Mustard Seeds

1 Teaspoon

Channa Daal

1 Teaspoon

Urad Daal

As Needed

Curry Leaves (Optional)
Procedure:
Simply tear the leaves and rinse it thoroughly. We did not use the stems this time, because we did not know that it was edible.

The daal and greens can be either pressure cooked together adding enough water for 1 whistle or it can be cooked in a vessel directly on stove top itself, if you are using moong daal. In case you choose to go with the latter method, first add the daal, turmeric powder, hing and enough water in a vessel and don't close it with a lid. If you close the vessel with the lid, the water will start overflowing while boiling and you will have to spend the next 5 minutes cleaning the range. Once the daal is half cooked add the cleaned greens and cook it tender adding water as required. Once both the daal and greens are cooked add enough salt.
While the daal and greens are cooking add all the ingredients mentioned for grinding in a blender and grind it to a fine paste using milk/water.
Add this paste to the cooked greens and let it boil for another couple of minutes, while you prepare the tadka.
In a small frying pan add oil and after it heats add the remaining ingredients and fry until the daals turn golden brown and add it to the greens and remove it from heat.
My Notes:
I have mentioned to grind the ingredients with milk because, while cooking any greens adding a very small quantity of milk will enhance the flavor of the greens. This is my mother's tip. So you can either grind using milk or first grind it with water and after adding the paste to the cooked greens add some milk and let it boil for another 3-4 minutes.
Another tip, while grinding for any kootu/daal using a combination of red chillies and green chilies gives a better taste than using either one of them alone.
Find some more beet greens recipes here.
New Updates:
While grinding the ingredients for the daal, you can also use coconut milk powder instead of coconut. It gives an excellent taste to the daal.
Similarly if you don't have coconut at home, you can also use carrots instead. This works in any kootu/daal recipe and also in mor-kuzhambu (but you will have an orange color kuzhambu). The end product tastes as good as using coconut itself. This was my mother's discovery. Back in South India, there is a practice that they don't want you to eat coconut for atleast 2-3 months after delivering a baby, especially if you are breast feeding. The elders say that it will create digestive problems in the newborn. So my mother experimented using carrots instead of coconuts in daals and other stuff and it came out very well also. Even yesterday I didn't have enough coconut for grinding chutney, so I used half a carrot. But you will have to increase the quantity of chillies to offset the sweetness of the carrots. The chutney had a light orange color, but no difference it taste whatsoever.
Spring onions/scallions daal can also be prepared in the same way as above. This is one of my favorite side dish for chapathis. This is my grandmother's recipe, which I had mentioned in my tribute to her.

Try this recipe, click a pic and hashtag it #egglesscooking - Proudly showcase your creations on Instagram, Facebook & Twitter!

Browse My Other Beet Greens Recipes