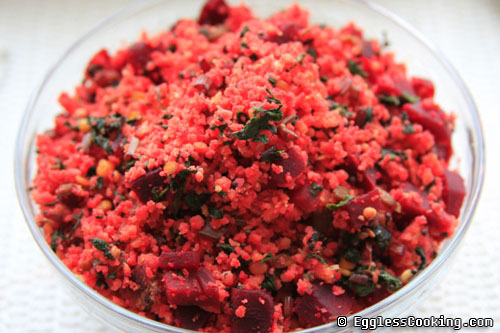 Ever since I came to know that beet greens were edible and prepared Beet Greens Daal, I have wanted to use it more often. Recently I prepared usili using beet greens and beets. Initially I thought of using beet greens alone, but once I cooked it, the quantity was very less, so proceeded using the beets also. I increased the quantity of chillies while grinding the daals, to offset the sweetness of the beets. This was the first time I was preparing beet usili and we all totally loved it.

| Prep Time | Cook Time | Makes |
| --- | --- | --- |
| 25 Mins | 08 Mins | 3 Servings |
| Author | Category | Method |
| Madhuram | Food | Cooking |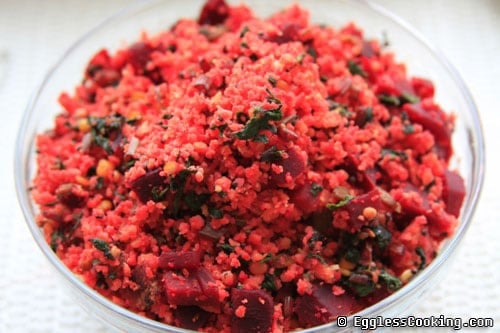 A simple and easy recipe to prepare usili (Indian side-dish for lunch) using beet green leaves and various kinds of daal.

Ingredients:
1 Tablespoon

Oil

1/4 Teaspoon

Mustard Seeds

1 Teaspoon

Urad Daal

1 Teaspoon

Channa Daal

1 Bunch

Beet Greens

5

Small Beets

As Required

Usili (Check The Procedure For Making The Usili Below)
Ingredients For Usili:
1/2 Cup

Channa Daal

1/4 Cup

Toor Daal

1/4 Cup

Masoor Daal

1 Or As Per Your Taste

Green Chillies

2 Or As Per Your Taste

Red Chillies

1 Teaspoon

Hing
Procedure:
Cut the beet greens from the beets. I came to know from one of my blogger friend that the stems take more time to cook, so I chopped the stems as well as the leaves separately, rinsed it and drained it in a colander. Peel the beets, cut into half. Now place the drained beet greens stems, leaves and the halved beets (with water just enough to cover the beets) in separate bowls and sprinkle little salt in all the 3. I have a cooker which holds all the 3 vessels, so I cooked everything at once and kept it for 1 whistle. I guess microwave or stove top cooking should also be fine. The cooked stems tasted good. So you can cook both the stems and greens together.
Once the pressure is released open the cooker and cut the cooked beets into small cubes and reserve the water for preparing Rasam/Soup.
Now in a frying pan do the tempering, sauteed the cooked beet greens and the stems for 2 minutes, then add the beets and finally the usili and combine it well. Garnish it with cilantro and beet usili is ready.
Procedure for Usili:
Soak the daals and chillies in water for at least an hour. (I usually soak it the previous night itself before going to bed.)
Now grind the above, adding salt and hing.
Grease 2 idli plates and divide the mixture among the 8 moulds.
Steam it, as you would do for idlis, maybe couple more extra minutes. A knife/toothpick inserted should come out clean.
Once it is done, remove the daal idlis, cut them into small pieces, keep it in a plate, cover it with plastic wrap and keep it in freezer for 10 minutes. (Don't forget that you have kept it in the freezer, then it will become rock hard)
After removing from the freezer, place the contents either in a blender or a food processor and powder it. The texture will be so good, if this method is followed. (Now you would understand why I have mentioned to keep it in the freezer. If it is ground as soon as it is steamed, it will have a lot of lumps)
This powder can either be used on the same day itself with vegetables of your choice (beans, carrots or a combo of both, in my case even beets) or it can be freezed for later use, so that you can have usili on a busy work day too.

Try this recipe, click a pic and hashtag it #egglesscooking - Proudly showcase your creations on Instagram, Facebook & Twitter!

Also check out Beet Rasam/Soup recipe.