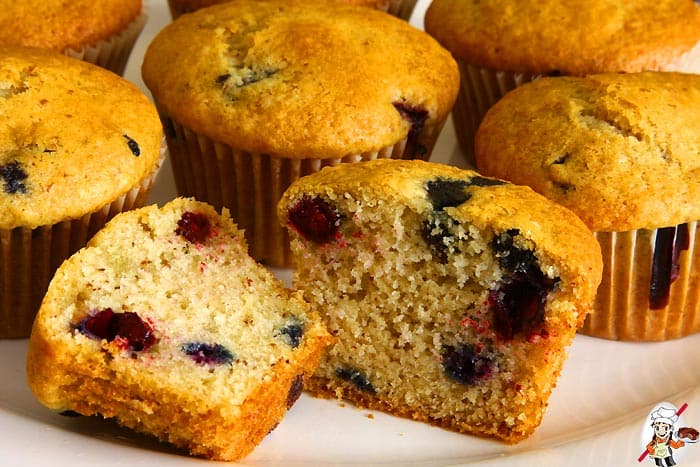 One of the very first recipes I tried when I started to bake egg-free (in 2008) was these vegan blueberry muffins. I made these light and airy muffins from the Joy of Vegan Baking book. Like many other recipes in that book, this one turned out perfect, and I have been making it ever since with a couple of variations of my own. I never thought I needed or would like another blueberry muffin recipe ever.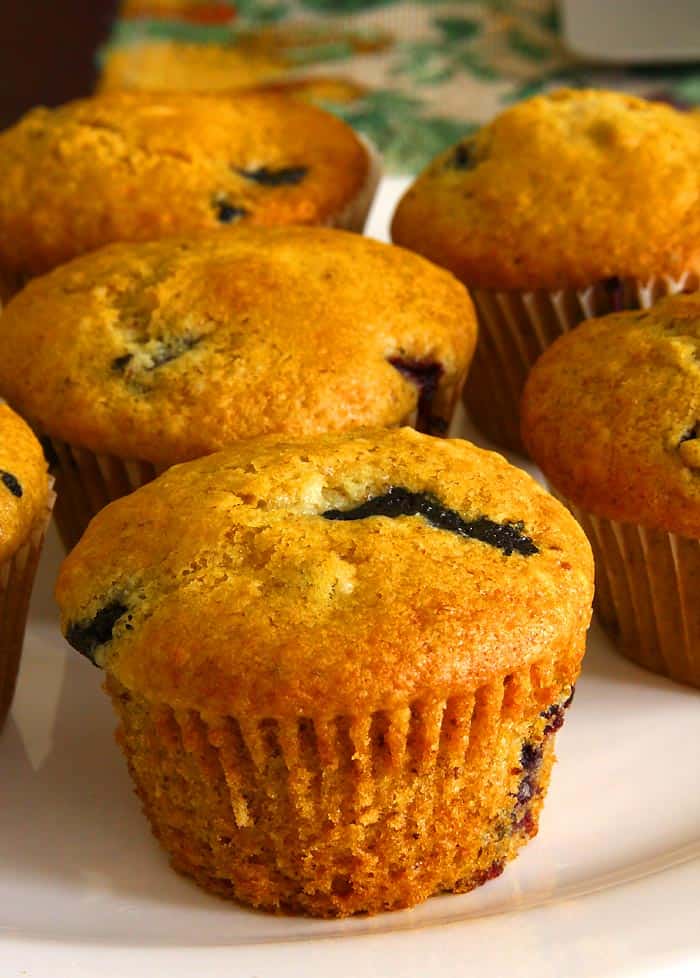 That is until I ended up with a tub of sour cream. That story for another time. While browsing for recipes using sour cream, I came across these berry cream muffins recipe, a chocolate muffin recipe, and an easy mac 'n' cheese recipe.
I had enough sour cream to try all three recipes, and fortunately, all three recipes didn't disappoint me. The muffins and mac 'n' cheese were so good that I think I will start buying sour cream just to make these.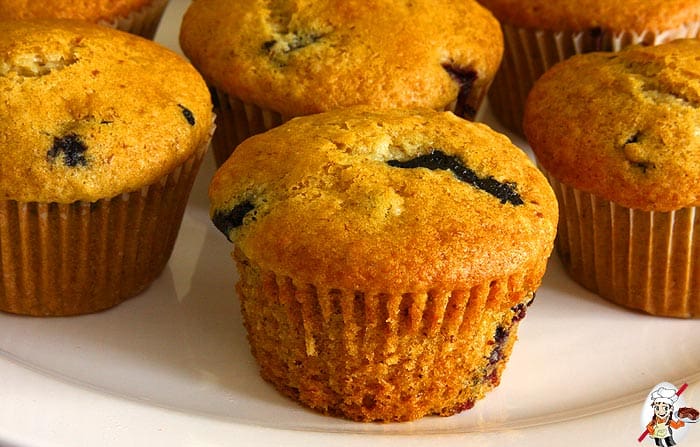 This blueberry sour cream recipe is a pretty straightforward one, very easy to bake. It's just a mixing and pouring type of recipe. I substituted eggs with flax eggs.
Another change I incorporated was increasing the quantity of sugar a little bit. I did right by doing so otherwise, the muffins would have been a tad less sweet.
How To Make Blueberry Cream Muffins?
Here is the step-by-step instructions on making delicious blueberry sour cream muffins from scracth: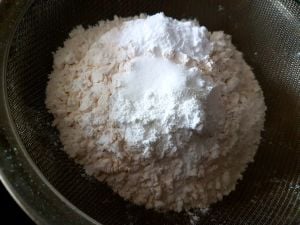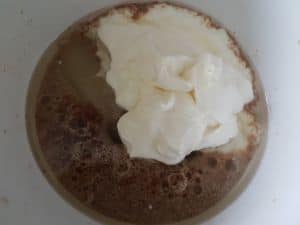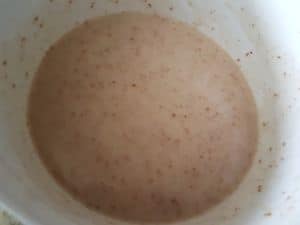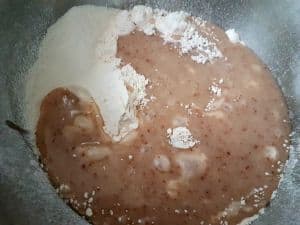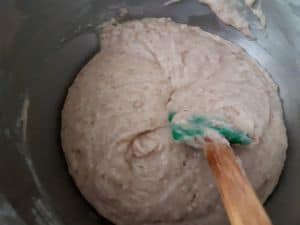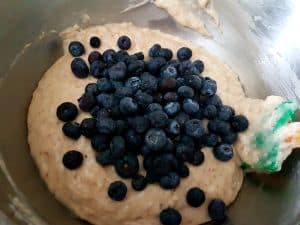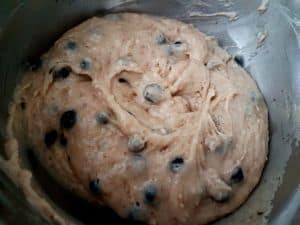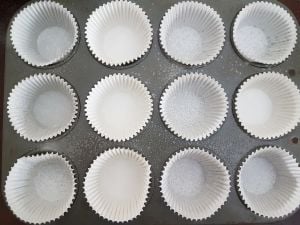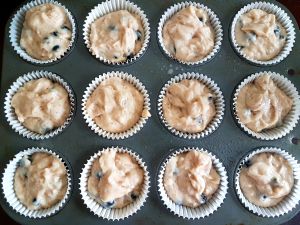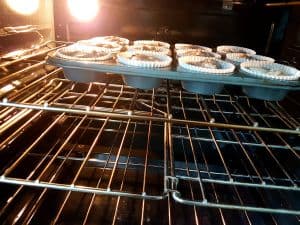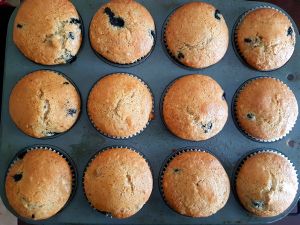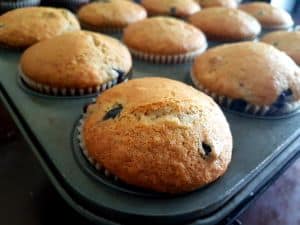 | | | |
| --- | --- | --- |
| Blueberry Cream Muffins Recipe | | |
| Prep Time | Cook Time | Makes |
| --- | --- | --- |
| 15 Mins | 25 Mins | 12 Muffins |
| Author | Category | Method |
| Madhuram | Muffins | Baking |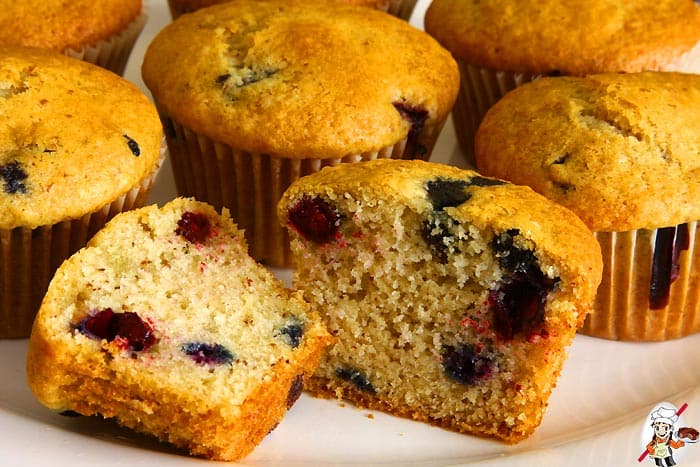 Want to bake light and tender blueberry muffins? The combination of sour cream and apple cider vinegar is the secret to getting these airy blueberry muffins. Try it, and you won't be disappointed.

Ingredients:
DRY INGREDIENTS:
2 cups

all-purpose flour

1 teaspoon

baking powder

1 teaspoon

baking soda

1/2 teaspoon

salt
WET INGREDIENTS:
1/2 cup

sunflower oil

2

flax eggs (2 tablespoons ground flaxseed + 1/2 cup water)

1 and 1/4 cups

granulated sugar

1 cup

sour cream

1/2 tablespoon

apple cider vinegar

1 teaspoon

vanilla extract
ADD-ONS:
Procedure:
Preheat oven to 400F/220C. Line a muffin tin with paper muffin liners and lightly grease it with non-stick cooking spray. Toss blueberries in a tablespoon of flour and set them aside so that they won't sink to the bottom of the muffins.
Sift together the dry ingredients in a large bowl and set them aside.
In another medium-size bowl, beat together the oil, flax eggs, and sugar first, and then add the other ingredients and beat well.
Stir the wet mix into the dry flour mix. Gently fold in the blueberries.
Use a 1/3rd cup measurement and fill the muffin tin cavities with the batter until it's 3/4ths full. Bake at 400F for 5-7 minutes, then reduce the temperature to 350F/180C and bake for another 15-17 minutes or until a toothpick inserted in the center of the muffin comes out clean.
Remove the pan from the oven and set it on a wire rack to cool. After about 10 minutes, remove the muffins from the pan and leave them on the wire rack to cool completely before storing.
Taste:
After eating the muffins, my mom's immediate reaction was, "it's so light, has a perfect texture, and the right amount of sweetness." The kids loved it too.
My Notes:
One can use any other berry, fruit, or other add-ons instead of blueberries. If using frozen blueberries, do not thaw. Instead, use it directly from the freezer. If you thaw, the color will bleed, and the muffins' color won't look appetizing.
Nutrition Facts
Blueberry Cream Muffins
Amount Per Serving
% Daily Value*
Potassium 103mg2%
Total Carbohydrates
38.1g
14%
* Percent Daily Values are based on a 2000 calorie diet.


Try this recipe, click a pic and hashtag it #egglesscooking - Proudly showcase your creations on Instagram, Facebook & Twitter!