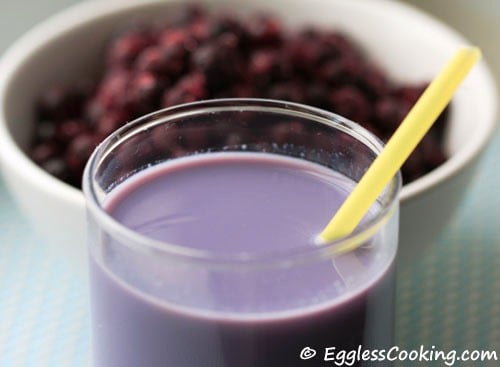 My son is 3 years and 3 months old and like many kids of his age he is also a picky/fussy eater. Meal time is definitely a battle time. The problem with him is, he doesn't have a favorite food. If he had a favorite food, I would simply prepare it for him everyday until he is bored. Earlier broccoli, cauliflower and pasta were his favorite. But not anymore. I think I'm never going to understand his mind in this matter.
I have a very good desi neighbor, whose daughter R is also my son's age. She also stocks up a lot of fruits and when my son goes there she offers him a fruit and he eats it very quickly without hesitating. So what I do, the very same evening I ask my husband to pick up that fruit on his way home and I give it to my son for breakfast the next day, and he disappoints me by not even taking it to his mouth. Last week I bought cherries for the first time, to try a cake recipe.
I was sure that he is not even going to taste it. I was removing the pit in the cherries and I gave him one and he ate it and asked for some more to my surprise. This continued for sometime, I was pitting and he was asking for more. So what do I do, I don't proceed with the cake. I simply put it back in the fridge and offer it again the next day and you know what, he didn't even eat one piece. Kids, definitely have their own thought process and they want to show us that they are in control.
Now here comes the rescue in form of a book called "The Sneaky Chef" by Missy Chase Lapine. She discusses about various simple strategies for hiding healthy foods in kids' favorite meals. She masks spinach and blueberries in brownies, cauliflower in Mac and Cheese, cherry juice in chocolate milk, white bean puree in chocolate chip cookies, etc just to mention a few. This book has definitely made me think outside the box.
I started with the cherry chocolate milk recipe first because he drinks chocolate milk daily in the afternoon after his nap and we had cherries at home. I'll post this one shortly. Just as it was mentioned in the book, neither of us were able to taste the cherry juice in the chocolate milk. Both the flavors blended so well. So I decided to try the blueberry flavored milk next.
The blueberry juice when mixed with the milk gave a nice violet color. But it was not sweet enough, so I mixed in some maple syrup. I liked it very much. Of course, you will get a mild blueberry smell. I was really excited to see a purple colored milk, more than he was and I asked him if he wanted to drink purple color milk. He too agreed without fussing, but once he tasted he said that it's not nice. So I had to get him all excited about the color, but no, he wouldn't drink.
Then I got this idea, I told him that his friend R's mother brought it while he was sleeping and she told that R loves this milk and she drinks it very quickly. And that did the trick, he gulped it down very fast, telling that it was very good. Can you believe this? I'm not sure if this is right or wrong, or how long this trick will work, but I think we have to take baby steps when it comes to kids and their nutrition. We have to pick our battles and should also let them win sometimes. Now coming to the recipe:

| | | |
| --- | --- | --- |
| Blueberry Flavored Milk Recipe | | |
| Prep Time | Cook Time | Makes |
| --- | --- | --- |
| 08 Mins | 05 Mins | 1 Serving |
| Author | Category | Method |
| Madhuram | Beverages | Mixing |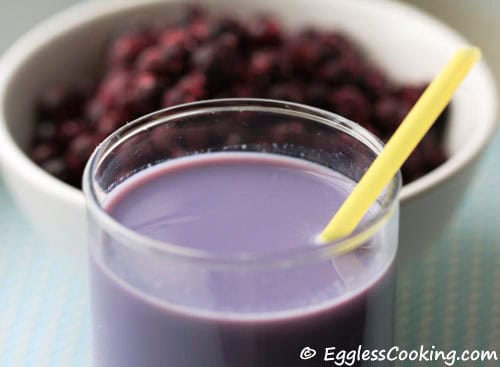 A very simple recipe to prepare blueberry juice using fresh/frozen blueberries and for preparing blueberry flavored milk.

Ingredients:
For Blueberry Milk:
1 cup

Milk (Use any non dairy milk for the vegan version)

4 tablespoons

Blueberry Juice (see juice recipe below)

As per taste

Maple Syrup or sweetener of your choice.
For Blueberry Juice:
2 and 1/2 cups

Fresh Blueberries (or frozen)

2 cups

Water

1 tablespoon

Sugar
Procedure For Blueberry Milk:
Mix together all ingredients and serve it.
Procedure For Blueberry Juice:
Boil together the berries, water and sugar.
Turn heat to low and simmer for another 10 minutes.
The original recipe instructs to mash the berries with the back of a spoon or a potato masher to release their juices. But I felt that this trick did not work for me. So I used an immersion blender to blend the berries at high speed until smooth.
Strain the mixture using a fine mesh strainer until all the liquid is released. Save the pulp for smoothies.
This juice can be stored in the fridge for up to 3 days, or can be frozen in small portions in sealed plastic bags or containers.
This measurement yields 2 and 1/2 cups of Blueberry juice.
My Notes:
In the original recipe for Blueberry Milk, only milk and the juice were mixed. But when I tasted it was definitely not sweet enough to persuade my son to drink it. So I decided to add some maple syrup.
Using this blueberry juice, blueberry cola can be prepared by mixing equal portion of the juice and sparkling water. I made this too and it tasted awesome. We should definitely avoid giving carbonated drinks to children of all ages. But in this era of rigorous marketing and ads all around the place for Coke and Pepsi, it's difficult to make the kids understand the effects of soda. So why not give them a cola which at least is not artificially flavored!
Cherry and Strawberry juice can also be prepared in the above method and similarly flavored milk and cola can be made using the juice. But try to buy organic cherries and strawberries, because these fruits are on the "dirty dozen" list (Apple, Cherry, Grapes, Nectarine, Peaches, Pear, Raspberry, Strawberry, Bell Pepper, Celery, Potato and Spinach) , produce most contaminated with pesticide residues.
These juices can be poured in ice pop molds and be frozen for a naturally flavored Popsicle.

Try this recipe, click a pic and hashtag it #egglesscooking - Proudly showcase your creations on Instagram, Facebook & Twitter!