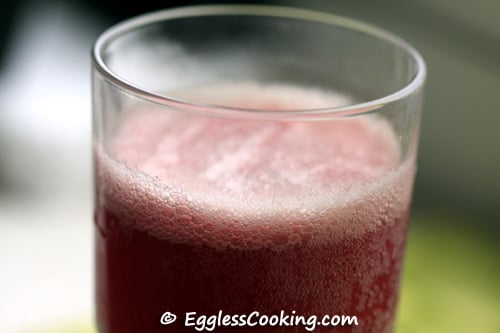 Like the blueberry milk and strawberry milk recipe this recipe for cherry cola is also from The Sneaky Chef.
Cherry cola is made at home by combining equal parts cherry juice and sparkling water. Unlike the store-bought sodas which are flavored and colored artificially, this cherry cola is made from homemade cherry juice.
Too much consumption of any soda is definitely not good, but this homemade cherry cola is an excellent alternative for sugary sodas. At least we can consume it without the risk of caffeine overdose and sugar rush.
The basic cherry juice can be mixed with chocolate milk and kids won't even recognize it. The cherry juice gives a very nice color and flavor to the chocolate milk. My son absolutely loves it and he can't differentiate the taste at all.

| | | |
| --- | --- | --- |
| Homemade Cherry Cola Recipe | | |
| Prep Time | Cook Time | Makes |
| --- | --- | --- |
| 15 Mins | 15 Mins + 1 Hr Cooling | 2 Cups Of Cherry Juice |
| Author | Category | Method |
| Madhuram | Beverages | Mixing |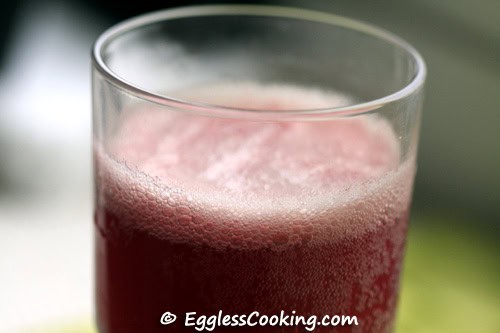 Make caffeine free cherry cola at home using natural cherry juice and sparkling water.

Ingredients:
2 and 1/2 cups

Pitted Fresh or Frozen Cherries

2 cups

Water

1 tablespoon

Sugar
Procedure For Cherry Juice:
In a medium pot bring all the ingredients to a boil.
Turn heat to low and allow to simmer for 10 minutes.
You could mash the cherries with the back of a spoon (or a potato masher) or do what I did. I used an immersion blender to blend the cherry mixture completely.
Pour into a fine mesh strainer over a container or bowl, pressing the pulp with the back of a spoon until all the liquid is released. If you use an immersion blender, there is not much pulp left.
Procedure For Cherry Cola:
Mix equal parts sparkling water/seltzer and the cherry juice. I tried this with both artificially sweetened and unsweetened seltzer and liked both. The sweetened version tastes exactly like Coke/Pepsi and the unsweetened cola tastes more like flavored club soda.
If you have frozen cherry juice cubes use it instead of regular ice cubes in the cola.
Procedure For Cherry Chocolate Milk:
Mix 1/4 cup of cherry juice, 3/4 cup of milk and 1/2 to 1 tablespoon of chocolate syrup until well combined.
My Notes:
Try to use organic cherries, since it is one among the "dirty dozen" – produce most contaminated with pesticide residues.
This cherry juice can be stored in refrigerator up to 3 days or freeze 1/4 cup portions in sealed plastic bags. I poured the cherry juice in ice cube trays and froze it. Once it froze I transferred the cherry juice cubes to a plastic bag. This is very easy than simply freezing the juice in a bag. Whenever I need I take a couple of cubes, defrost it and use it.

Try this recipe, click a pic and hashtag it #egglesscooking - Proudly showcase your creations on Instagram, Facebook & Twitter!