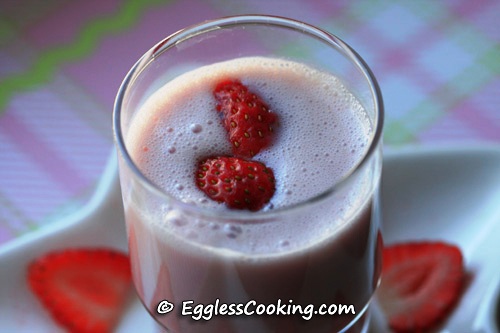 A couple of months back I googled flavored milk and the results I got was stirring Kool Aid (similar to Rasna in India) in milk or making a syrup out of the Kool Aid and lot of sugar and adding the syrup to the milk. I wanted something with natural ingredients, something made of fresh fruits. Fortunately months later I have found the book The Sneaky Chef. I think I have written enough about this book in my previous post about Blueberry flavored milk.
I have been trying out recipes from the book and I'm so glad that my son is eating at least some fruits without any fuss. I tried the blueberry juice and cherry juice earlier, which was a huge success. At first my son did not like the blueberry milk, but now he keeps asking for it. He doesn't even know that his chocolate milk has cherry juice in it. He is happily drinking it. So I got some strawberries (two 16 oz packs) last weekend and tried the same technique. Will you believe me if I tell that he drank it completely in the last 3 days? I could have never made him eat so much strawberries just like that. I can't wait to try other recipes from that book. Not only that, it also makes it interesting for me because, now I'm thinking what else can I sneak in his food, it's sort of challenging your creativity.
The Strawberry Milk is surely very tasty enough to entice any picky eater.

Strawberry Milk
Ingredients:
Strawberry juice – 1/4 cup
Dairy Milk/Non dairy milk – 1/2 cup (I used regular cow's milk)
Sugar/sweetener – as per your taste
Procedure:
Mix all the ingredients until well combined and serve
My Notes:
The ratio mentioned in the book is 3-4 tablespoons of the fruit juice to 1 cup of milk. You can mix it in any proportion. I tend to add more juice, so he can get an extra serving of the fruit. So I add juice until I get the enticing vibrant pink color.
Earlier I used to simply blend strawberries, milk and sugar together to prepare strawberry milkshake, but this method had the drawback of having the small black colored seeds (I guess that's what they call it). Even though I filtered it my son would be simply spitting to add to my fury. But in this juice method we are straining out the pulp and so that should not be a problem at all. Some of you may have a question, whether we will be losing the nutrition in the pulp. I didn't have this problem at all, because I added extra water while boiling the strawberries and I also used an immersion blender to puree the mixture thoroughly. So while filtering I got most of the fruit, the pulp was very very less (when compared to the blueberry and cherry juice) mainly the black pits.
Strawberry Juice
Ingredients:
Strawberries, fresh or frozen (no syrup or sugar added) – 2 and 1/2 cups
Water – 2 cups
Sugar – 1 tablespoon
Yield: 2 cups of Strawberry Juice
Procedure:
1. Boil the berries, water and sugar in a medium sauce pan.
2. Turn heat to low and simmer for 10 minutes.
3. The book mentions to mash the strawberries with the back of a spoon. But I used an immersion blender to blend the mixture thoroughly.
4. Pour the mixture into a fine mesh strainer over a bowl and press the strawberry pulp with the back of the spoon until all the liquid is released. Save the pulp to add to smoothies.
5. Store in the refrigerator up to 3 days or freeze 1/4 cup portions.
My Notes:
1. Buy organic strawberries because it is one of the 12 items which is most contaminated with pesticide residues.
2. This strawberry juice can be used in so many ways. Few recipes listed in the book are, freezing it in ice pop molds for natural and low sugar popsicles, mix it with sparkling water, mix it with lemonade, make berry syrup for pancakes mixing it with maple syrup etc.