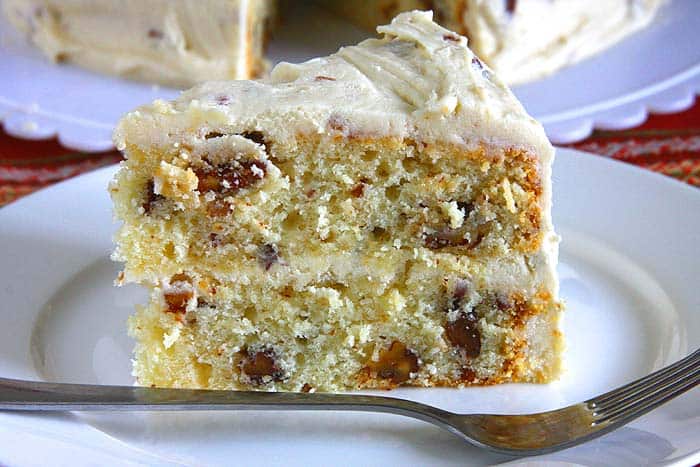 It was my husband's birthday a few weeks ago. It's always a daunting task to bake something for him because he is a very picky conscious eater. Surprisingly the eggless tres leches cake I made last year was a super-duper hit.
Once in a blue moon, I hit the jackpot with him. I had bookmarked a butter pecan cake recipe from Taste of Home years back.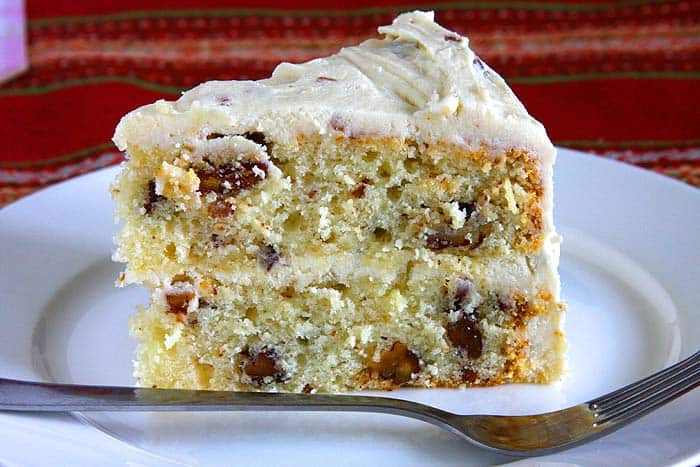 I decided to give that a try for this year's birthday because on the rarest occasion he eats ice cream he prefers butter pecan flavor.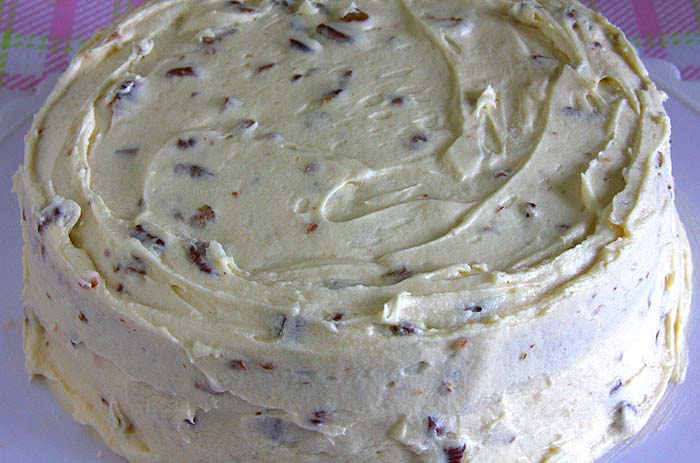 The original recipe had used 2 eggs for which I went to my trusted, no-fail egg substitute combo for cakes; tofu and yogurt.
I found this stunning combination while I baked the eggless strawberry cream cake and ever since this combination is my go-to egg substitute especially for cakes.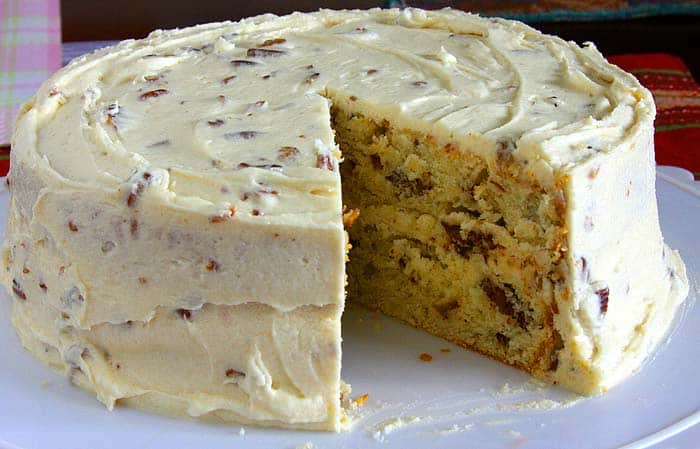 It's no surprise that this combination worked perfectly for this eggless butter pecan too! This cake was again a splendid hit with family and friends.
How To Make Eggless Butter Pecan Cake?
Here are the step-by-step instructions on how to make delicious butter pecan cake for any special occasion!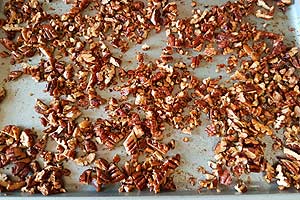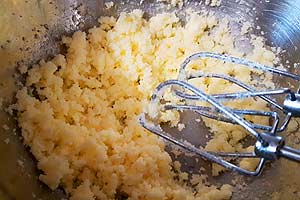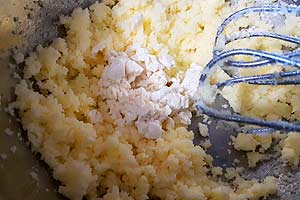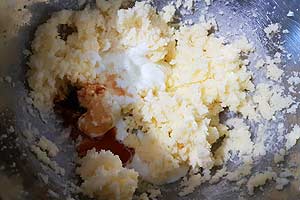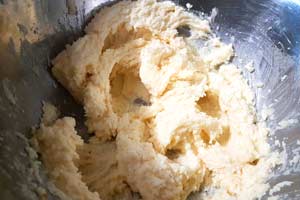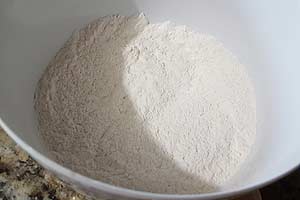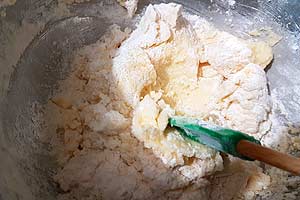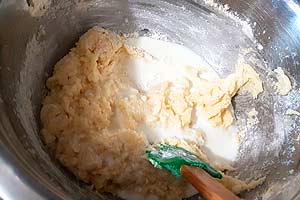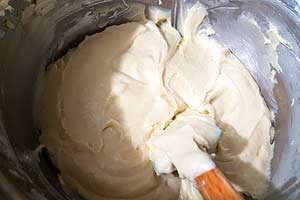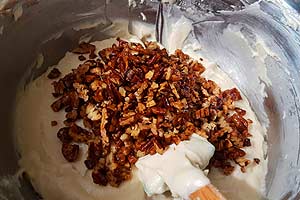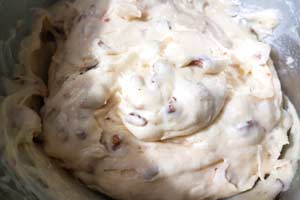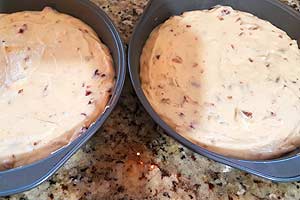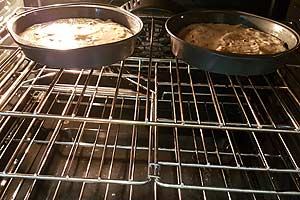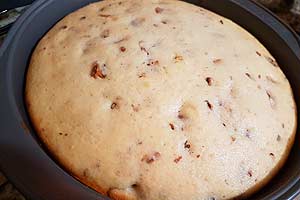 | | | |
| --- | --- | --- |
| Eggless Butter Pecan Cake Recipe | | |
| Prep Time | Cook Time | Makes |
| --- | --- | --- |
| 25 Mins | 33 Mins + 2 Hours (Cooling & Frosting) | 12 servings |
| Author | Category | Method |
| Madhuram | Cakes | Baking |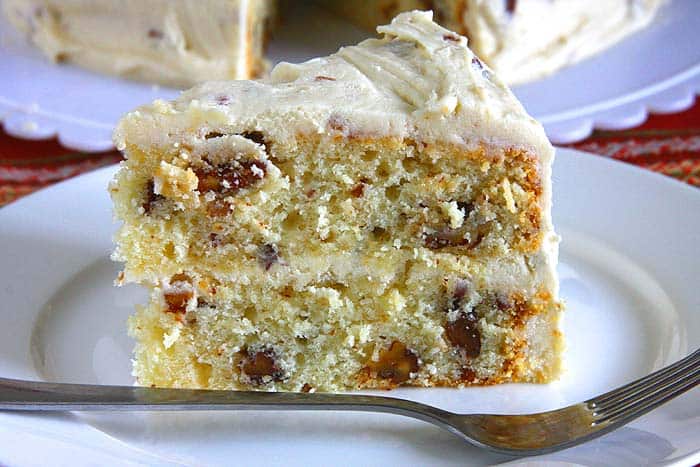 Bored from making the same old chocolate, vanilla, strawberry cakes for your special one's special occasions? Give this eggless butter pecan cake a shot and it will start making appearances more often than you think.

Ingredients:
TOASTED PECANS:
3 tablespoons

butter, melted

1 and 1/3 cups

chopped pecans
CAKE INGREDIENTS:
2/3 cup

butter, softened

1 and 1/3 cup

white sugar

1/4 cup

silken tofu

1/4 cup

yogurt, plain

1 and 1/2 teaspoons

vanilla extract

2 cups

all-purpose flour

2 teaspoons

baking powder

1/4 teaspoon

salt

2/3 cup

whole milk
BUTTER PECAN FROSTING:
1/2 cup

butter, softened

3-4 and 1/2 cups

icing sugar

4-6 tablespoons

whole milk (as needed)

3/4 teaspoon

vanilla extract
Procedure:
CAKE PROCEDURE:
Preheat oven to 350 F/180C. To make toasted pecans, pour melted butter in a baking sheet. Stir in pecans. Toast for 10 minutes. Stir the nuts once half way. Set aside to cool.
In a large bowl, cream butter and sugar until light and fluffy.
Add 1/4 cup silken tofu and beat well. Then add the yogurt and vanilla extract and beat well.
In a medium-sized bowl, combine flour, baking powder, and salt.
Add the dry mix and milk to the creamed butter/sugar mixture alternately. Basically first some portion of the flour, mix well and then add milk and beat well and do the same for rest of the flour and milk.
Stir in 1 cup toasted pecans.
Pour batter into two 8-in.round baking pans lined with parchment paper. First I scooped out 1 cup of batter and put in each of the pans and divided the rest of the batter equally using measuring cups.
Bake at 350° for 30-35 minutes or until a toothpick inserted in the center comes out clean. Mine was done in 33 minutes. You can see that the cake gets golden brown around the edges and it starts pulling away from the pan.
Place the pans on a wire rack for at least 10 minutes before removing the cakes from the pan. After that cool the cakes completely before frosting.
FROSTING PROCEDURE:
In a large bowl cream butter and 3 cups of sugar. Add milk in small increments and vanilla, beating until light and fluffy. Add some more sugar and/or milk depending on the taste and consistency. Stir in remaining toasted pecans. Spread between the layers and over the top and sides of the cake.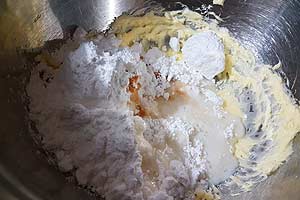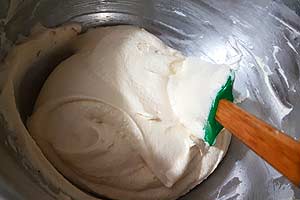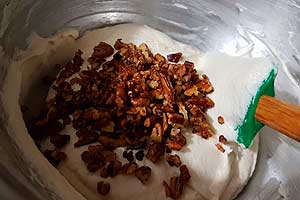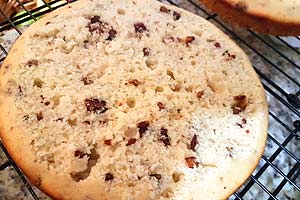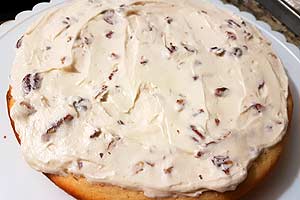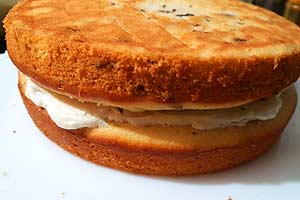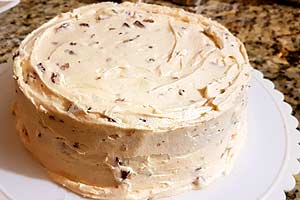 Taste:
The toasted pecans gave the cake a nice crunchy texture as well a wonderful flavor and aroma. The frosting tasted just like butter pecan ice cream but very sweet for our palate. More about that in the My Notes section. Overall the cake was a fabulous hit with my husband. I couldn't believe that he kept asking for more!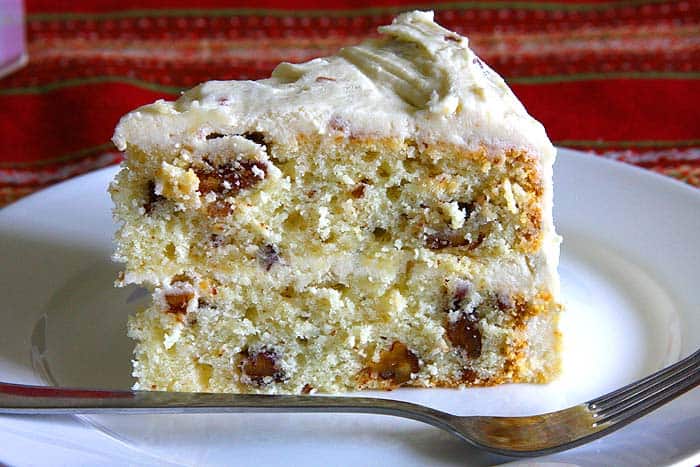 My Notes:
The butter in the cake and the frosting sort of solidifies when stored in the fridge and lends a hard texture when eaten just out of the fridge. So bringing it to room temperature before serving is a must.
I'm guessing that because it's buttercream frosting and if you are sure that you will finish the cake within 3 days max I don't think you have to store it in the refrigerator at all. It should be fine storing it in a cake container, covered on the countertop itself so that you will have a nice soft cake at request. Don't have to wait for it to come to room temperature before serving.
I didn't do the soaking the cake layers with sugar syrup which I do sometimes to keep the cake moist. Maybe that's an option as well. Please note that this cake is not at all dry. The butter gets hardened up when stored in the refrigerator and hence the texture.
The frosting measurements mentioned in the original recipe is completely off the chart. Some of those who have tried the recipe have mentioned that in the comments which I failed to read.
The frosting was clearly not enough. So I had to keep adding butter, sugar, and milk to get a decent quantity of frosting and I have tried my level best to keep track of the increments I made and have come up with the measurement.
My frosting was way too sweet for us because of the mess up in the ingredients. I have considered that and adjusted it while writing the recipe. Hopefully you all like it.
Nutrition Facts
Eggless Butter Pecan Cake
Amount Per Serving
% Daily Value*
Potassium 170mg4%
Total Carbohydrates
80.3g
29%
* Percent Daily Values are based on a 2000 calorie diet.


Try this recipe, click a pic and hashtag it #egglesscooking - Proudly showcase your creations on Instagram, Facebook & Twitter!