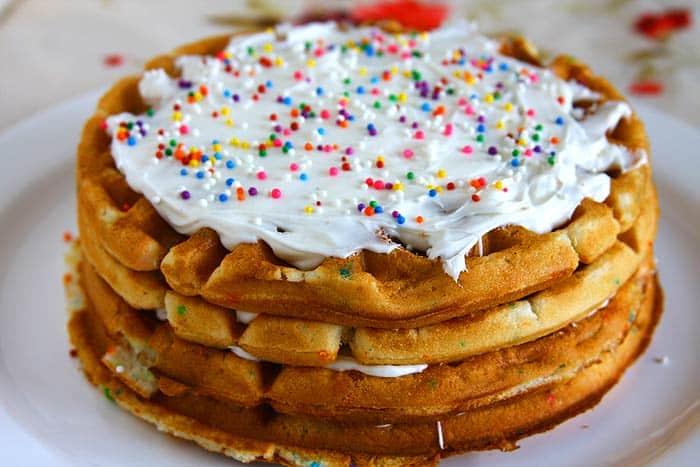 Cake Mix Waffles: March 15th, 2018 marked the 10th year anniversary of this blog, the one I thought I started as a hobby just to consolidate links of eggless baking recipes from other websites.
Little did I know that it would become an integral part of my life and would give me an identity as well.
As cliched as it may sound this wouldn't have been possible if it was not for my husband's untiring efforts and enthusiasm taking over the entire technical aspect of running this blog from 2008.
He is also the talented photographer who captures beautiful pictures of the dishes I make which sometimes looks better in pictures than it actually is.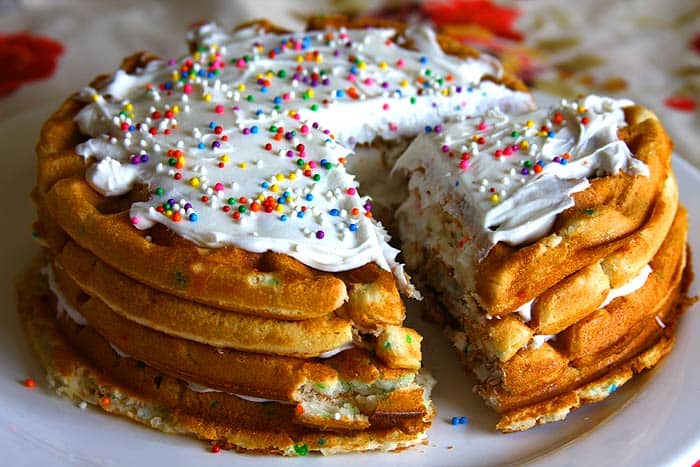 Special occasions call for a special treat, especially a cake for a food blog and a baking blog in particular. I had few cake recipes that I had bookmarked and wanted to try for the 10th year anniversary of my blog but couldn't get to it. I had some cake mix boxes which I picked up from the grocery store because it was on sale.
I thought I will make/bake some quick dessert recipe using the cake mix and that's when I started looking for cake mix recipes on Pinterest and found a couple of interesting ones.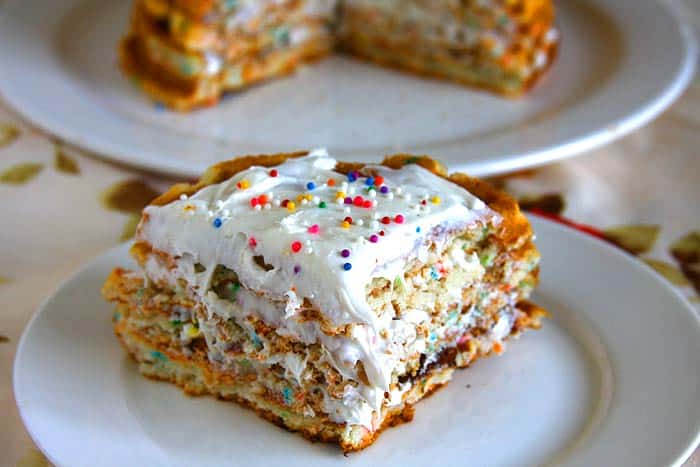 This cake mix waffles caught my attention because it was easy to make and looked fancy too. That blogger had used a white cake mix and mixed in colored sprinkles to make these waffle cakes and I decided to use the funfetti cake mix I had which already had sprinkles mixed in.
I have used cake mix to make eggless cakes, cupcakes, and cookies and they all have turned out very good. So I was pretty confident that these cake mix waffles will also be a hit.
Usually, I use yogurt as a egg substitute when I make eggless cakes using a cake mix and unsweetened applesauce or pureed silken tofu to bake cookies.
I didn't have yogurt that day to make these waffles and used buttermilk instead. Prepared the waffles like any other waffle recipe and it came out great.
I then used store bought frosting to fill in between layers of these egg free cake mix waffles, stacking one on top of the other just like layering cakes.
How To Make Egg Free Cake Mix Waffles?
Here are the step-by-step procedure to make these delicious cake mix waffles without eggs.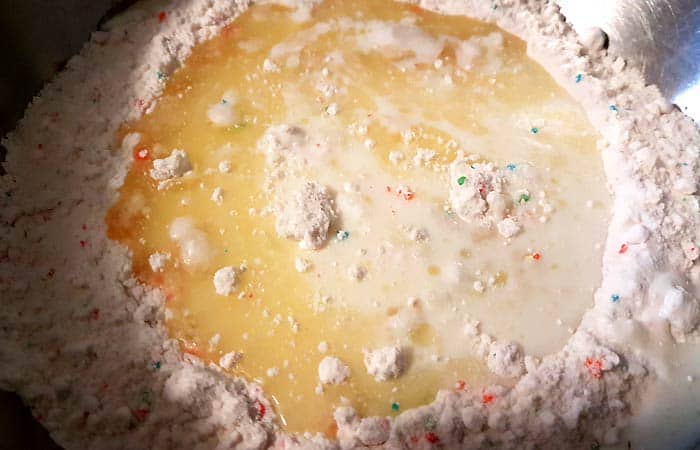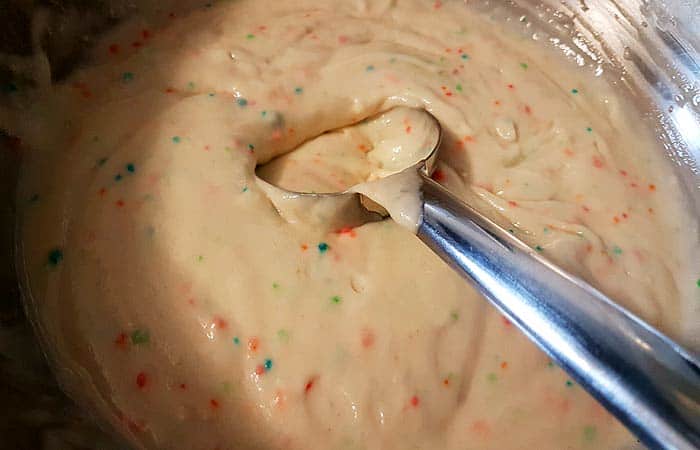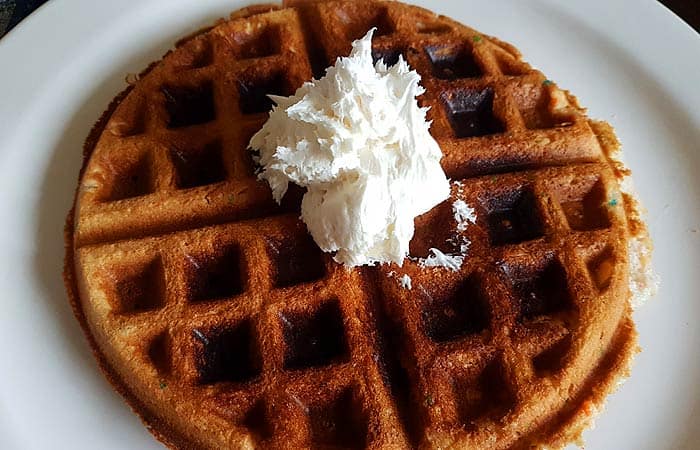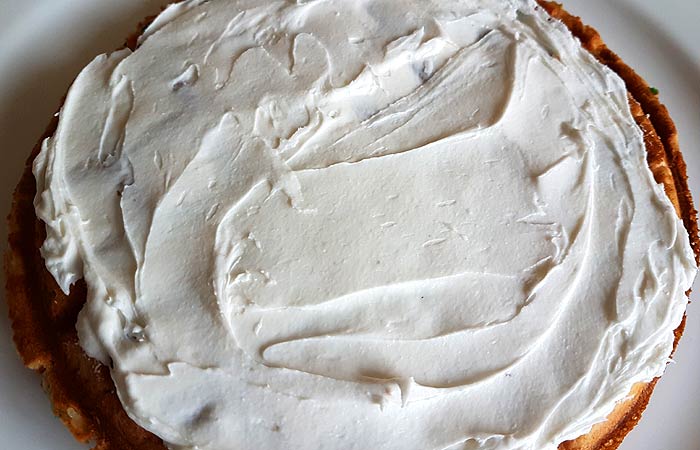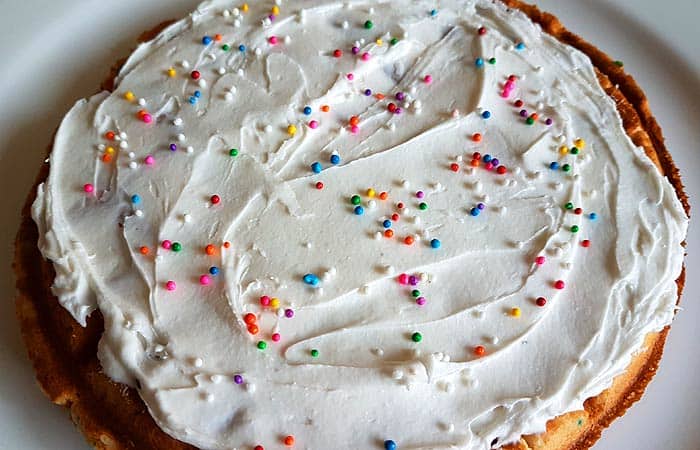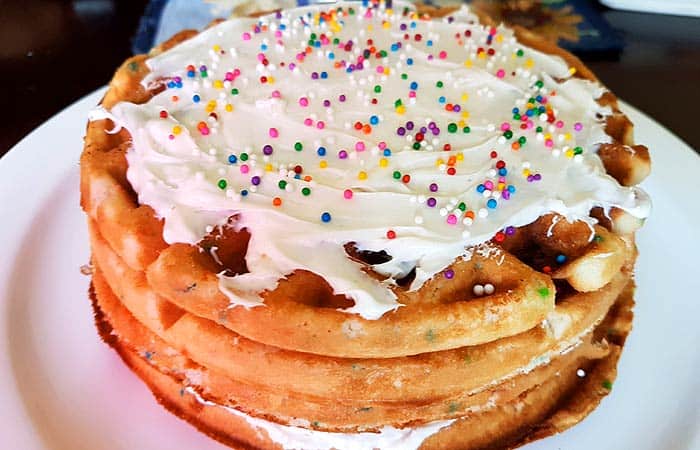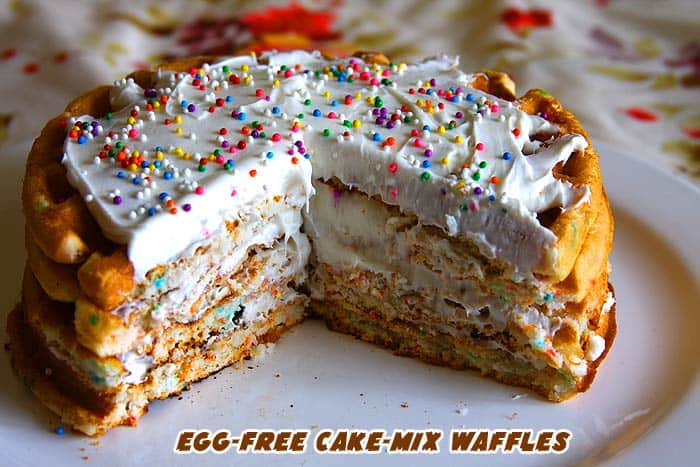 | | | |
| --- | --- | --- |
| Funfetti Cake Mix Waffles Recipe | | |
| Prep Time | Cook Time | Makes |
| --- | --- | --- |
| 15 Mins | 3 to 5 Mins/Waffles | 5-6 Waffles |
| Author | Category | Method |
| Madhuram | Waffles | Cooking |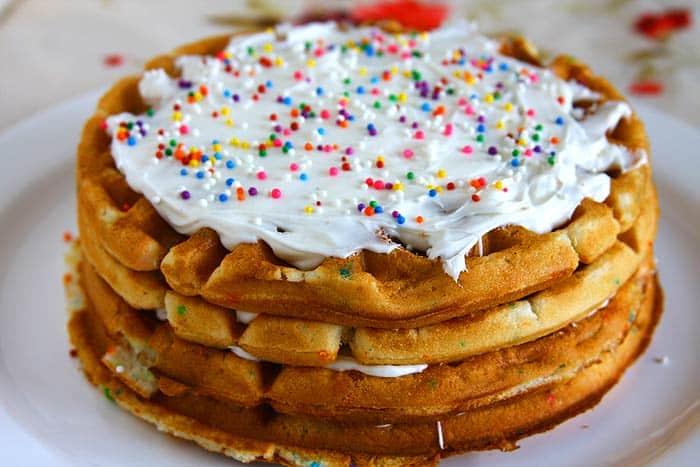 Are you in a crunch for time to make something special yet simple which will not take hours together in the kitchen? Then this eggless cake-mix waffle recipe could be the solution to your problem. It's very easy to make and you can dress it up beautifully to make it look all fancy and entertaining.

Ingredients:
1 pack (432 gm)

rainbow/funfetti cake mix (I used Betty Crocker)

1/2 cup

milk

1/2 cup

buttermilk

1/2 cup

water

1/4 cup

sunflower oil
Procedure:
Mix together all the ingredients in a large bowl using a whisk. Dissolve large lumps of flour if any.
Heat the waffle maker, spray the lower and upper lids with non-stick cooking spray.
Pour a 1/3rd cup of batter onto the waffle iron and close the lid and cook according to the instructions of the waffle maker you are using.
Do not let it get very dark. Remove the waffle from the waffle iron.
Place the waffle on a big plate. Put a dollop of frosting on it and spread it. You can add some sprinkles on top. Layer another waffle on top of it and repeat the same for the rest and spread frosting on the top layer too and stick in a candle and your eggless waffle cake is ready.
My Notes:
Make sure that you don't let the waffles burn too much in the waffle maker otherwise you will end up with a blacked waffle with a bitter taste.
You can even use whipped cream to use as filling between layers or just on the top layer. Chocolate chips, strawberries, slivered almonds can also be used to garnish.
I used up almost the entire can of whipped cream frosting I had bought to fill and top this waffle cake. The nutrition information below is including the frosting as well.

Nutrition Facts
Servings: 8
Per Serving
% Daily Value*
Calories

403

Total Fat

17.7g

23%
Saturated Fat

4.1g

20%
Trans Fat

0%

Cholesterol

2mg

1%
Sodium

406mg

18%
Potassium 45mg
Total Carb

60.8g

22%
Dietary Fiber

1g

4%
Sugars

38.1g

Protein

3g

Vitamin D 0mcg – 0%
Calcium 96mg – 7% | Iron 1mg – 6%

Try this recipe, click a pic and hashtag it #egglesscooking - Proudly showcase your creations on Instagram, Facebook & Twitter!