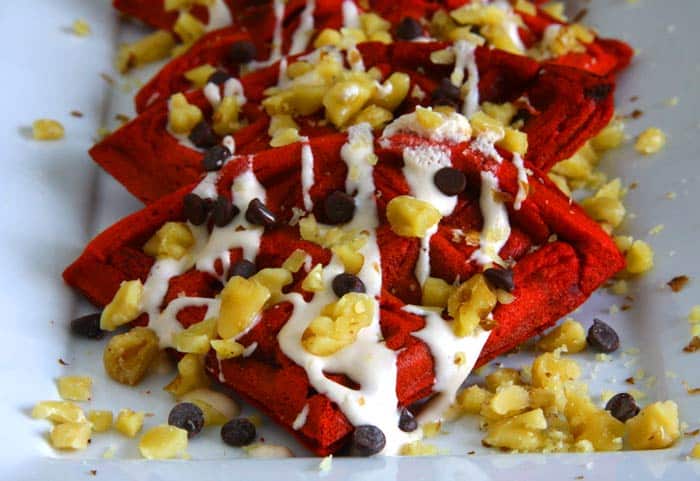 My youngest son is a big red velvet cake fan! Every year for his birthday he prefers to have a red velvet cake. This year was no different.
I have already made a red velvet cake with cream cheese frosting for two of his birthdays using a store-bought red velvet cake mix. Once I also made a red velvet cake using beets to naturally color the cupcakes without any food coloring.
Since the usual cakes were done and dusted, I was planning to bake a red velvet Bundt cake with cream cheese filling in the middle.
I saw a few recipes online, took pieces from each, and tailored a recipe that I was all set to bake, and something unfortunate happened all of a sudden! My oven broke! The service guy couldn't give us an appointment for a week after his birthday.
My son was upset that I wasn't going to bake him a red velvet cake even though I told him that I will get one from the nearby bakery because he preferred the one baked by me.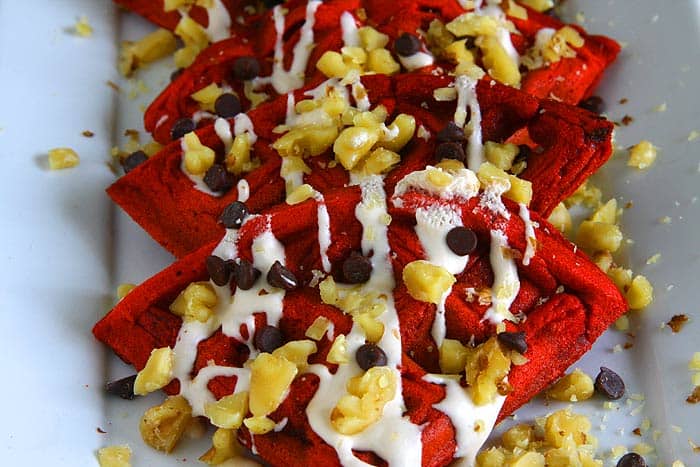 I was racking my brains as to how to make it up to him. What can I do "red-velvety" without an oven? That's when this amazing idea dawned upon me to make him a special breakfast. Red velvet waffles it was!
The next step was to find out how to make red velvet waffles. I found a few simple recipes online and as usual picked up a few tips and tricks from one such recipe incorporated it into my Vegan Waffles Recipe and voila the best eggless red velvet waffles were made on my son's 10th birthday.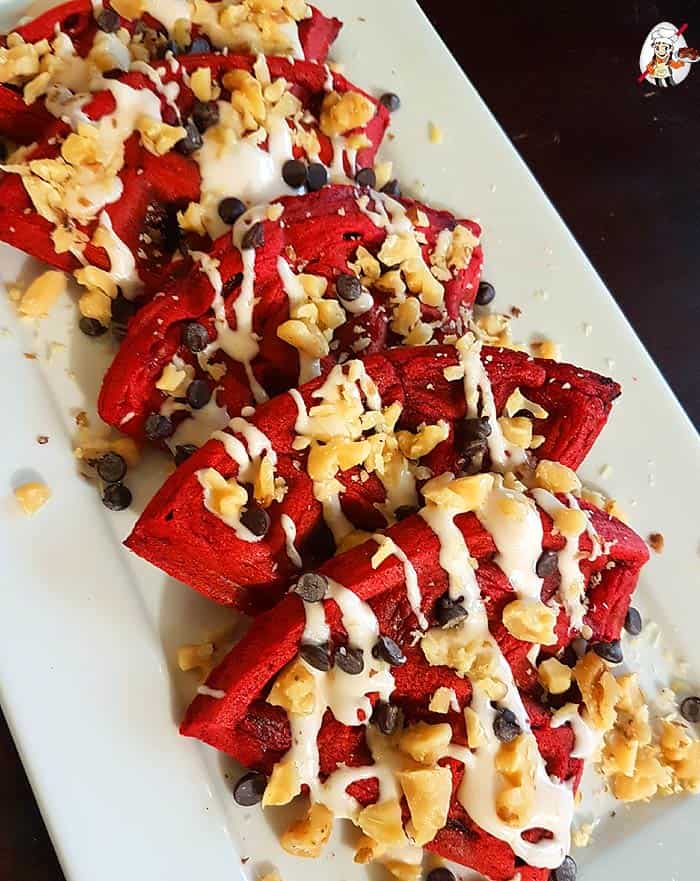 He was absolutely thrilled and surprised to see these bright and beautiful waffles waiting for him on the breakfast table.
As much as I was happy that I could make his day special the mom and health nut in me was freaking out at the quantity of red food coloring I had used.
Now this gives rise to the question, "What can I use instead of red food coloring?"
After reading in various sources about the history of red velvet cake I understood that the red color in red velvet cake is caused by a chemical reaction between the vinegar and buttermilk which then causes the red color to come out in the unsweetened cocoa powder.
This natural occurrence of red color is not vibrant and bright enough and that's when the usage of red food coloring came into practice. I see that these days beet powder is available in online stores and specialty stores and that could be a better, all-natural option.
But the matter of fact is the baked treats using beet puree or powder won't have that bright red color you expect. It will have a purple hue.
How To Make Red Velvet Waffles?
Here is the step-by-step pictorial instructions on how to make colorful and eggless red velvet waffles from scratch.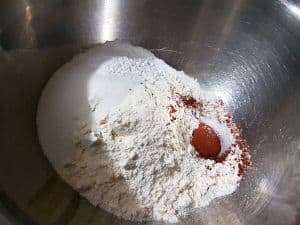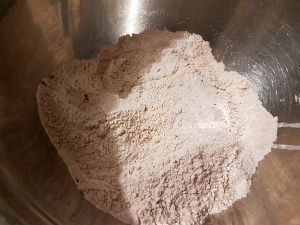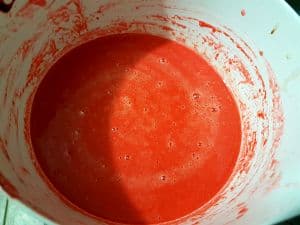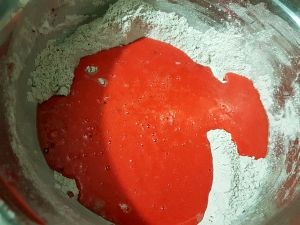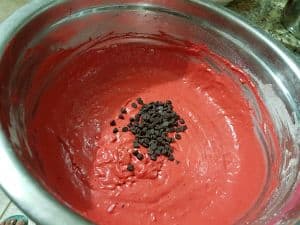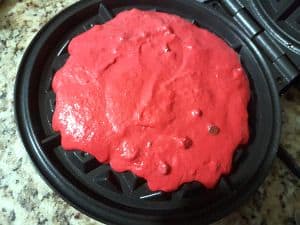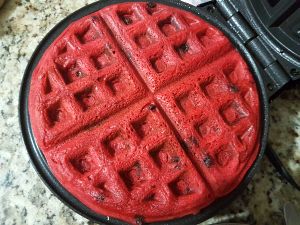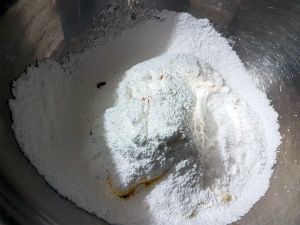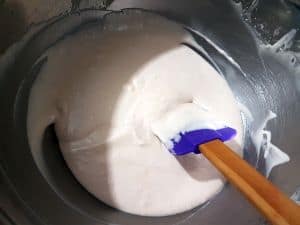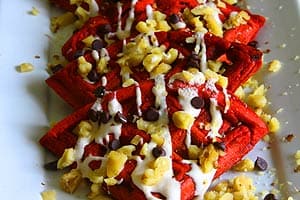 | | | |
| --- | --- | --- |
| Eggless Red Velvet Waffles Recipe | | |
| Prep Time | Cook Time | Makes |
| --- | --- | --- |
| 15 Mins | 04 Mins | 4 Waffles |
| Author | Category | Method |
| Madhuram | Waffles | Cooking |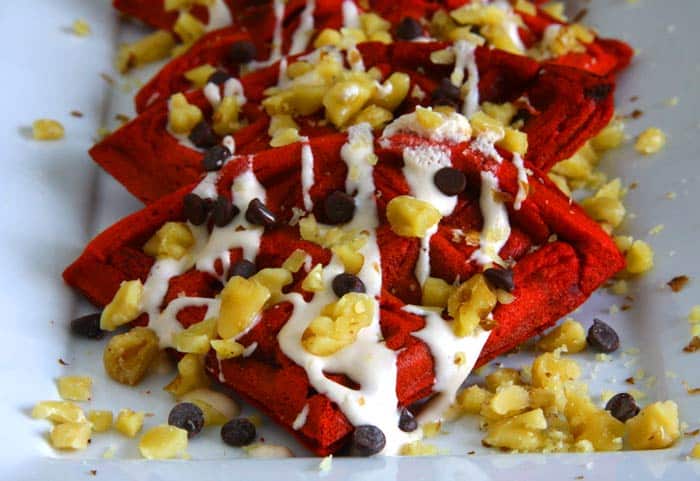 These red velvet waffles will make birthdays, Valentine's day, or any other special occasion even more special by adding pizzaz! It sure did brighten my son's face when he saw it first thing in the morning on his 10th birthday!

Ingredients:
Dry Ingredients:
1 and 3/4 cups

all-purpose flour

1/4 cup

yellow cornmeal

1/4 cup

white sugar

1 tablespoon

baking powder

1 tablespoon

cornstarch

1 tablespoon

cocoa powder

1/2 teaspoon

salt
Wet Ingredients:
1 and 3/4 cups

whole milk (See My Notes)

1/3 cup

butter, melted and cooled

2 teaspoons

vanilla extract

1 teaspoon

apple cider vinegar

2 tablespoon

red food coloring (gel)
Optional:
3 tablespoons

mini chocolate chips

1/2 cup

walnuts/pecans, chopped
For glaze:
4 ounces

cream cheese, softened at room temperature

4 tablespoon

butter, softened

1 and 1/2 cups

powdered sugar

1 teaspoon

vanilla extract

2 tablespoons

whole milk
Procedure:
Whisk together dry ingredients in a large mixing bowl and set aside.
In a medium bowl, beat all the wet ingredients except the food coloring.
Stir in red food coloring and mix it well so that the batter is evenly red.
Add the milk mixture into the dry mix and whisk until smooth.
Add in chocolate chips and/or nuts, if using.
Heat waffle maker according to manufacturer's waffle iron instructions. I usually spray the bottom and top portion lightly with non-stick cooking spray.
Pour approximately 1/2 cup waffle batter onto the preheated waffle iron. Close the lid and cook until the waffle is deep red and crisp on the outside, about 3 minutes. Increase or decrease the quantity of batter seeing how the first waffle turns out.
Repeat with the remaining waffle batter until all waffles are made.
Cream Cheese Frosting/Glaze:
In a large bowl, add the cream cheese and butter and beat together until smooth.
Stir in powdered sugar, then add a teaspoon vanilla extract and milk. Mix until the glaze is smooth. The cream cheese drizzle is ready. Set aside.
Serve waffles warm drizzled with cream cheese icing and chopped nuts. If you don't have time to make the icing simply pour chocolate sauce on the waffles and you are good to go. The same batter can also be used to make red velvet pancakes.
Taste and Texture:
The red velvet waffles turned out perfect with the best texture and absolutely delicious. My kids loved it. Cornstarch and cornmeal give the waffles the amazing crisp texture. Added bonus, the kitchen had a wonderful aroma from the mix of cocoa powder and butter.
Taste:
The red velvet waffles turned out perfect with the best texture and absolutely delicious. My kids loved it. Cornstarch and cornmeal give the waffles the amazing crisp texture. Added bonus, the kitchen had a wonderful aroma from the mix of cocoa powder and butter.
My Notes:
cups all-purpose flour can be used if you don't have cornmeal or don't want to use cornmeal. I saw this tip of using cornmeal in waffles for getting a crispy texture (in the Joy of Vegan Baking book) and ever since have been following it.
Most of the red velvet waffles recipes I saw had used buttermilk. I didn't have it at home, so used a combination of milk and vinegar which is the common substitute for buttermilk. The red velvet waffles recipe also requires adding vinegar. The recipes which used buttermilk used 1/2 teaspoon vinegar. As I was using the milk-vinegar combo I increased the quantity of vinegar to 1 teaspoon. I'm assuming that if you use buttermilk you can just use 1/2 teaspoon of vinegar.
Apple cider vinegar is my choice of vinegar for baking recipes. You can use white vinegar too.
I had a lot of leftover cream cheese glaze. I think I might halve the measurements next time. I suggest the same if you are not into a very sweet topping. The kids ended up using the glaze to dip strawberries.
I ended up making 2 batches of this batter because for the first batch I used the liquid red coloring and ended up having a very pink waffle batter instead of a red batter. So I prepared another batch using red (no taste) gel food coloring (the paste-like one) and was excited to finally get a red velvet waffle batter.
This red velvet waffles recipe will also be perfect for Valentine's Day topped with raspberries and red and pink sprinkles.
The nutrition facts are for waffles with chocolate chips mixed in and without the cream cheese glaze and nut toppings.
Nutrition Facts
Eggless Red Velvet Waffles Recipe
Amount Per Serving
% Daily Value*
Potassium 596mg13%
Total Carbohydrates
38.5g
14%
* Percent Daily Values are based on a 2000 calorie diet.


Try this recipe, click a pic and hashtag it #egglesscooking - Proudly showcase your creations on Instagram, Facebook & Twitter!