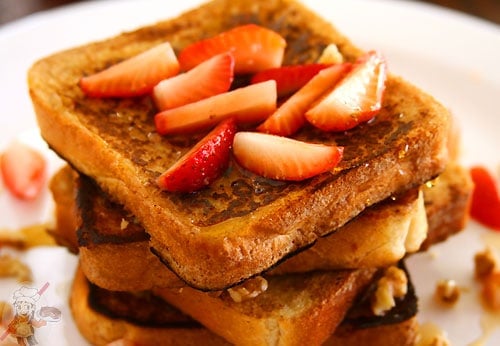 Ever since I started making eggless pancakes, eggless omelettes, and vegan waffles, these have become staple breakfast items almost every weekend. The colorful rainbow tofu scramble is also a regular breakfast these days.
The one other classic American breakfast dish which was missing was the French toast. For some reason, I never was interested in trying it. But I started receiving requests for eggless French toast from some of the visitors to the blog. So started browsing for recipes and tried 2 variations.
Most of the recipes either used bananas instead of the eggs, or cornstarch or custard powder. I tried bananas and felt that the flavor of bananas was dominant in the toast.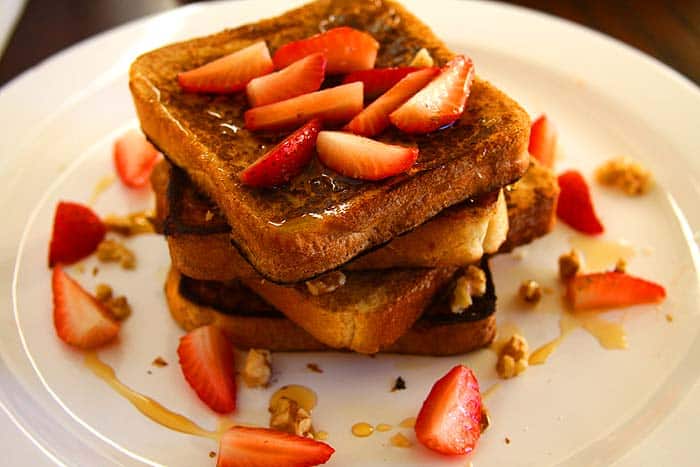 I was also not keen on using cornstarch as an egg substitute because I had few requests for French toast recipe without eggs and cornstarch.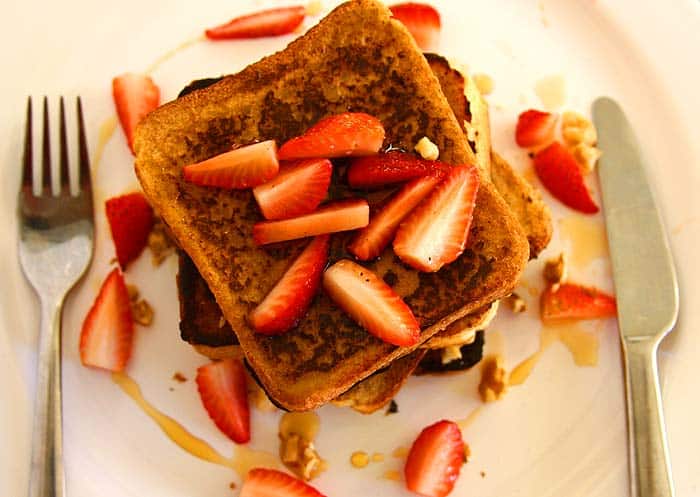 I wanted to try it with silken tofu, but didn't have it in hand. So thought of using unsweetened applesauce instead of banana.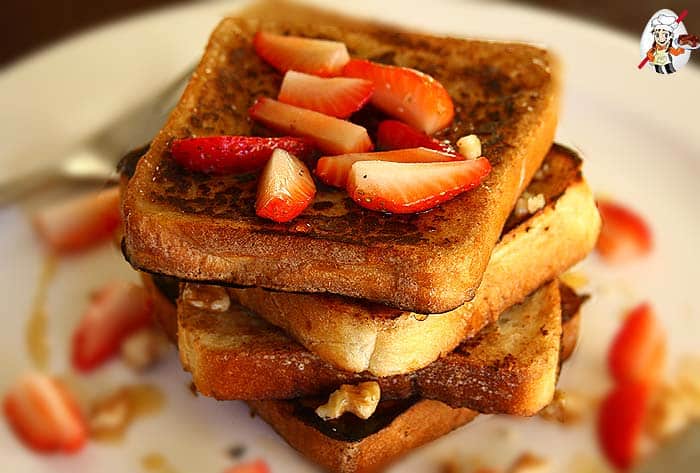 Also, there needed to be some binding agent for the mix to stick to the bread. I did not want to use corn starch, so used ground flaxseed. Another option is to use chia seeds, either whole or ground.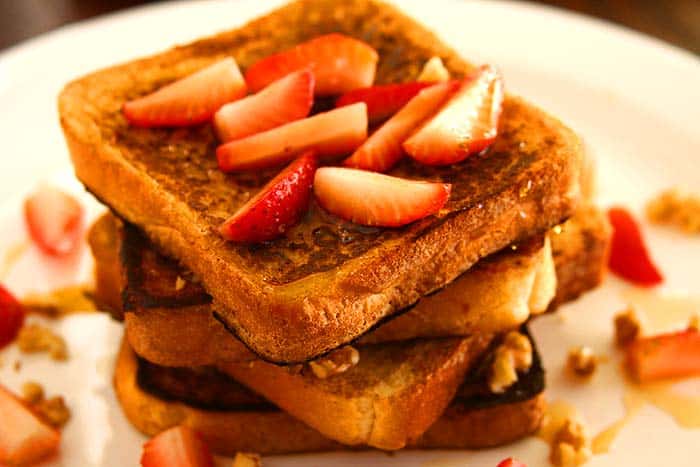 I blended everything together and set aside the French toast batter in a shallow bowl for a couple of minutes. Prepared the French toast by dipping the bread in the batter and followed the usual procedure to toast it and we all loved the taste.
The fact is I really don't know if it's a good substitute for the usual French toast because I haven't tasted one! So you guys have to try it and tell me if it's a good one.
You can easily make vegan French toast using the same recipe but substituting the milk with almond milk, coconut milk, or any other dairy-free milk (soy or rice) of your choice.
How to Make French Toast without Eggs and Cornstarch?
Here are the step-by-step pictures on how to make a delicious eggless French toast from scratch.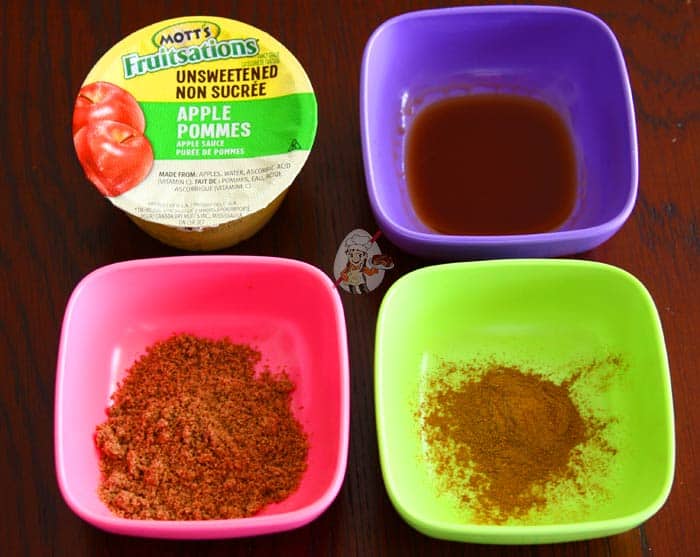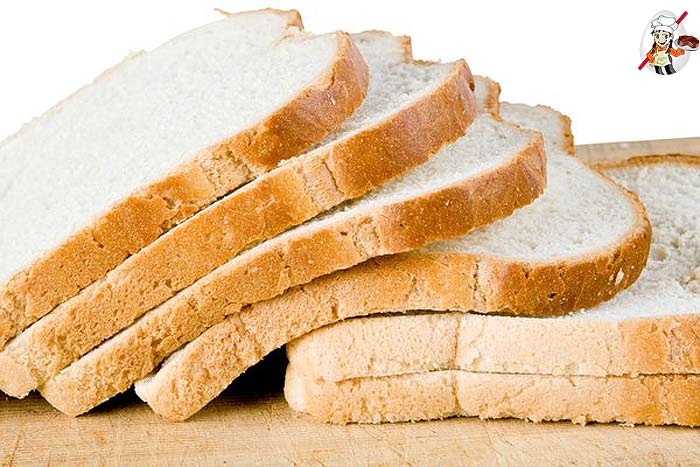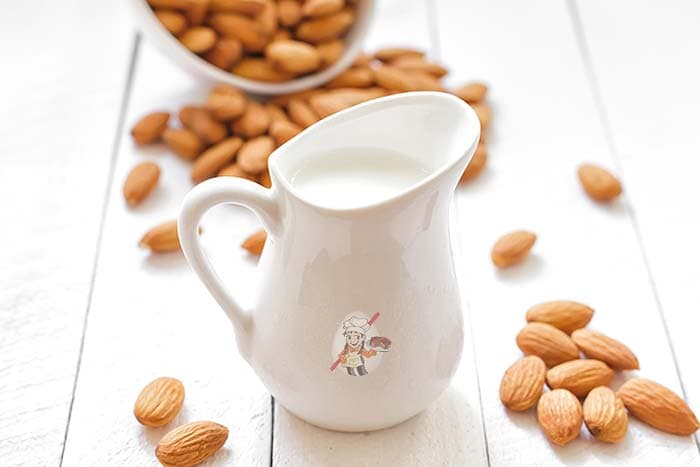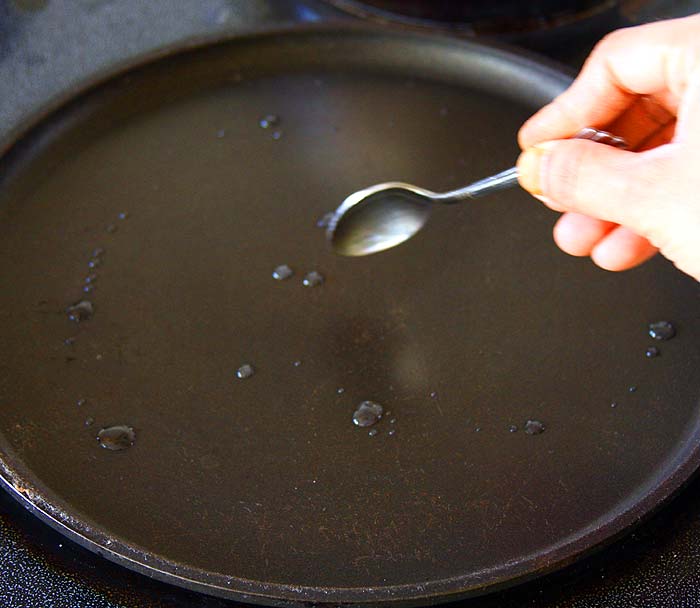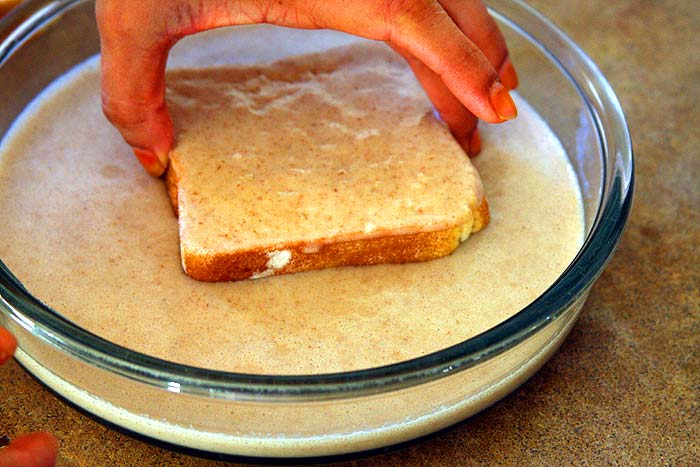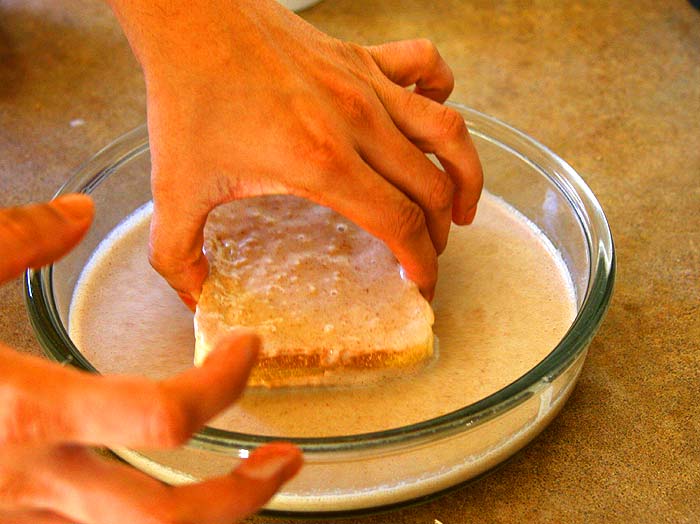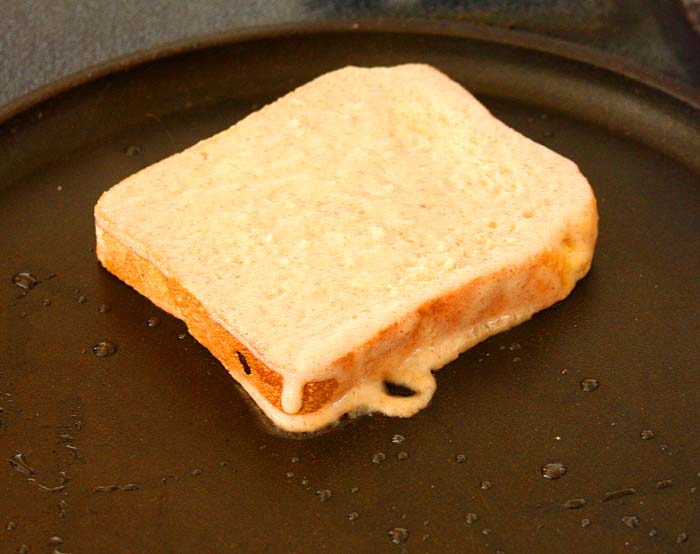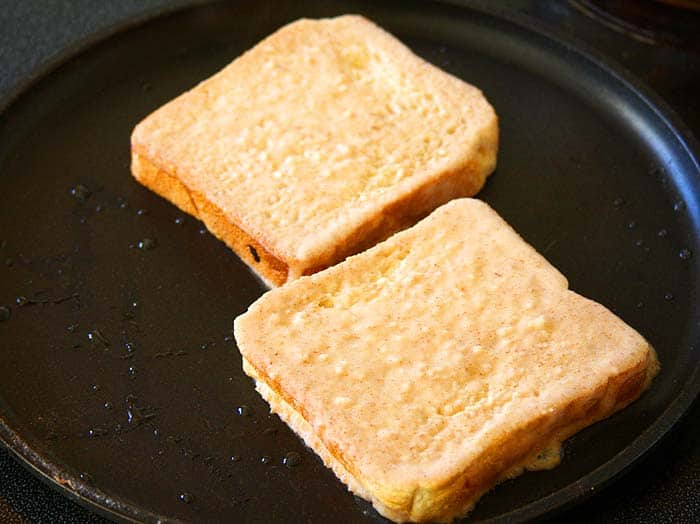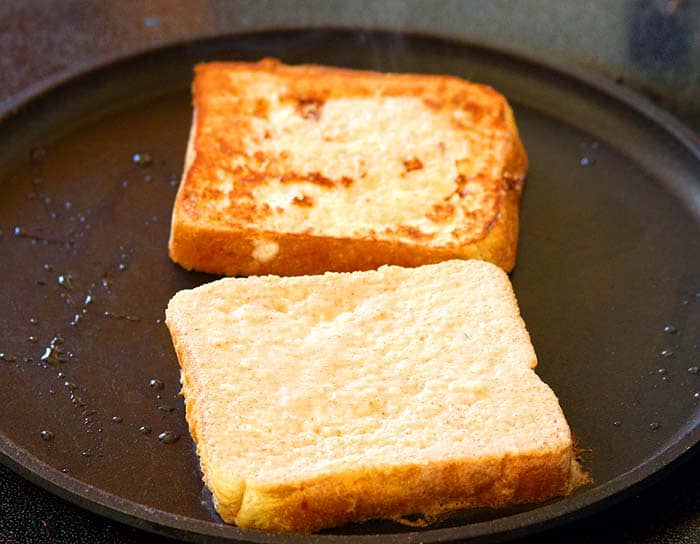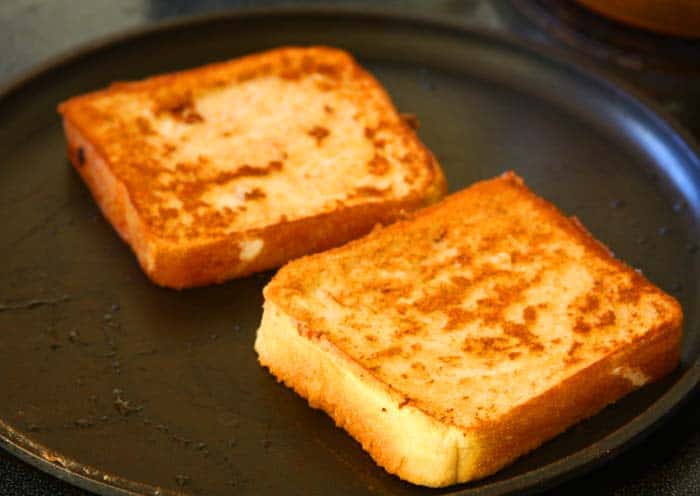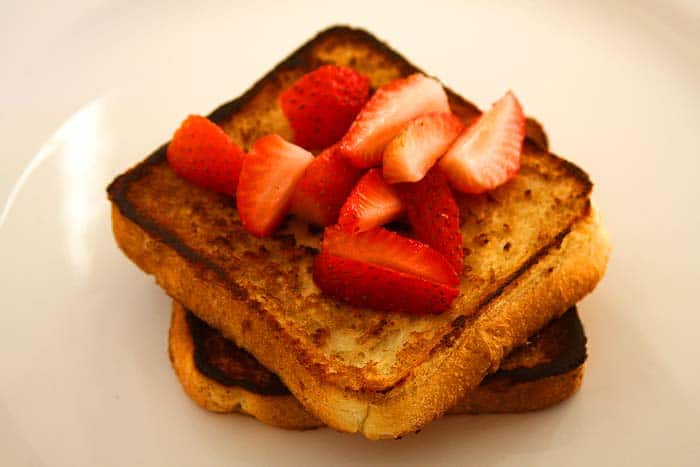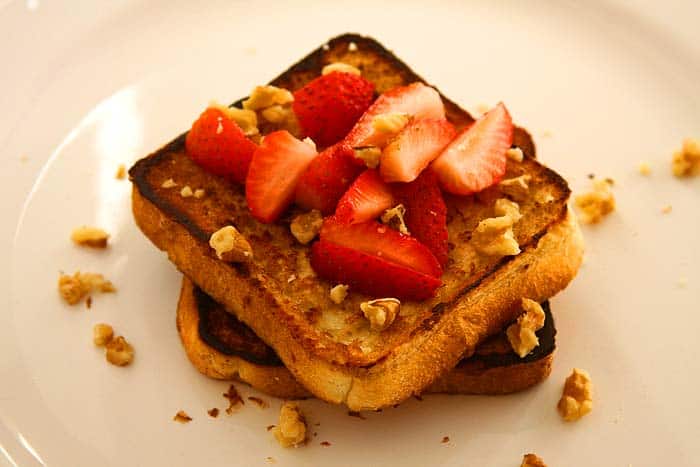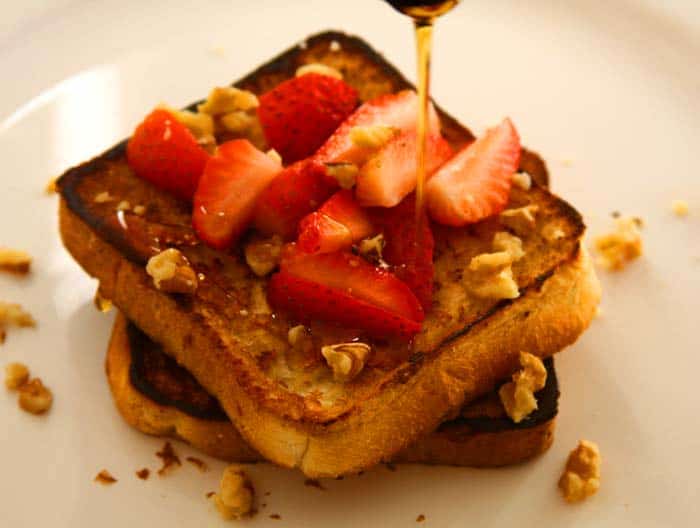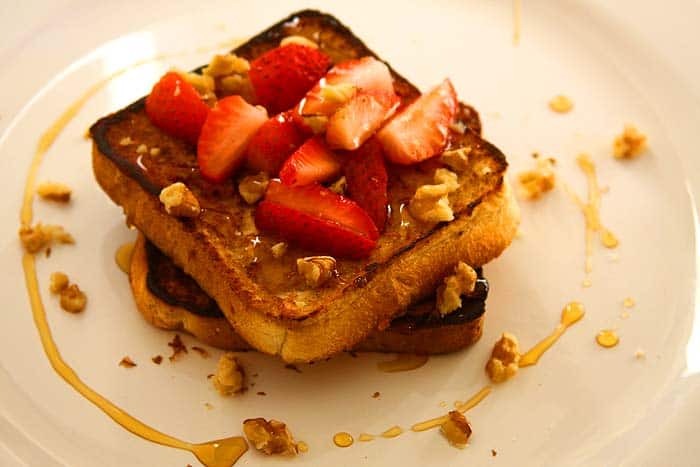 | | | |
| --- | --- | --- |
| Eggless French Toast Recipe | | |
| Prep Time | Cook Time | Makes |
| --- | --- | --- |
| 10 Mins | 15 Mins | 6 Bread Slices |
| Author | Category | Method |
| Madhuram | Breakfast | Cooking |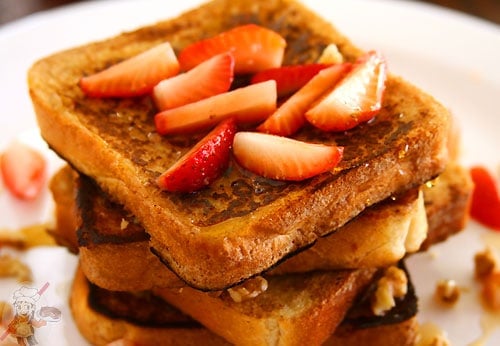 Easy to prepare egg less French toast using unsweetened applesauce and flax seed meal instead of eggs.

Ingredients:
1/2 cup

unsweetened applesauce

1/2 cup

milk

1 tablespoon

flax seed meal

1 teaspoon

vanilla extract

1/2 teaspoon

ground cinnamon

6

bread slices, preferably thickly sliced and stale (I used whole wheat bread)

A few droplets

butter or coconut oil as needed
Procedure:
In a blender, blend together all the ingredients except bread and oil. Pour it in a wide dish.
Heat a griddle at medium-high. Once the pan is hot add the butter or oil.
Dip bread into the mix gently on both sides. Do not drench it in the mix and make it soggy.
Toast the dipped bread on both sides until golden brown.
Sprinkle icing sugar, top it with strawberries, walnuts and drizzle some maple syrup before serving.
My Notes:
You can make this eggless French toast vegan using non-dairy milk for the mix and coconut oil or any other oil/non-hydrogenated margarine of your choice for frying the bread.
You can also add 1-2 tablespoons sugar or any other sweetener of your choice like maple syrup, honey, etc. to the batter.
Make-ahead the batter overnight and leave it in the fridge and make the toast without eggs for breakfast the next day morning. If the batter gets too thick, dilute it with some milk or water.
The nutritional information is for French toasts without any added toppings.
Nutrition Facts
Eggless French Toast
Amount Per Serving
% Daily Value*
Potassium 108mg2%
Total Carbohydrates
15.4g
6%
* Percent Daily Values are based on a 2000 calorie diet.

Try this recipe, click a pic and hashtag it #egglesscooking - Proudly showcase your creations on Instagram, Facebook & Twitter!