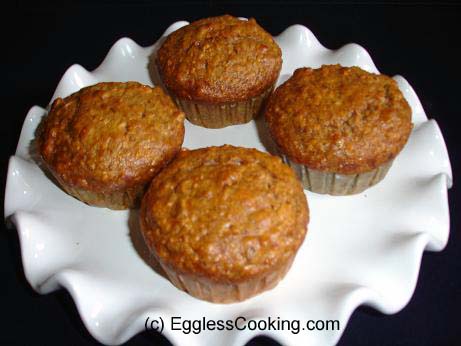 This is one among the many simple yet delicious recipes from Indira.  Actually I stumbled upon her site while googling about jaggery (to be exact, how to break jaggery. God its difficult to break these mounds we get in Indian stores!) and have been hooked to it ever since. The pictures complement her style of writing. I've always had interest in cooking, but her site took it to the next level. Also check out another vegan carrot cake here.
This was the very first cake I have ever baked and to my surprise it came out very well the first time itself. I've baked it so many times that I know the recipe by heart.  For recipe, click here. Sometimes her site is down, in that case mail me and I'll reply back with the recipe.
I've made a lot of variations each time I bake this cake, starting with the flour to  other ingredients.
Indira's recipe calls for either 2 cups of pancake flour or all purpose flour. The flours I used were:
2 cups of all purpose flour(APF)
1 cup of APF and 1 cup of whole wheat flour(WWF) (remember my husband is very health conscious)
2 cups of WWF
2 cups of pancake flour (I had a lot of ready to use pancake flour at home, because neither my son nor my husband liked the pancakes). So I wanted to finish it and I used it in the recipe. But the cake came out crumbly, I guess because the pancake flour has eggs and other stuff in it. Even after cooling, it was crumbly I couldn't cut the cake into pieces like earlier. So I put the whole thing in the microwave oven and made them into balls, like small donuts. It held its shape very well. My son also enjoyed it a lot than ever, because he's literally addicted to donuts. The taste was really good, because this time I used a combination of brown sugar and granulated white sugar, as I didn't have enough brown sugar at home.
The next time I used 1 cup of the pancake flour and 1 cup of APF. This time the cake came out very well as usual and I was able to cut into neat squares.
Other variations I have made:
1) Added some flax seed powder and oats (quick cooking) and topped the cake with oats, nuts and raisins.  I should not have topped the cake with raisins because it burnt and tasted a little bitter.
2) I used muffin pans instead of a round cake pan. The measurement given in the recipe fills one 12 mini muffins pan and one 12 regular size muffin pans. The mistake in this episode was I baked both of them together for the same amount of time around 40 minutes. The regular size muffins were very good, but the mini muffins became dry and it was stuck to the muffin liner. I think I should have baked the mini muffins for just 15-20 minutes maybe. I should try  it once again.
3) Recently I tried a chocolate version of the cake without using carrots and raisins and poured the batter in a bread loaf pan. I added mini chocolate chips instead of raisins. The cake was having a weird smell when it came out of the oven and also tasted little bitter. I kept on wondering why cocoa smells like this and the taste is also bitter when the chocolate cakes we eat in bakeries are so good. I used Natural Unsweetened Cocoa. Earlier I also had tried another egg less chocolate cake with soy milk and had similar experience. That time I thought soy milk was the culprit. After baking this banana bread only I realized that something was wrong with the cocoa powder. I did check the expiry date once again and saw it was only Feb 2009. So I did some research  on cocoa powder and found out there were 2 different types of cocoa powders, Natural Unsweetened and Dutch Processed Cocoa. Bakers normally prefer Dutch Processed cocoa while baking. Natural Unsweetened cocoa can be substituted in recipes which call for baking-chocolate. I immediately opened my pantry to see which one I was using and I was using the bitter one. Last week I got Dutch Processed Cocoa and I have yet to try recipes using that.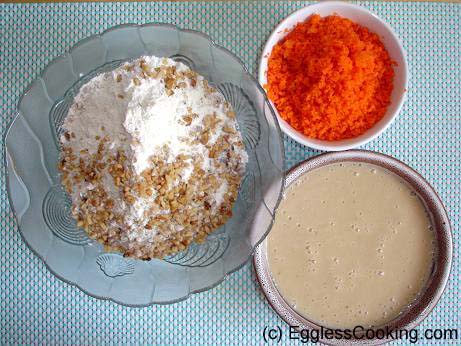 Update:
I used 2 cups all purpose flour, omitted raisins and coconut because my mother in law doesn't like them in a cake.  I used 3/4ths cup of light brown sugar and 1/4 cup of granulated sugar.  Instead of grating the carrots, I chopped them up finely using my mini food chopper.  Grating 4-5 medium sized carrots will give the required 2 cups.  I added vanilla essence instead of cardamom and a handful of quick cooking oats.  Otherwise I followed Indira's recipe.  I baked them as muffins instead of one single cake.  The recipe yields 12 large muffins and 12 mini muffins.  I baked the regular size muffins for 25-30 minutes and mini muffins for about 20-23 minutes.