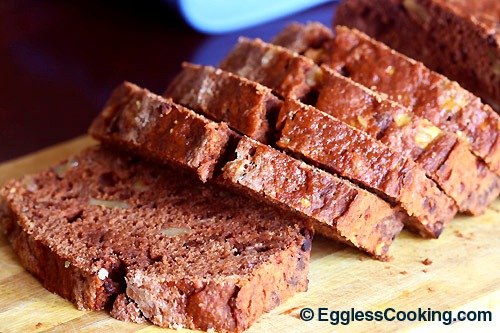 Our family loves banana bread so much that we sometimes leave bananas to over ripe just to bake the bread. This time I chose to bake a chocolate banana bread from here. I made a couple of changes intentionally and a big one unintentionally! Yes, I forgot to add the sugar while mixing the dry ingredients and didn't realize it until I scraped the batter into the loaf pan. I was lazy to put back the batter and mix in the sugar. Also I thought that this would lead to over mixing and will result in a tough bread. So I decided to bake it just like that. You must be wondering how it tasted?
We were pretty surprised that we liked the sugar free chocolate banana bread just as much as we like the regular banana bread. I think the bananas I used were quite sweet, so we did not miss the sugar. I'm not lying when I tell that my 5 year old son liked it too. I guess the chocolate chips did the trick for him. This is just my family's opinion but I'm aware that there are so many people out there who feel that sugar is not sweet enough (like my mother). So if you are one among them do not omit the sugar.
Another change I made was to use extra virgin coconut oil instead of butter. I have been thinking of using this for quite sometime now but was postponing because I was not sure if we would like the coconut flavor. So even while baking this chocolate banana bread, I was not daring enough to replace the entire 1/2 cup of butter with coconut oil. Instead I used 1/4 cup of coconut oil and used applesauce for the remaining 1/4 cup. While the bread was baking we were able to smell the wonderful aroma of coconut mixed with cocoa. This was something very different from the usual cocoa/vanilla aroma. I was able to feel it even while tasting the bread the next day. But after a day or two we didn't get that coconutty flavor.

| | | |
| --- | --- | --- |
| Sugar Free Chocolate Banana Bread Recipe | | |
| Prep Time | Cook Time | Makes |
| --- | --- | --- |
| 15 Mins | 65 Mins | One 9×5 inch loaf |
| Author | Category | Method |
| Madhuram | Breads | Baking |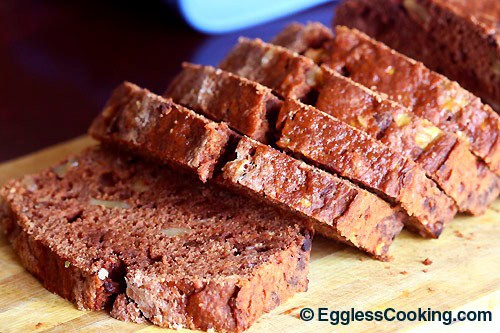 Enjoy this sugar free version of chocolate banana bread which as good as the usual bread loaded with sugar.

Ingredients:
1 and 3/4 cups

All Purpose Flour

1/4 cup

Unsweetened Cocoa Powder

1 cup (See My Notes)

Sugar

1/4 teaspoon

Baking Soda

1 and 1/4 teaspoons

Baking Powder

1/4 teaspoon

Salt

1/4 cup

Extra Virgin Coconut Oil, melted

1/2 cup

Unsweetened Applesauce

1/4 cup

Plain Yogurt (I used non fat)

2-3 tablespoons or as needed

Water

1 and 1/2 cups (approx. 3 bananas)

Bananas ripe and mashed

1 teaspoon

Vanilla Extract

1/2 cup

Walnuts or Pecans, toasted and chopped

1/4 cup

Mini semisweet chocolate chips
Procedure:
Preheat oven to 350F/180C for 15 minutes. Grease or line the loaf pan with parchment paper.
While the oven is preheating toast the nuts for 8-10 minutes and chop it once it is cool.
In a large bowl mix together the dry ingredients (from flour to salt).
In another bowl stir together the oil, applesauce, yogurt, bananas and vanilla extract.
Fold in the wet ingredients into the dry ingredients. Stir until just combined.
Fold in the nuts and chocolate chips. Do not over-mix the batter.
Scrape the batter into the prepared pan and bake for about 55-65 minutes or until a toothpick inserted in the center of the bread comes out clean. Mine was done after 60 minutes.
Place the pan on a cooling rack and then remove the bread from the pan. Since I had line the pan with parchment paper I was able to remove the bread within a couple of minutes.
My Notes:
The original recipe called for 1/2 cup of melted butter, which I have replaced with 1/4 cup of melted extra virgin coconut oil and 1/4 cup applesauce. Also for the 2 eggs, I have used 1/4 cup applesauce and 1/4 cup yogurt and increased the quantity of baking powder by 1/4 teaspoon.
I forgot to add sugar while preparing the batter and realised it only at the end, so just proceeded with it anyway. We did like the bread even without the sugar. I think the bananas were sweet enough. So I guess even if you decide to add sugar, you may not need the entire 1 cup. Even 1/2 cup sugar should be fine.
I have used 1/2 cup of applesauce to replace 1/4 cup of melted butter and 1 egg. If I had another banana I would have used that itself instead of the applesauce. So if you have bananas you could use it; applesauce is not compulsory.
The batter was very thick so I added a couple tablespoons of water to make it a bit spreadable.

Try this recipe, click a pic and hashtag it #egglesscooking - Proudly showcase your creations on Instagram, Facebook & Twitter!