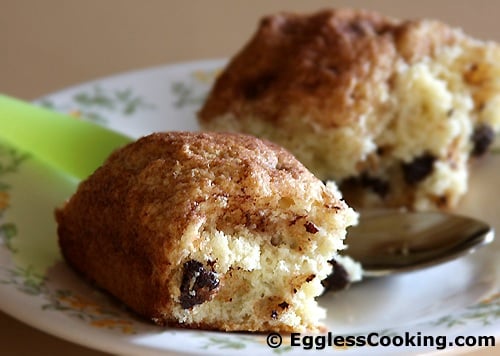 I was going through a couple of books I have and found this monkey bread recipe in the Baking for Dummies book by Emily Nolan.  This was the first book I bought to learn to bake.  It has all the basic information on baking principles, tools and techniques, a number of recipes, troubleshooting tips, and a lot more. This monkey bread is also called pull-apart bread because it has to be pulled apart with your hands instead of cutting it.
Why is it called the Monkey Bread?
It is believed that monkey bread originated in Hungary. Hungarian immigrants brought their dessert arany galuska ("golden dumpling") with them when they immigrated to America. Monkey bread became the more common term for this Hungarian-Jewish dessert. But why the name "monkey" bread? We can safely assume that it has to do with how the bread is eaten, picking and pulling pieces of the bread just like how a monkey would go about its eating business without caring much about eating etiquette.

| | | |
| --- | --- | --- |
| Monkey Bread (aka Pull Apart Bread) Recipe | | |
| Prep Time | Cook Time | Makes |
| --- | --- | --- |
| 15 Mins | 32 Mins | 16 Bread Pieces |
| Author | Category | Method |
| Madhuram | Breads | Baking |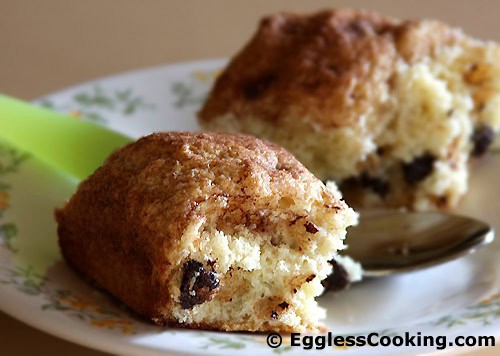 A simple recipe to bake monkey bread (aka pull-apart bread) from scratch with step-by-step pictures using chocolate chips, all-purpose flour, milk, and sugar.

Part-1 Ingredients:
2 cups

All Purpose Flour

1/2 cup

Sugar

1 tablespoon

Baking Powder

1/2 teaspoon

Salt

5 tablespoons cut into 5 pieces

Cold Butter
Part-2 Ingredients:
1 cup

Semisweet chocolate chips

2/3 cup

Milk
Part-3 Ingredients:
1/4 cup

Sugar

1.5 teaspoons

Ground Cinnamon

3 tablespoons melted

Butter
Procedure:
Preheat the oven to 350F for 15 minutes. Grease an 8-inch square baking pan.
In a mixing bowl, sift and combine all the ingredients mentioned in Part 1 except butter.
Using a pastry blender or a few pulses of a food processor, cut the cold butter into the flour mixture until the mixture resembles a coarse meal.

Stir in the Part 2 ingredients and combine to form a dough.

The final dough would look like this.

Divide the dough into 16 balls and place in the prepared baking pan. The balls will touch.

Drizzle the balls with the melted butter.

Combine the remaining 1/4 cup sugar and the cinnamon. Sprinkle them with the cinnamon-sugar mixture.

Bake for 30 minutes, until light brown. Cool in the pan and set on a wire rack before removing from the pan.
My Notes:
For this monkey bread recipe, the butter has to be used straight from the refrigerator.
If you don't have a food processor or a pastry blender, you can use 2 knives or 2 forks to cut in the fat. To use a pastry blender, mix the ingredients while cutting into the fats with the blender using a rocking, up-and-down bouncing motion.
To divide the dough into 16 balls, you can follow my method. First, divide the entire dough into 2 equal parts. Roll the 2 parts into 2 separate logs. Cut each log into 8 pieces. While doing this, flour the surface generously. I also sprayed my hands with non-stick oil spray, so handling the dough was easy.
Similarly, use the butter wrapper to grease the baking pan.
I pretty much followed the recipe, but for the 6th step. I melted the 3 tablespoons of butter in the microwave oven, and that was really a lot of butter. My husband was having "are you crazy to pour so much butter and sugar" look on his face. So instead of using the entire butter and sugar mentioned in the recipe, I followed his advice of just brushing the dough with little butter, sprinkling very little sugar, but took another 1.5 teaspoons of cinnamon little cocoa and sprinkled it over the balls of dough.
I baked the bread for 32 minutes. I would advise cooling it in the pan for at least an hour before taking it out. I tried to remove the bread after 30 minutes, and the bread started to fall apart and crumble. Anyway, I managed to get 10-12 good pieces. The bread was very moist inside but a bit dry on the tops. I guess it was because I did not use the entire 3 tablespoons of butter as mentioned in the original recipe. But the taste was phenomenal, with the melted chocolate chips, a hint of sweetness, and a freshly ground cinnamon aroma.

Try this recipe, click a pic and hashtag it #egglesscooking - Proudly showcase your creations on Instagram, Facebook & Twitter!