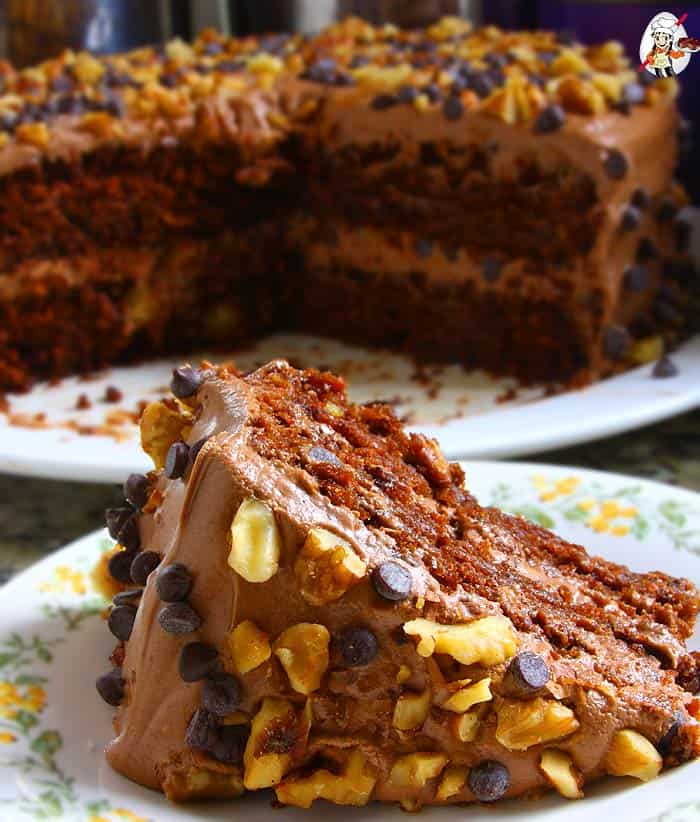 I started this blog in 2008 and the first cake I blogged about was the "I-can't-believe-it's-eggless-chocolate-cake" recipe which I baked for my son's third birthday. That little toddler is 17 years old now! Whoa! Time sure flies by!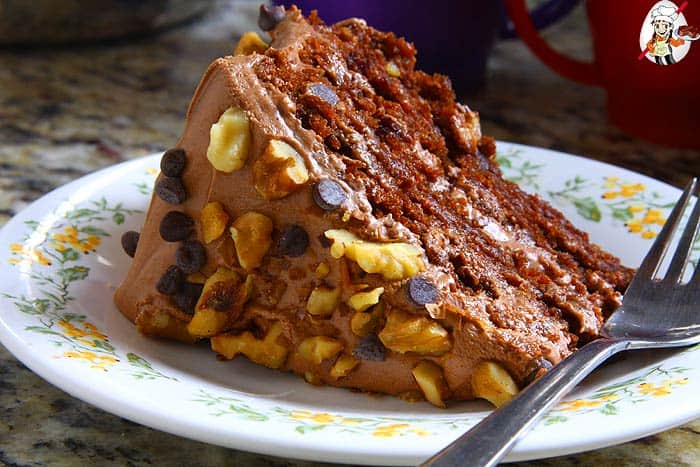 For this year's birthday, I was looking for an easy cake to make because I had a lot on my plate. This summer has been crazy busy now that our lives are finally back to normal after the pandemic.
I chose to bake this chocolate carrot cake recipe because I had a bunch of carrots that I had to use up.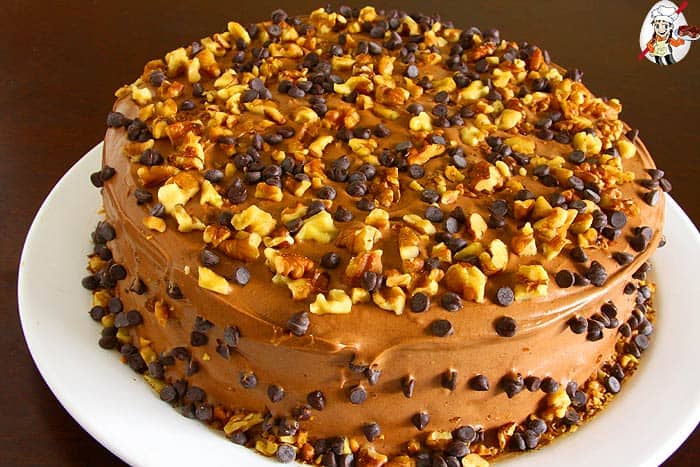 My options were to make the vegan carrot cake or this new recipe. Of course, I had to go with the latter because I knew my son would prefer the chocolate flavor.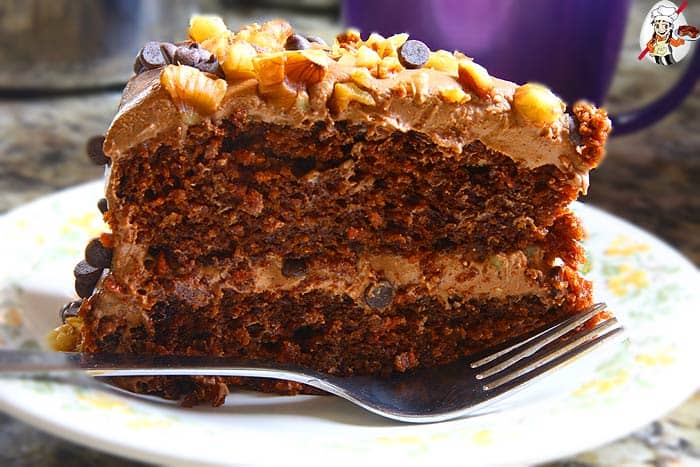 This chocolate carrot cake reminded me of the vegan chocolate beet cake I made for one of his birthdays. I had used pureed beets in that recipe, but for this recipe, it's raw shredded carrots.
The original recipe uses 4 eggs, which I have replaced with yogurt and apple cider vinegar. I also cut back the oil quantity and replaced some with unsweetened applesauce.
The cake was soft and moist. The cream cheese frosting brought an excellent balance to the already sweet cake with its saltiness. Whipped cream frosting can also be an option. I presume that buttercream frosting would make it over-the-top sweet.
How To Make Chocolate Carrot Cake?
Here is the step-by-step instructions on how to make a simple egg-free Chocolate Carrot Cake from scratch using simple ingredients: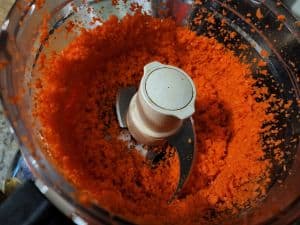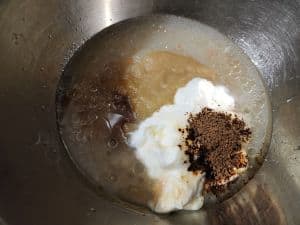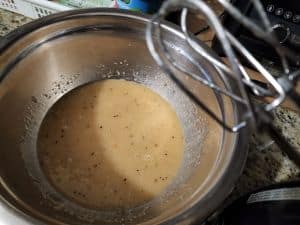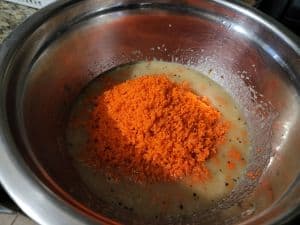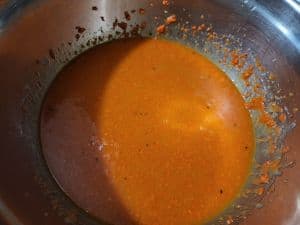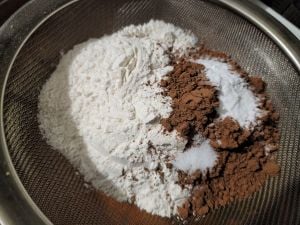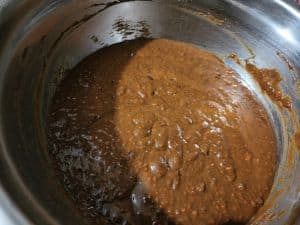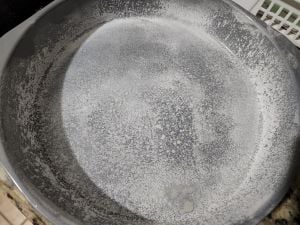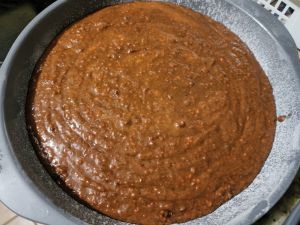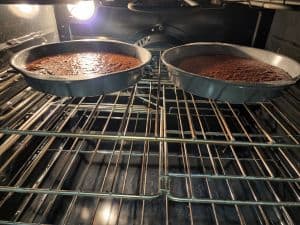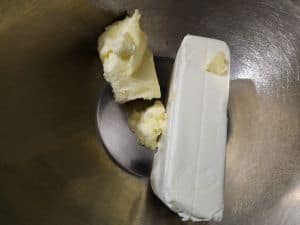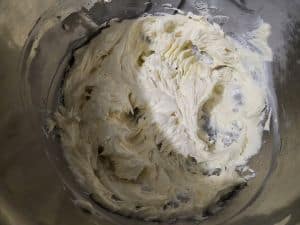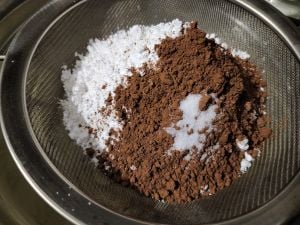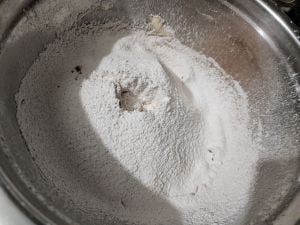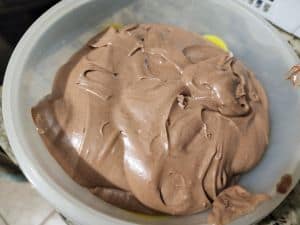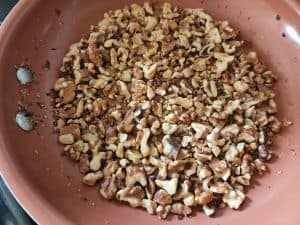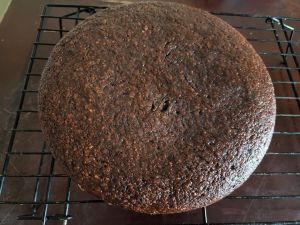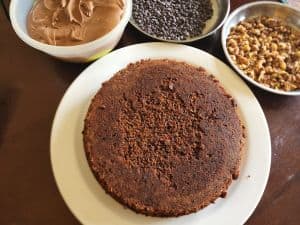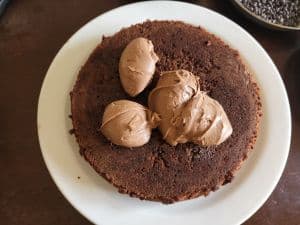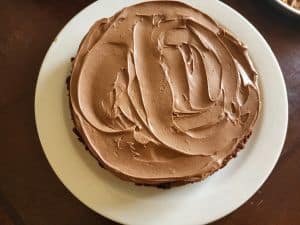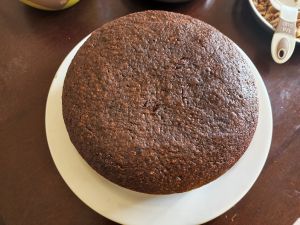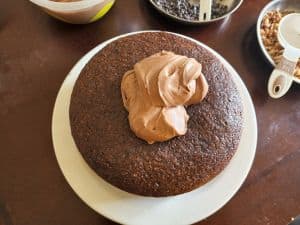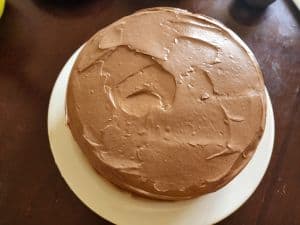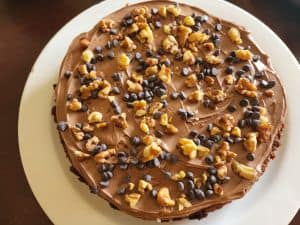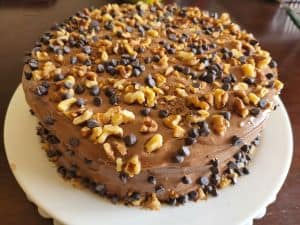 | | | |
| --- | --- | --- |
| Chocolate Carrot Cake Recipe | | |
| Prep Time | Cook Time | Makes |
| --- | --- | --- |
| 1 hour + cooling/frosting time | 30 Mins | 16 Servings |
| Author | Category | Method |
| Madhuram | Cakes | Baking |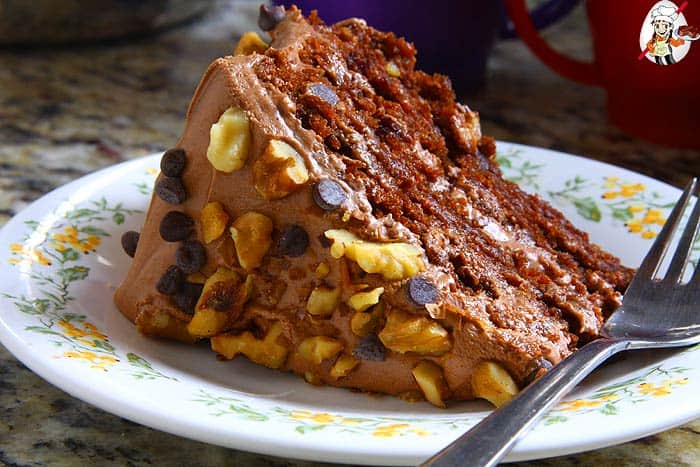 I was looking for a unique recipe that is simple to bake too. Try this chocolate carrot cake recipe for its unusual combination. Also, it can be made quickly with the ingredients mostly available at home already.

Ingredients:
PART 1:
3 cups

shredded carrot

2 cups

granulated sugar

3/4 cup

sunflower oil

1/2 cup

unsweetened applesauce

1/2 cup

yogurt

1/2 cup

water

2 teaspoons

vanilla extract

1 teaspoon

apple cider vinegar

1 teaspoon

instant coffee granules
PART 2:
2 cups

all-purpose flour

1/2 cup

unsweetened cocoa powder

1 and 1/4 teaspoons

baking soda

1/2 teaspoon

salt
FROSTING:
8 oz

cream cheese, softened

1/2 cup

unsalted butter, softened

3 and 1/2 cups

icing sugar (can add more, if needed)

1/4 cup

unsweetened cocoa powder (can add more, if needed)

1/8 teaspoon

salt

3 teaspoons

vanilla extract
GARNISH:
1 cup

chopped walnuts, lightly toasted

5 tablespoons

mini chocolate chips
Procedure:
Preheat oven to 350F/180C. Line two 9-inch round pans with parchment paper or grease well with non-stick cooking spray and dust with some flour/cocoa powder. Keep aside.
Shred carrots in a food processor. I coarsely chopped about 5 slender carrots and processed them in the food processor. You may choose to grate too.
In a large bowl, beat together the ingredients listed in Part 1 except for the carrots.
Once the mixture is creamed well enough, stir in the shredded carrots and beat once.
Using a sieve, sift the dry ingredients over the wet mix.
Beat together the dry mix and wet mix without any lumps. The cake batter is ready now.
Divide the batter among the 2 pans. Each pan holds about 3 cups of batter. Use a one-cup measurement to scoop out the batter and fill each pan alternatively until both are filled evenly.
Bake for about 25-30 minutes or until a toothpick inserted in the center of the pan comes out clean.
Remove the pans from the oven and keep them on a wire rack to cool completely. Meanwhile, prepare the frosting.
How to make chocolate cream cheese frosting?
In a large bowl, cream the cream cheese and butter until light and creamy.
Place a large sieve over the bowl and sift the icing sugar, cocoa powder, and salt together. Dissolve any residual lumps with your fingers.
Add the vanilla extract.
Beat well until light and creamy.
I tasted the frosting and felt it needed more cocoa powder, so I added about 2 more tablespoons of cocoa powder and creamed it to a smooth texture.
How to frost the cake?
Place one layer of the cake on a plate.
Put a couple of dollops of the cream cheese frosting and spread it across the cake.
Sprinkle about 1/2 a cup of toasted walnuts and 2 tablespoons of mini chocolate chips on top of the frosting.
Top it with the other layer of the cake. Put it on the bottom side up so that the cake will have a smooth texture on the top.
Slather some more frosting on top of the cake and spread it.
Use the rest of the frosting to cover the sides of the cake. Using a spatula, spread the frosting all over the cake smoothly.
Tops the cake with the remaining 1/2 cup of walnuts and 2 more tablespoons of the mini chocolate chips.
If desired, use another tablespoon of chocolate chips to garnish the sides of the cake.
My Notes:
The original recipe mentions using the frosting in between the 2 layers and on top of the cake. It doesn't mention anything about frosting the entire cake. In that case, you will have a lot of frosting left over, given that you follow the measurements mentioned. So I frosted the entire cake. If you don't want to do that, you can very well halve the recipe for the frosting.
Also, with any frosting, you can add more sugar or other flavoring ingredients as you go after tasting it. I felt that the icing was way too sweet for this one, so I added a couple more tablespoons of cocoa powder to offset it.
The frosting I made had more of a butter-spread-like consistency than a"piping-decorations-kind-of-consistency". If you want to pipe some decorations, you must adjust the cream/butter or sugar ratio.
Nutrition Facts
Chocolate Carrot Cake
Amount Per Serving
% Daily Value*
Potassium 227mg5%
Total Carbohydrates
52.8g
19%
* Percent Daily Values are based on a 2000 calorie diet.


Try this recipe, click a pic and hashtag it #egglesscooking - Proudly showcase your creations on Instagram, Facebook & Twitter!