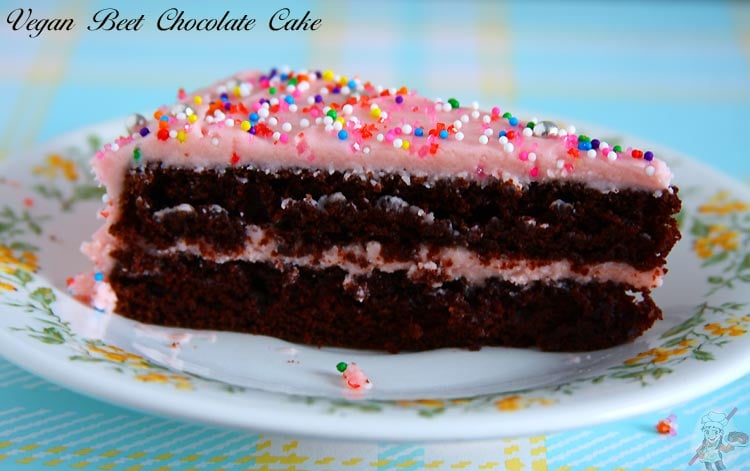 Note: The cake is vegan but not the frosting. Use necessary substitutes to make the frosting vegan too. Or check out here for vegan cream cheese frosting recipe.
My son got lucky this year and I baked 2 cakes for his birthday. The first one was this fabulous egg free 6 layered rainbow cake and the second was this gorgeous vegan beet chocolate cake. Yes, I agree this cake looks girly with a pink frosting but who cares, when it tastes and looks this good!
I had two cans of beets sitting for quite some time now and was looking for ways to use it up. I already have a beet brownies recipe and a gluten-free beet chocolate cake here.
That's when I remembered having bookmarked a beet chocolate cake recipe on my favorite website, Taste of Home. For some reason was not too excited about that recipe and started looking for recipes on Pinterest and that's when I stumbled on this one and few others but decided to go with the former because it was vegan, to begin with. But I did make a couple of alterations as usual!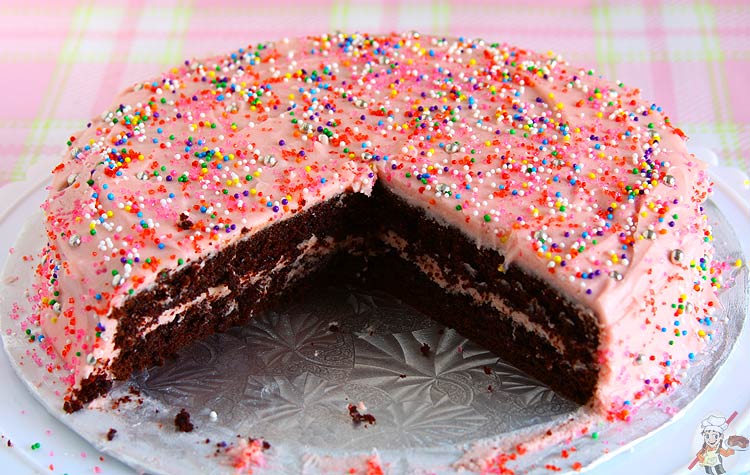 While looking for the cake recipe also saw a few recipes for pink colour frosting using beet puree and this one caught my attention. I wish I got that dark pink hue as well, but this baby pink one looked good too.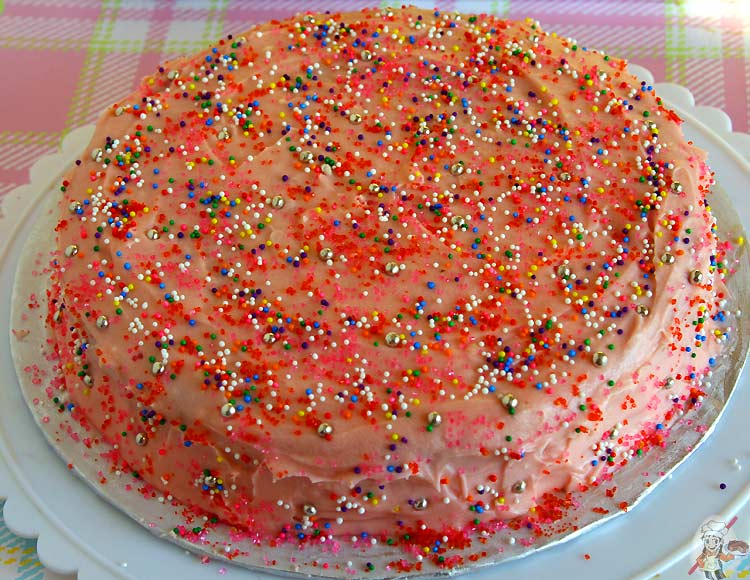 The cake was super moist and fudgy. It didn't taste anything like beets. The same with icing too!

| | | |
| --- | --- | --- |
| Vegan Beet Chocolate Cake Recipe | | |
| Prep Time | Cook Time | Makes |
| --- | --- | --- |
| 30 Mins | 25 Mins + 1 Hr Frosting | 9″ Layered Cake + 6 Cupcakes |
| Author | Category | Method |
| Madhuram | Cakes | Baking |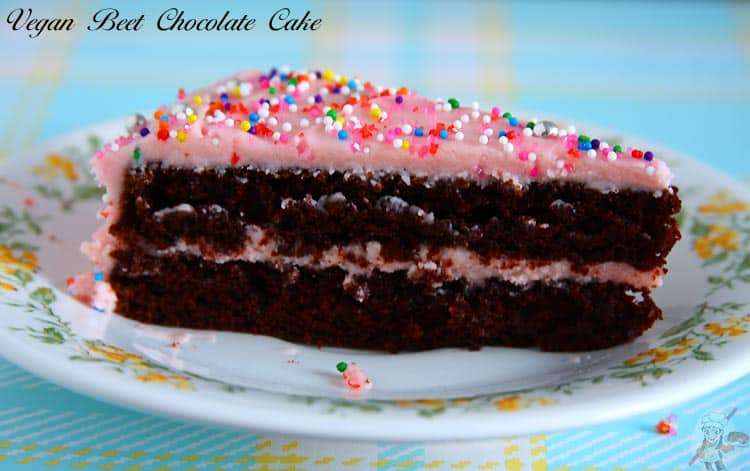 I promise that no one will be able to tell that it's a vegan and that too a beet chocolate cake unless you tell them. You may even have to promise them that it's beets that they are eating!

Dry Ingredients:
1 cup

whole wheat flour

2 cups

all-purpose flour

3/4 cup

unsweetened cocoa powder

2 cups

white sugar

2 teaspoons

baking soda

1 and 1/2 teaspoons

baking powder

1/4 teaspoon

salt
Wet Ingredients:
2 and 1/2 cups

beet puree

1 cup

warm water

1/2 cup

oil (I used avocado oil)

1/2 tablespoon

vanilla extract

1 teaspoon

apple cider vinegar
Cream Cheese Frosting Ingredients:
1 cup

unsalted butter, softened

8 oz

cream cheese block, softened

4-5 cups

confectioner's sugar

2 tablespoons

beet puree

1 teaspoon

vanilla extract

1-2 teaspoons

milk/beets water

1/2 teaspoon

lemon juice
Procedure:
In a large bowl stir together the dry ingredients and make a well.
In another bowl combine together all the wet ingredients and gradually stir it into the dry mix using a whisk. Do not over mix. If you think that the batter is too thick add some more water/milk as needed.
Fill the prepared pans with enough batter and bake accordingly. I used the batter to make 6 cupcakes and two 9-inch round cakes. Baked the cupcakes for 15 minutes and cakes for 23 mins in a preheated oven at 350F/180C.
Frosting Procedure:
In a large bowl beat the cream cheese until it's smooth and creamy. Then add the butter and beat it for another minute or two until it's well incorporated.
Add in a cup of sugar, beet puree, vanilla extract and lemon juice and beat well scraping the sides.
Add enough sugar as needed and milk/water as needed and keep beating until the desired consistency is reached.
Refrigerate the frosting for about 30 minutes before you can start frosting the cake.
Frost the cake as usual by leveling off the cakes and filling the frosting in between the two cakes and covering it up with the frosting. Decorate it as you wish.
My Notes:
Line the round cake pans with parchment paper so that you can remove the cakes from the oven with ease. It will just slide off and the wait time is short too, so that you can start the frosting quickly.
I used canned beets instead of buying fresh ones and cooking it. It made the whole process pretty easy. I blended the beets and very little beet water to make a smooth puree. Reserved some of the water to include in the frosting as well.
The original recipe used about 3/4ths of a cup of unsweetened applesauce which I didn't have so replaced that with the beet puree as well. So I used 2 cans of beets in total. I think it was two 380oz cans.
This recipe can be made into a bundt cake or as a 3 layered cake if you don't bake cupcakes.

Frosting Notes:

For vegan cream cheese frosting using Tofutti and Earth Balance instead of cream cheese and butter.
I had only 2 tablespoons of puree left over from adding to the cake batter. A little more would have given an even brighter pinker hue to the frosting.

Try this recipe, click a pic and hashtag it #egglesscooking - Proudly showcase your creations on Instagram, Facebook & Twitter!