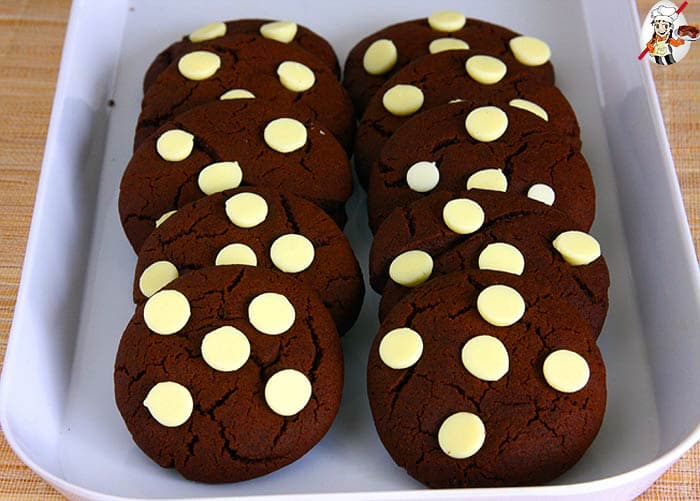 It's been a while since I baked these whole wheat gingerbread cookies and have wanted to try chocolate gingerbread cookies ever since my son's teacher baked it in school and sent it home with the kids.
That was the first time I tasted a chocolate version of gingerbread cookies and liked it a lot. I never knew that chocolate and ginger would go well together until then.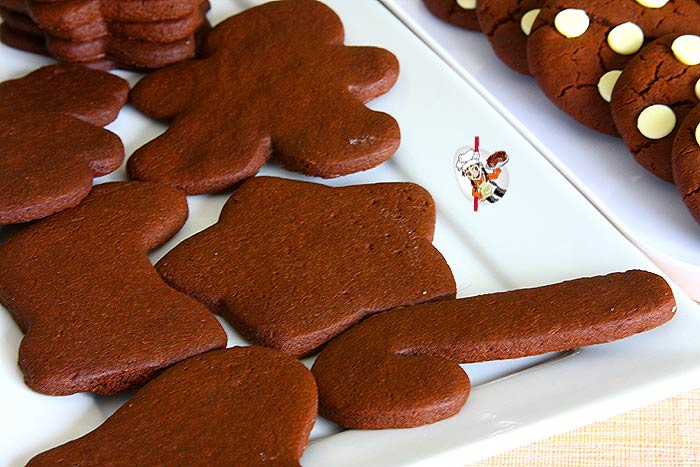 When I was looking for some recipe ideas to make eggless chocolate gingerbread cookies I narrowed it down to this recipe.
Following the huge success of using aquafaba as an egg substitute in these oatmeal chocolate chunk cookie recipe I wanted to try that in this chocolate gingerbread cookie recipe as well.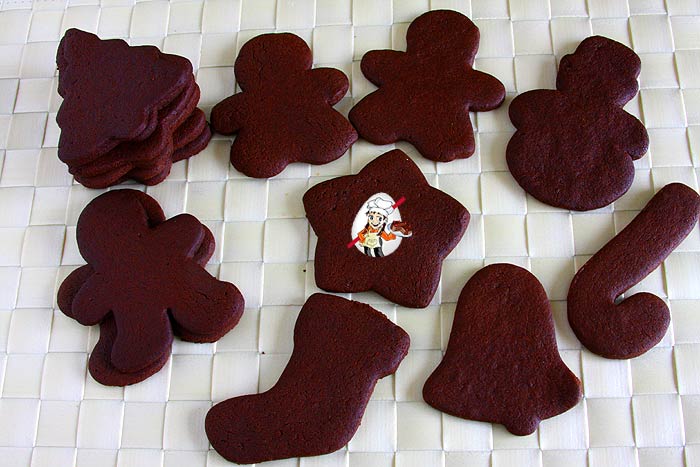 I used the Aquafaba strained from a can of chickpeas. The consistency of the aquafaba varies from brand to brand of canned chickpeas you are using. This one was a bit runny instead of thick and gel-like. In such a situation heat the aquafaba for a couple of minutes until it condenses and gets a bit thick.
Do not use it right away when it's warm. Bring it to room temperature and then use it as an egg substitute.
The cookies were very good except we felt it could have been a bit sweeter.

| | | |
| --- | --- | --- |
| Chocolate Gingerbread Cookies Recipe | | |
| Prep Time | Cook Time | Makes |
| --- | --- | --- |
| 1 Hr (including chilling time) | 10-12 mins/batch | 5 Dozen Cookies |
| Author | Category | Method |
| Madhuram | Cookies | Baking |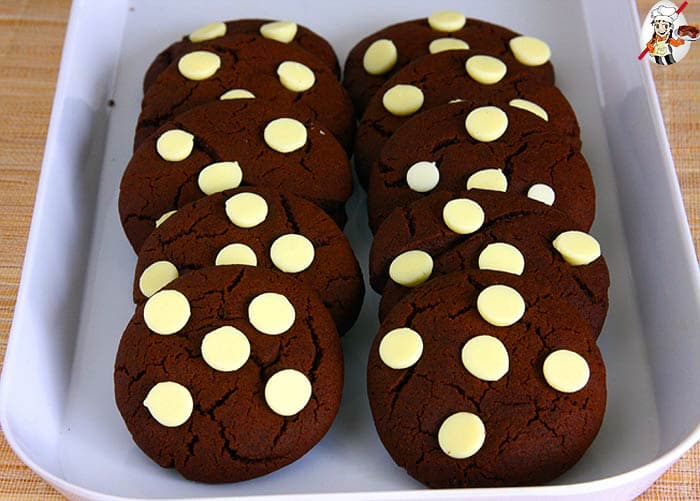 The holiday season is not complete without gingerbread cookies but make it extra special with these chocolate gingerbread cookies. Frost it with icing, drizzle some melted chocolate or stud in some chocolate chips.

Ingredients:
1 cup

unsalted butter, room temperature

1 and 3/4 cups

brown sugar

1/2 cup

molasses

2 teaspoons

vanilla extract

4 tablespoons

aquafaba

3 and 1/2 cups

all-purpose flour, plus extra for dusting

1 cup

cocoa powder

2 teaspoons

baking soda

2 teaspoons

ground ginger

1/2 teaspoon

ground cinnamon

1/2 teaspoon

nutmeg
Procedure:
In a large mixing bowl, beat butter and sugar with an electric mixer until combined.
Add vanilla, molasses, and aquafaba. Beat again to form a creamy mixture.
Sift in flour, cocoa, baking soda, ginger, cinnamon, and nutmeg and beat briefly until the dough starts to come together.
Form dough into a smooth round disc. Wrap the dough in plastic and pop in the fridge for 30 minutes to rest.
Preheat oven to 180 C (350 F). Line two cookie sheets with parchment paper.
Lightly flour the countertop/large cutting board and roll out the dough using a rolling pin. Or else you can place the disc of dough in between 2 parchment paper sheets and then roll it which will make the process less messy.
Dust your rolling pin as you go to prevent the dough from sticking.
Cut out shapes and place the cookies onto the prepared trays. Bake for 10 minutes. Remove from the oven and transfer cookies to a wire rack to cool. Drizzle with melted chocolate or frost it with icing.
Taste:
The use of a considerable quantity of cocoa powder does affect the sweetness of these chocolate gingerbread cookies. So when I made another batch of these cookies I increased the quantity of sugar and that's what I have mentioned in the recipe. I think people who have a sweet tooth might want to increase it a bit more especially if you are not frosting the cookie.
If you bake it a little too long the cookies tend to burn and have a burnt flavor. So make sure all the cookies are of the same size and thickness and adjust the baking time accordingly.
My Notes:
I made 3 dozen cut out cookies using various Christmas themed cookie cutters. The rest of the dough I scooped out the dough into 1 tablespoon balls and flattened it lightly and baked it. Once the cookies were out of the oven pressed in some white chocolate chips.
The baking time will vary depending upon the thickness of the cookies. So anywhere between 10-13 minutes probably. As always test-bake a couple of cookies and then determine the thickness you have to make and the baking time accordingly.
Nutrition Facts
Chocolate Gingerbread Cookies
Amount Per Serving
% Daily Value*
Potassium 91mg2%
Total Carbohydrates
12.6g
5%
* Percent Daily Values are based on a 2000 calorie diet.

Try this recipe, click a pic and hashtag it #egglesscooking - Proudly showcase your creations on Instagram, Facebook & Twitter!