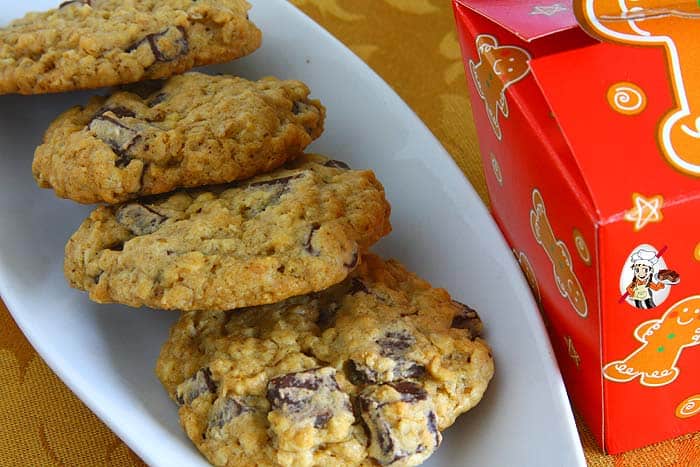 "Why these oatmeal chocolate chunk cookies?" when I already have a huge collection of eggless chocolate chip cookie recipes one might wonder.
And my answer will be one can never have enough chocolate chip or chunk cookies!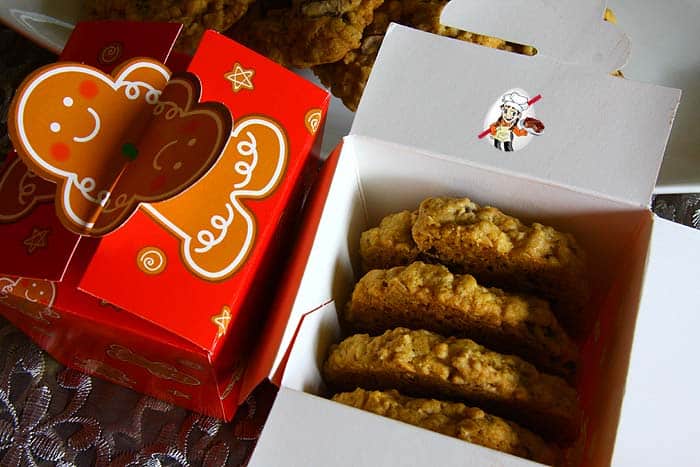 Over the years I have used so many different types of egg substitutes for all my baking recipes, especially different substitutes for different variety of eggless chocolate chip cookie recipes, right from Ener-G egg replacer, flax egg, silken tofu, unsweetened applesauce and condensed milk.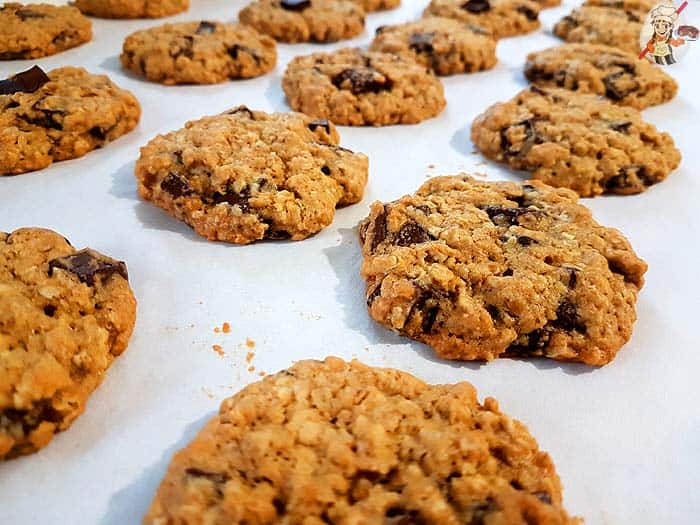 This oatmeal chocolate chunk cookie recipe is one of a kind because I have used an egg substitute which I haven't tried before for any recipe. This is the first time I'm trying this weird egg substitute. That's what my son said exactly.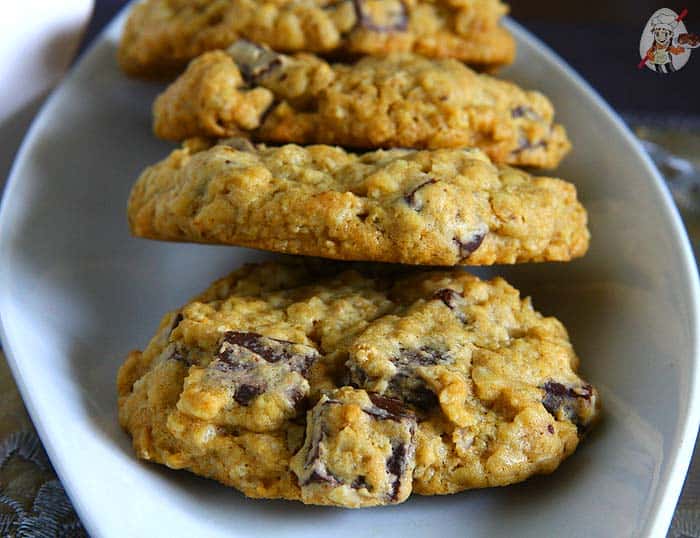 Curious to know which egg substitute I'm talking about? Dare to guess?
It's
Aquafaba
. Aquafaba has been the craze for the past few years because of it's unbelievable property of being able to mimic egg whites.
What is Aquafaba? It's the viscous water in which legumes like chickpeas have been cooked.
Baking eggless meringues and other delicate treats that required the use of egg whites has become a reality ever since the discovery of the magical property of aquafaba, by a French musician back in 2015.
Although I have read a lot about aquafaba and seen many recipes using that as an egg substitute for some reason I haven't had the urge to use it in my recipes until now.
While draining a can of pinto beans I felt so bad throwing away the liquid so I decided to save it and use it in some baking recipe. I thought that baking cookies should be the best bet to try this aquafaba because salvaging a cookie recipe would be easier if something goes wrong.
I didn't have to worry at all because it worked well in this oatmeal chocolate chunk cookie recipe which I found here.
How To Make Eggless Oatmeal Chocolate Chunk Cookies?
Here are the step-by-step pictorial instructions to make these delicious oatmeal chocolate chunk cookies: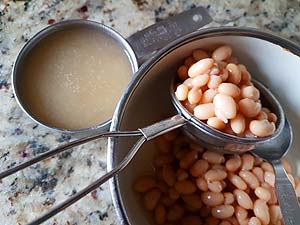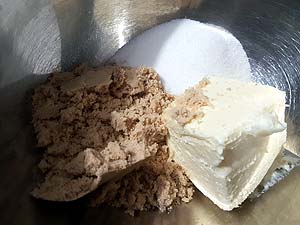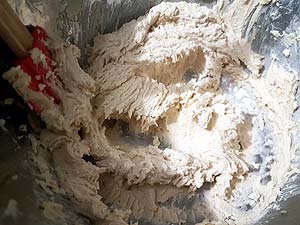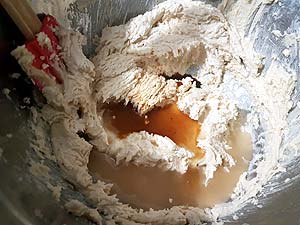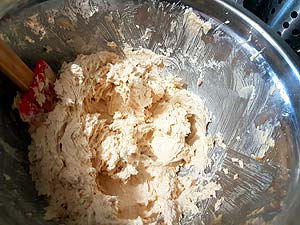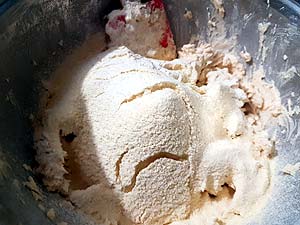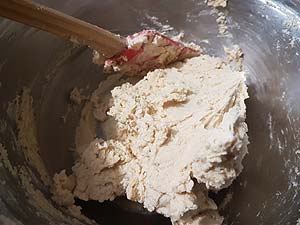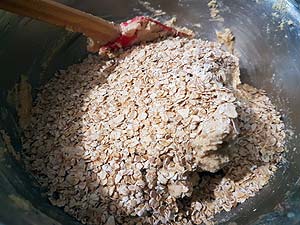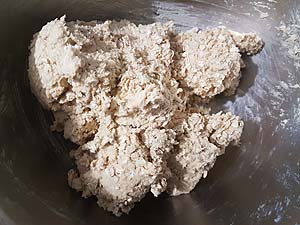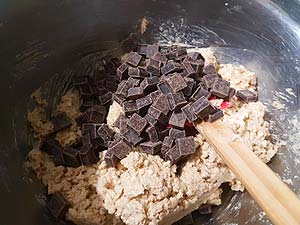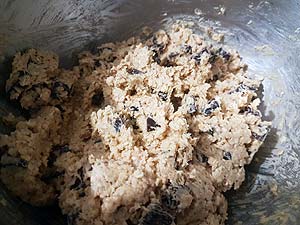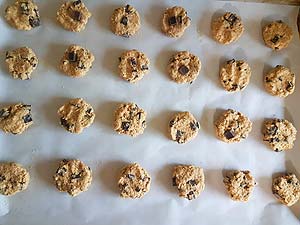 | | | |
| --- | --- | --- |
| Oatmeal Chocolate Chunk Cookies Recipe | | |
| Prep Time | Cook Time | Makes |
| --- | --- | --- |
| 20 Mins | 12 to 14 Mins/batch | 44 Cookies |
| Author | Category | Method |
| Madhuram | Cookies | Baking |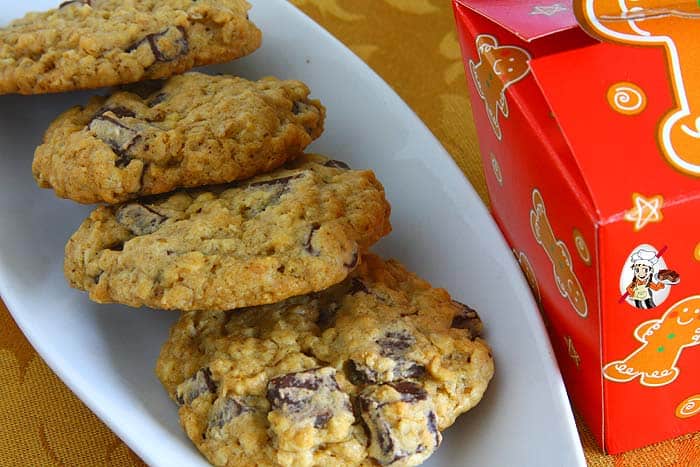 Using jumbo chocolate chunks makes these oatmeal chocolate chunk cookies even more delectable and delicious every time you bite into one. You can use chocolate chips too if you are not able to get hold of the chocolate chunks.

Ingredients:
1 cup

unsalted butter, softened

1 cup

brown sugar, firmly packed

1/2 cup

granulated sugar

1/2 cup

Aquafaba

2 teaspoons

vanilla extract

2 cups

whole wheat pastry flour

1 teaspoon

baking soda

1/2 teaspoon

salt

3 cups

quick-cooking oats

1 and 1/2 cups

70% dark chocolate chunks
Procedure:
Preheat oven to 180C/350F. Line cookie sheet/s with parchment paper and keep aside.
In a large bowl cream together the butter and sugars, until light and creamy.
Add Aquafaba and vanilla extract to the creamed butter mixture and beat well.
To this add sifted flour, baking soda, and salt mix. Also, stir in the oats and chocolate chunks and mix well.
Scoop out the batter using a tablespoon and drop it on the prepared cookie sheet 2 inches apart. Flatten it lightly. Bake it for 12-14 minutes or until brown around edges.
Remove the pans from the oven and leave the cookies on the pan for 3-5 minutes. After that remove the cookies from the pan and place it on wire cooling racks to cool down completely before storing it in an air-tight container.
Taste:
These oatmeal chocolate chunk cookies made with aquafaba as egg substitute turned out great like any other chocolate chip cookies I have baked earlier. Aquafaba did not leave any after taste or smell at all.
Unless and otherwise I specifically mentioned it nobody could sense anything different. The cookies were crispy when it came right out of the oven but did end softening up over the next few hours, which we didn't mind at all.
My Notes:
If you don't have aquafaba or not brave enough to try it in this recipe, you can use flax egg replacement for 2 eggs instead.
Sometimes the consistency of the liquid from the canned legumes varies. It can either be quite thick so that it can be used directly, but if it's on the thinner side you can boil the liquid so that it reduces in quantity and thickens.
I always test batch 2-4 cookies to see how it spreads or doesn't spread so that I can adjust it accordingly to get perfect cookies. I observed that the cookies that I didn't flatten while test baking didn't spread as much as the ones which I had flattened. So while baking the rest of the cookies I flattened the dough.
I divided the cookie dough into 2 parts and used chocolate chunks for the one part and chopped pecans for the other.
I used 70% dark chocolate chunks so the cookies were not too sweet and you could taste a mild bitterness while biting into the chocolate chunk which we all liked.
While trying to figure out the nutrition information I was not able to key in the chocolate chunks I used. After many failed attempts I entered the information for semisweet chocolate chips and the nutrition facts are based on that.
I believe that the sugar content would be on the lower side and other data will also change if I had been able to use the information of 70% dark chocolate chunks I had used.
Nutrition Facts
Oatmeal Chocolate Chunk Cookies
Amount Per Serving
% Daily Value*
Potassium 6mg0%
Total Carbohydrates
19.9g
7%
* Percent Daily Values are based on a 2000 calorie diet.


Try this recipe, click a pic and hashtag it #egglesscooking - Proudly showcase your creations on Instagram, Facebook & Twitter!